This article presents some updated information regarding Wildflower Park progress. The tracker graphic included toward the end of this article has been updated accordingly. Past update articles are included for reference in Attachment 1. Following is a brief update discussion on each of the open phases.
Passive Park
Residents have been asking for Wildflower Park to be opened as a passive park while the long term EDSA waterfront study is proceeding. It appears that the City may be opening the park for residential use in September, 2017. The park design for this opening looks like it will be similar to the design when the park was opened for the Boca Raton Boat Parade on the evening of December 17, 2016. This means that there will still be a massive amount of asphalt for parking cars, but a relatively small amount of natural area for recreation by residents. It should be the opposite.
Land Use Change
The City Council approved ordinances changing the Wildflower parcel comprehensive plan map designation and zoning from Commercial to Public Land and Recreation respectively at the June 13, 2017 regular meeting. Prior to this, the P&Z board voted to recommend approval of the ordinances. Approvals were by unanimous votes.
Waterfront Study
The City's consultant on the waterfront study, EDSA, held a second public outreach on July 12, 2017. At this meeting they presented two design options for Wildflower Park as depicted in the following graphics.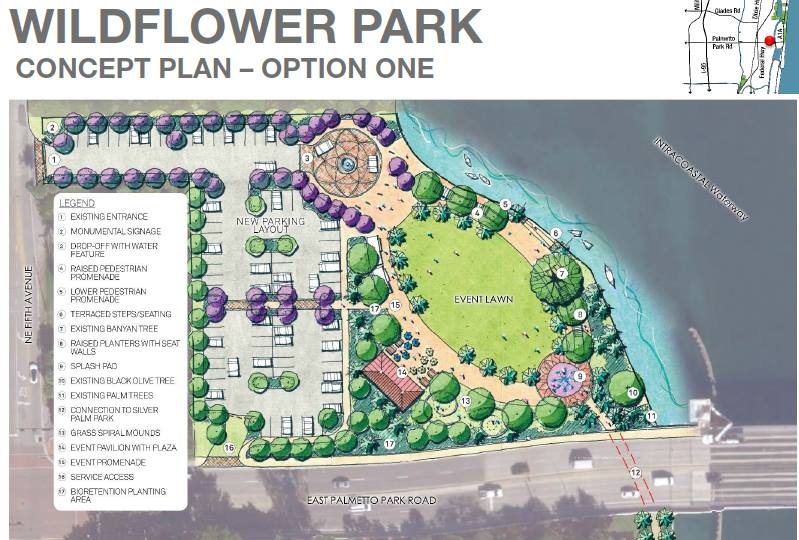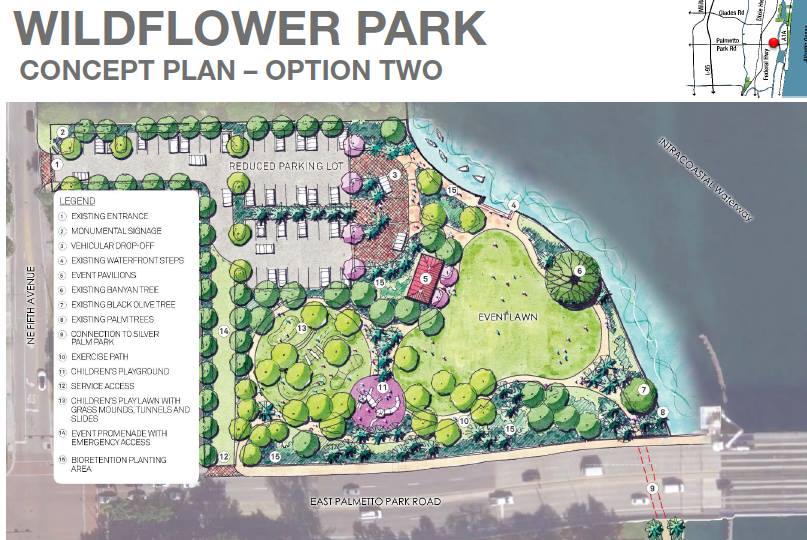 The City is requesting your input on these design options as well as any other recreation-oriented ideas for the park. Residents should visit Deerfield's Sullivan Park for an example of what's possible. Sullivan Park is located on the Northwest corner of Hillsborough Blvd. and the Intracoastal Waterway. Feedback can be submitted to the City's Coastal Management Division at Coastalmgmt@myboca.us. As shown in the following Wildflower Progress Tracker, EDSA is preparing their final conceptual master plan report for presentation in September, 2017 so your feedback should be provided to the City as soon as possible.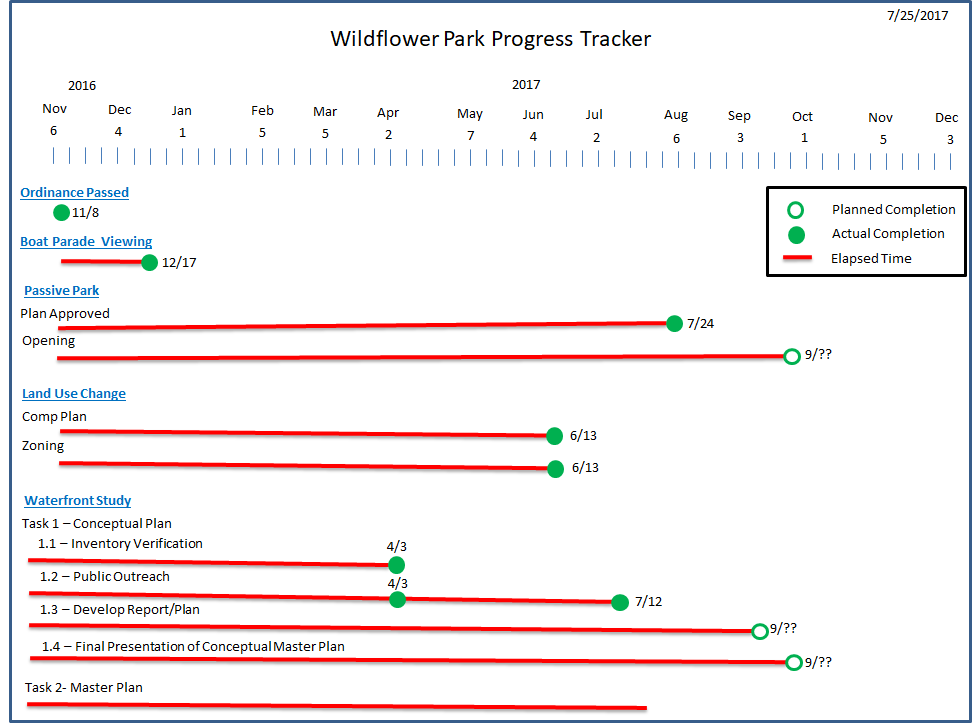 BocaWatch will continue to track and report on the status of Wildflower Park.
Attachment 1 – Prior Wildflower Park Progress Tracking Articles
6/20/2017 – /wildflower-park-tracking-report-progress-at-last/
4/24/2017 – /boca-raton-wildflower-park-progress-tracking-5/
4/17/2017 – /boca-raton-wildflower-park-progress-tracking-4/
3/13/2017 – /boca-raton-wildflower-park-progress-tracking-3/
3/6/2017 – /boca-raton-wildflower-park-progress-tracking-2/
2/6/2017 – /boca-raton-wildflower-park-progress-tracking/
1/12/2017 – https://bocawatch.org/wildflower-park-progress-tracking-article/
12/5/2016 – https://bocawatch.org/wildflower-site-tracking-chart/