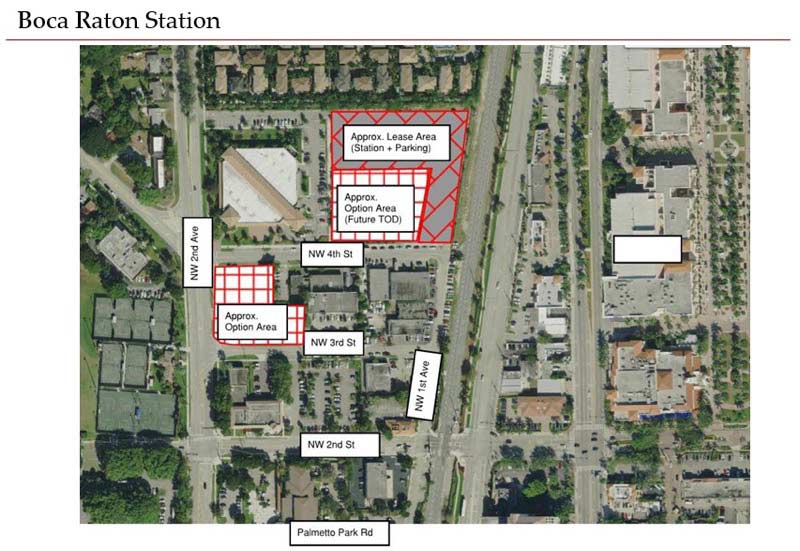 The above is a play on James Carville's 1992 message used to remind campaign workers to help focus Bill Clinton's reelection message.  It worked, and hopefully will now help in modified form to educate Boca residents on the City Council's current desire to allow Brightline to cannibalize the rest of the Downtown Library's parking lot for further private development after the installation of a garage and station.
T.O.D.  What is it?
It stands for Transit-Orientated-Development.  They build a station, and redevelop the surrounding areas, usually low-income neighborhoods that can use it, by building residential housing and retail. A great idea, right?
Yes and no is the answer. 
In Palm Beach they built a residential tower by the courthouse on unused land, and it's nice, although very high.  In Fort Lauderdale they haven't, since the station is next to a Greyhound Bus station and a McDonald's that is commonly encamped by homeless and other people that need our help. Certainly, neither area is equivalent to the proposed site here.
The problem in Boca, of course, is they are building on the grounds of downtown's most cherished and busiest cultural institution, the library, which also happens to be part of a beautiful residential neighborhood, comprised of Library Commons and Spanish Village.  What Brightline and their partner local developers are attempting here is unprecedented, and could easily be stopped by the Council by simply trimming the train company's all-encompassing development requests to permanently block any future development of the library grounds after the station and garage are built. Put it in the Brightline lease, by covenants, or declare the remaining library lot to be a city park.  Just make it clear: preserve the remaining library environment!
I live in Library Commons, and like many of my neighbors, I moved here with my wife and two young children because of the library.  It's a daily ritual for us, like it is for so many.  And now, unfathomably, the dreams, inspiration, and aesthetics that only our easily accessible, safe and open library can provide for all of downtown's children, families, elderly, and others looking to learn, gather, or simply spend a pleasant afternoon or evening, are in jeopardy.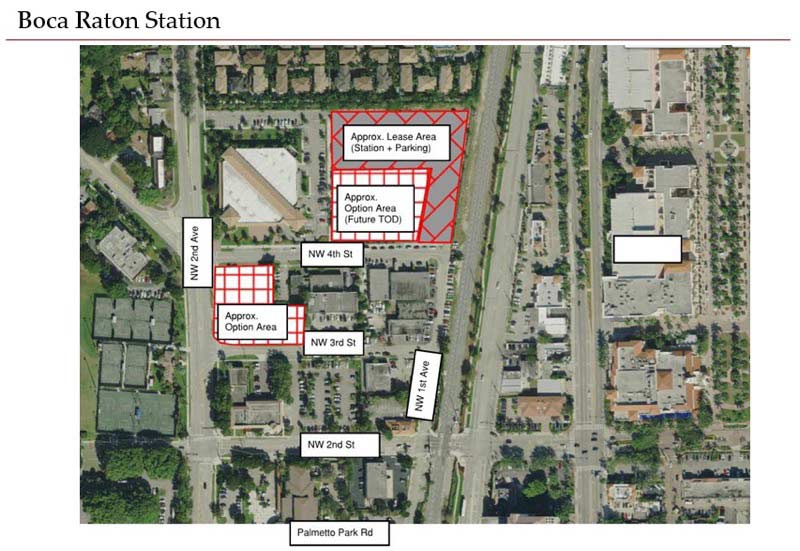 Make no mistake about it.  Everyone, Library Commoners included, think the station and an appropriately sized garage running parallel to the station are a great idea.  Redeveloping the blocks of warehouses next to the library, which Brightline is already working to acquire, is a benefit too.  Even the second Brightline T.O.D. request, the empty land running along Boca Raton Boulevard across from the library and the tennis center, can be given to Brightline to fulfill their desire for a hotel or residential tower.  But to put four and ten story walls up over the existing library lot, leaving one lane of open driving space next to the library entrance?  To give them both a residential tower T.O.D. and a separate hotel T.O.D. while compromising a public institution?  Astounding that it's even being considered.
Think about it.  Would leaders in Brookline, Massachusetts, where Councilwoman Andrea O'Rourke is from, allow the private takeover of their library?  Would the New York Public Library, where Mayor Scott Singer moved from, be allowed to be compromised in such foreboding fashion, even with the astronomical land values in Manhattan?  Of course not.  In those places, as well as throughout Florida and the nation, libraries, particularly downtown ones, are afforded the reverence and dignity they deserve for so many obvious reasons.  As author Eric Klinenberg put it, libraries are Palaces For The People, and should be respected and fought for by Boca's City Council.
The Council is getting ready to introduce an ordinance to allow Brightline to put down an extra-large capacity, four-story, awkwardly designed, L-shaped garage at the back of the library lot.  It's not parallel to the station, where there is plenty of room given parked city trucks already take up most of the spaces next to the station/community garden.  It's not parallel to the station, where the train passengers would derive the most benefit due to proximity.  It's not parallel to the station, where the building would shield library patrons from speeding freight train and transit noise and activity, and preserve the same open and inviting atmosphere that downtown residents currently enjoy.  And yes, it is in a place that is mere feet away and towering above palm trees and homeowners in Library Commons, who most definitely have a right to quiet and toxic car exhaust fume-free enjoyment of their property.
So why is it at the back of the library lot, anyway?
It's the T.O.D., stupid!
That's right, it only makes sense size-wise and placement-wise by understanding it's designed simply  to accommodate their future T.O.D. tower on the library parking lot at a not so later date!
Brightline, and their local developer partners, and the pro-development City Council, aren't the stupid ones here.  But they think Boca residents are.  That's why they strategically cut back their initial grand requests, and are supposedly only asking for the station and garage now.  It's why they have snuck discussions of the topic in the past onto Mayor's Notes instead of full blown agenda items, and why the next stage will likely be pushed to the November 26th Council Meeting, when lots of people are gone for Thanksgiving.  But don't be fooled.  As soon as their awkward, monster L-shaped garage is approved, the incredibly liberal so-called "option" to buy the remaining library parking area will be exercised, and a behemoth residential tower or hotel will be built according to their original vision on library grounds.  And Boca residents will once again lose.
What can library lovers do?
A lot.
We can stand up to the Council, for one.  Force them to ask Brightline tough questions in public, and get real answers, and make them come back with different designs that don't depend on and accommodate further building on the library campus, and properly incorporate the environmental impacts the extra traffic drawn to the station will have on the library and Spanish Village as a whole.  Force them to negotiate for us, and not for the benefit of developers, and to exercise Boca's extensive leverage as one of the most heavily concentrated areas of affluence in Florida, precisely what Brightline needs to boost ridership as both a marquee destination and a service to the many Boca Ratonians who can afford to ride an expensive train to cruise ship terminals, airports, Orlando, and other costly vacation destinations.  We are precisely their target demographic, and the City Council needs to stand up to Brightline in regards to one simple, common sense area: only a station and garage on library grounds!
It won't be easy though.  The City Council seems beholden to Brightline's and their partner developers' interests.  They seem afraid.  I have personally been told by Council members that "it's premature" to publicly press the train company on the library T.O.D., that it would be "grandstanding" to ask them about it from the dais, and that Boca essentially doesn't have strong leverage in this negotiation! They simply won't discuss in detail plans for the future library parking lot T.O.D., let alone kill it at the onset.  In fact, Mayor Scott Singer also refuses to commit to allowing the Library Commons Homeowners Association a specific extended period of time before the City Council, one akin to the time allotted to Brightline on multiple prior occasions, to present general concerns and alternate design suggestions.  It's not fair, and sad, and once again, up to the residents to stand up for themselves against over-development in our beloved and formerly arts and education loving city.
In closing, a common sense plan.  Send this article, and the one recently written by Randy Schultz in Boca Raton Magazine on the T.O.D. issue, to everyone you know who loves libraries.  Pack the City Commission meetings on November 13th and 26th, and speak your mind.  Write letters, make calls, ask for meetings with Council members.  And lastly, consider paying the $300.00 filing fee to run for City Council yourself.  Andy Thomson, Andrea O'Rourke, and Scott Singer are all up for election, and in a large turn-out Presidential Preference Primary, this is Boca residents' best chance in years to not only save our precious library campus from private developers, but to finally temper the inexorable pro-development march of the City Council that's turning our once quaint city into Fort Lauderdale or Miami.