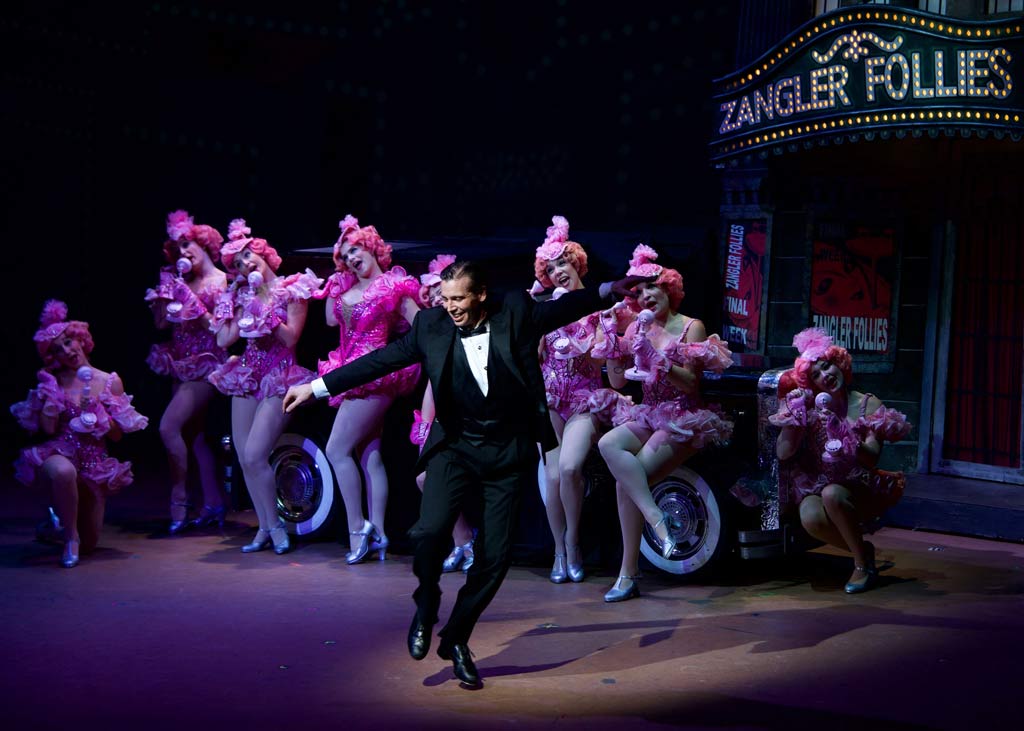 Songs boomed over the crowd, the crowd humming along, some stamping their feet, and excitement buzzed through the charged air. Like the diamond set white-gold bright chandelier in the lobby, one woman's infectious grin is just as bright. The crowd over at The Wick Theatre & Costume Museum had been so jubilant, fingers becoming like mini drumsticks, and some kids singing the songs from the 'Crazy for You' musical. The sea of people are strangers to one another at first. They rubbed shoulders never minding that they were closer proximately to these strangers than they usually were to friends or even family. Strangers, family, and friends shake hands and chatter. They pat one another on the back and have a spontaneous outpouring of electrified emotion. After the cast took a bow, the cheers erupt like an auditory volcano. The cast smile as if the sun had somehow toppled down from the sky and into their hearts. Once the crimson curtains come to a close on the stage, the theater sill erupts and vibrates with applause.
"Glorious", "Dazzling", "Fashionable", and "Great fun" – these are just some of the words fans have used to describe The Wick Theatre & Costume Museum. The Wick Theatre brings the buzz of Broadway and more to the Boca Raton community. The Wick Theatre offers critically-acclaimed performances of Broadway's most beloved musicals. Managing Executive Producer of the Wick Theatre, Marilynn Wick, acquired the former Caldwell Theatre in April of 2013 and turned it into The Wick Theatre. A Theatre that also offers fine dining and the most respected Broadway costume collections and fashion pieces in the world.
The eggshell colored dress with baby-blue flowers that looks as if it could have been off a street rack in Rome. The gems on the dress glare like electricity and like mystical serpent-green eyes. Majestic moonstones over the orange dahlias: the dress makes the mannequin look like an expensive fashionista.
For over 45 years, Marilynn Wick has been collecting fashionable wardrobe and in 2010, Wick along with her daughter Kimberly Wick attracted more than 20,000 visitors in a low-key Pompano Beach attraction. The collection, which has been featured on 'The Today Show' and in 'People' and 'Vogue' magazines, continues to grow. The vintage collection also includes iconic period pieces from movies, television, and celebrities such as Carol Channing and Barbra Streisand. The museum changes things up every season and it has an estimated value of 20 million dollars.
Polished, and cut to perfection. The surface smooth and the gems gleam as bright as the sun's rays lighting the ocean at Dawn. "If I could wear any of the millions of beautiful costume pieces, I'd wear them all," said Vice President Kimberly Wick.
When Wick isn't being an antique fanatic and a history buff, Wick said these Boca productions go all in. "It's not just the costumes that can take months of work," said Wick, "It takes two and a half weeks, 100 percent devotion, just for a show. I'm barely home for those weeks, we go all in 24/7 nonstop and the show will be up and it'll be amazing." Wick also mentioned how a show in New York has five years to prepare, but they have successfully put shows together in two weeks.
Wick's personal taste in costumes would be costume designers such as Catherine Zuber and Jane Greenwood. "Zuber does a lot of mysterious and spooky stuff, she did Dracula on Broadway," said Wick, "Greenwood loves to mix designs and elements that usually wouldn't go together."
The gallery of costumes and fashion pieces come in all different styles which Wick helps to get for the growing assemblage. "I just start making phone calls to the agents of this person or that person and searching the internet you'd be surprised what you can track down," said Wick.
Wick hasn't had much luck lately finding anything for the collection in Boca. "We use to have more antiques here in Boca, they don't exist anymore. It's all designer crap now," said Wick. "Which is why here you can be 80 or 25 and still enjoy the museum and you'll see something unique. You can enjoy a show, and everyone we'll be in a great mood."
The chandelier hangs from the ceiling like a bejeweled giant spider. But the air perfumed without chemicals. Flowers on each walnut colored table, the floral wall designs are white and the yellow nectars look sweet. The floral designs lay scattered on the wall resembling frozen bright flames. The sweet, savory aroma wafted through the air. A stomach would clench with hunger at the thought of organic stuffed chicken breast and portabella mushrooms served in creamy sauces with garden herbs.
The Wick Theatre has a grand space of fine dining and much like their costumes, the entrees are always changing. "Our menu changes for every show," said Wick. "So what was my favorite thing three shows ago now has changed. But there is always a chicken, a beef, a fish, a beautiful pasta."
The music spun around them as if the music were lifting gravity away. With their arms waving side to side above their heads allowing their garments to flutter, the cast of 'Crazy for You' delivered laughs and fabulous songs.
'Crazy for You' is just one of the plays this season and back in 1992, 'Crazy for You' won the Tony for Best Musical. "This show is still so silly and fun. You can't but help and giggle your whole way through," said Wick. "It's well written for every age group and it's a great play that'll get people thinking."
Wick also mentioned how she recommends going on Friday nights. "Our Friday nights are great and we have cabaret after the show, said Wick. "It's always really exciting and it's a great way for people to start a weekend."
The stage actors in The Wick's 'Crazy for You' move like water transformed by music. Flowing in graceful arcs, limbs in constant motion, painting a picture sound alone can never achieve. They smile brightly as their heels clicked over the stage floor. They watch as the character Polly Baker's hair spun out and bounced more with each move and beat. The lights were twinkling with them for every step.
A woman's giggle built up inside her like so much water behind the dam, making her shoulders shake and as if her belly hurt. When it erupted from her mouth, the laughter rolled out like waves on a long shallow beach as she fought to breathe and stifle the tears. Her bangles clank as she applauds and their solid rows were like pipes whose water flowed on the outside instead of within.
Returning Wick Theatre actor and former teacher at Broadway Kids Studio Inc. Tommy Paduano brought laughs as his character Moose in 'Crazy for You'. Paduano, who has performed at The Wick Theatre four times, and is usually a comic relief or villain, believes Boca has a lot to offer for aspiring actors. "There is a tight-knit theater community and everyone knows everyone, said Paduano. "This theater specifically is so well to its actors and Boca has a lot of people here uplifting aspiring actors."
Paduano, who has been performing since he was six-years-old as the Woodsman in 'Snow White' said he dedicates every role to his mother. "In 2008 I played the sailor Anthony Hope in 'Sweeny Todd' and during auditions, that's when my mother passed away," said Paduano. "She was my biggest fan and supporter. But I pushed through to still give a performance and deliver something good for our audience."
Paduano looks up to Meryl Streep and he believes aspiring actors in Boca and in general need to always know their material going into any audition and if it's your dream, keep going.
Towards the end of the play, the character Polly Baker, played by Julie Kleiner, wears a dress resembling creamy sheets of the silk. It peppers her body with soft, sensual kisses. Like a lover, it seduced the senses and conveyed with utmost skill the art of pleasing. The cast takes a bow to a standing ovation of claps and smiles.
Fine dining, costume sets that'll please the eye crowd the museum, a glorious hotch-potch of cultures and fashions through the ages, productions that'll get you reacting, The Wick Theatre & Costume Museum is bringing the likes of Broadway to Boca but with more of a buzz.
Kimberly Wick ended by saying, "Not every show is for everyone. But like everything in life, once you try it you might want more. We see smiles on faces and it's like a home for our community."
If you'd like to get more information on the museum or dates for seeing a show, you may contact The Wick Theatre & Costume Museum at (561) 995-2333, or visit www.thewick.org. They are located at 7901 N Federal Hwy, Boca Raton, FL 33487
Read more about what's happening this month and take a look at the delicious food they're serving this season. See how hot it is now at The Wick
Featured Image by Photographer Amy Pasquantonio