Mizner Park Amphitheater turned purple as the Community united on Nov., 10th, Sunday, for the 6th Annual Walk to End Alzheimer's -Boca Walk. To date, $310,000 has been raised, and still counting. More than 5.8 million Americans are living with Alzheimer's. Director of Alzheimer's Association Southeast Florida Chapter, Stefanie Mardar, is optimistic that, "We hold our yellow flowers high, and hope to one day see this crowd filled with white flowers". White symbolizes a cure for Alzheimer's.The Promise Garden was located at the front of the amphitheater's stage during the festivities. Each participant in the Walk, had the opportunity to purchase a colored flower to be placed in The Promise Garden in honor of a loved one, or family member.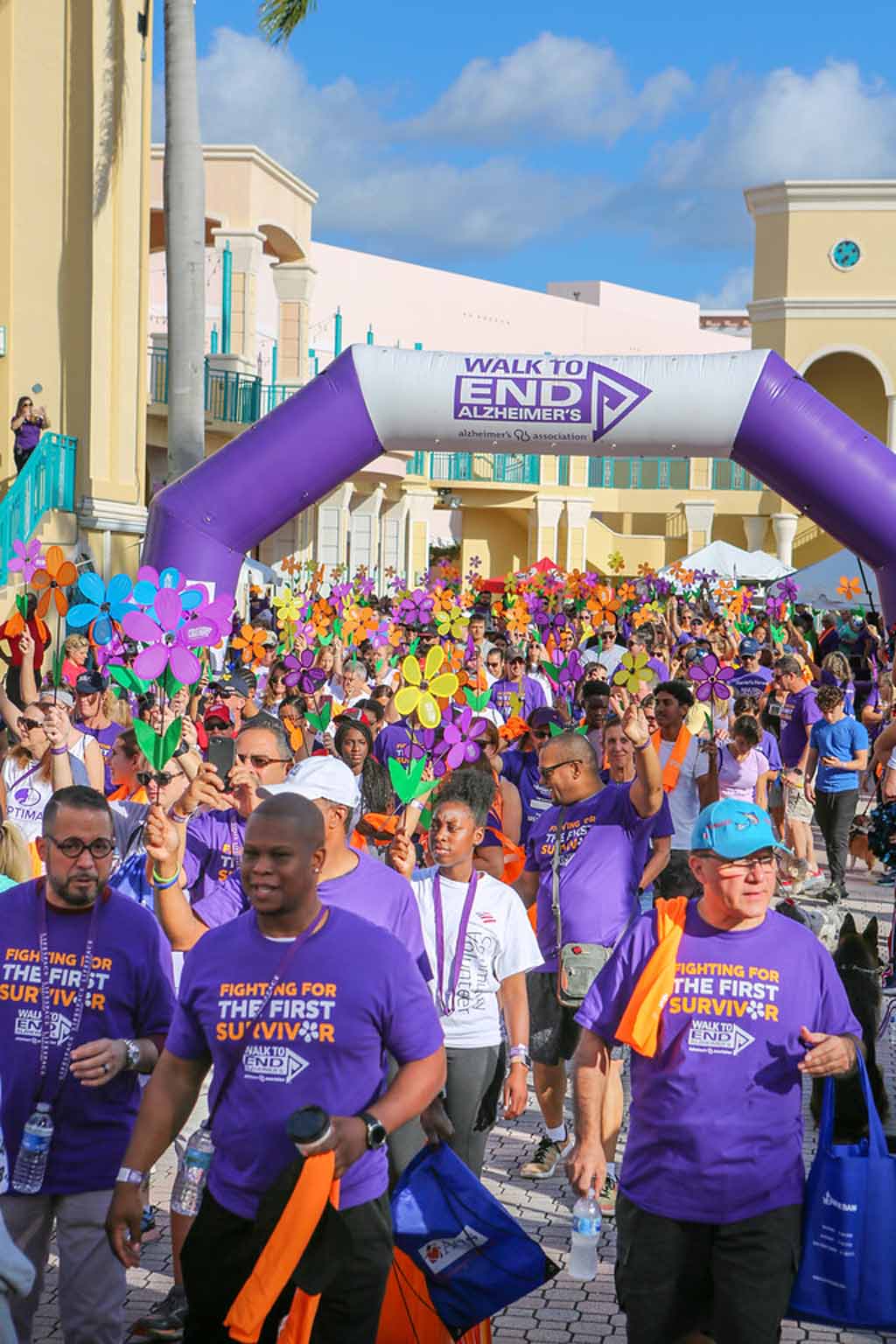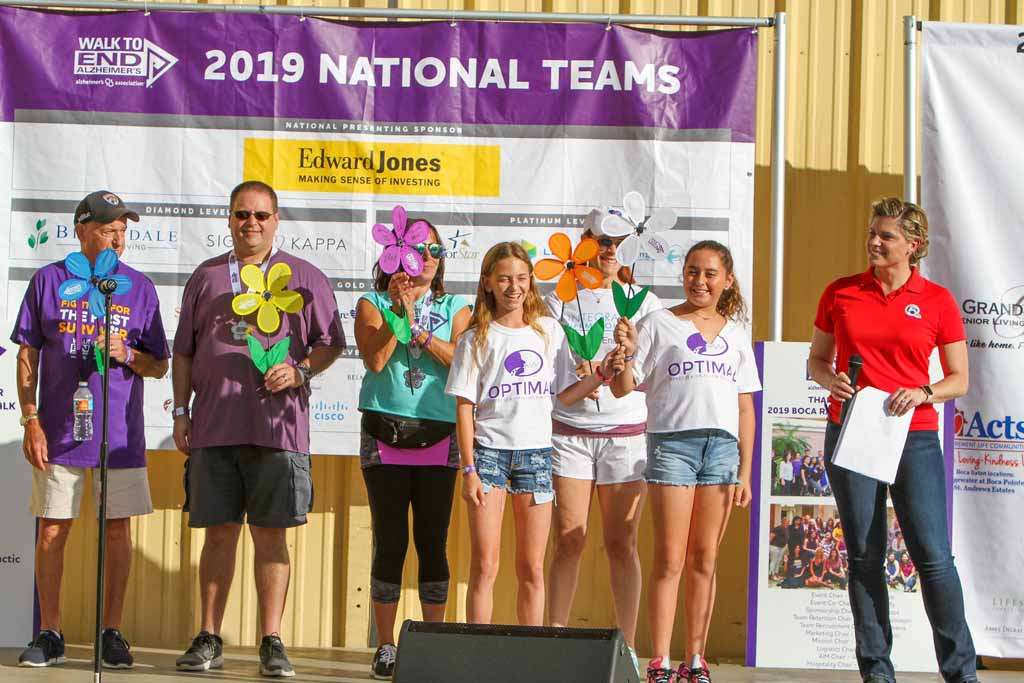 Chair Cheryl Van Hare has been involved since 2014 with the Alzheimer's Walk in Boca Raton. In 2008, Cheryl's mother disappeared with her car one Saturday afternoon for 12 grueling hours. Her mother returned at midnight. Symptoms progressed, and her mother passed in 2012. Alzheimer's is the sixth leading cause of death. Cheryl feels strongly that, "We must raise funds to support those living with Alzheimer's and their caregivers, as well as the research to find an end to this disease, that has become a national health crisis". Co-Chair Doreen Yaffa, walked in memory of her Grandpa Nicolas. He was diagnosed with Alzheimer's when she was a teenager. "I have vivid memories of watching him struggle to speak, or feed himself before eventually losing all ability to function. It was extremely sad, and the effects it has on my mother were equally as devastating.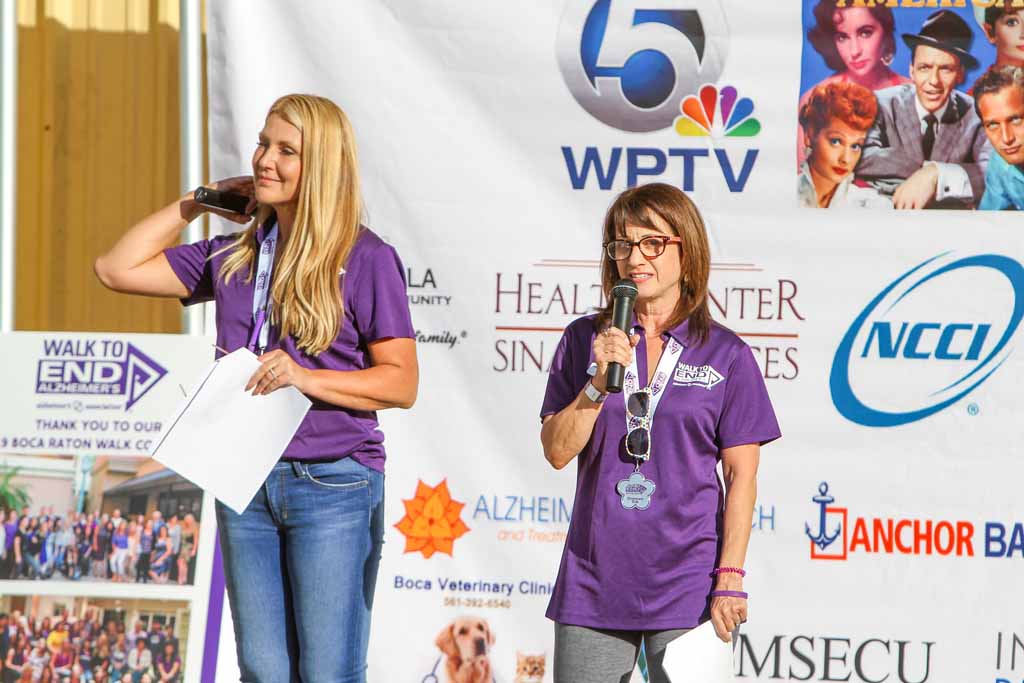 The opening ceremony included dignitaries, Morikami Park Elementary, and Pine Grove Elementary singing, "You Got a Friend In Me", and Jennifer Thomason shared her personal poignant experience of her family facing her father's diagnosis of Alzheimer's.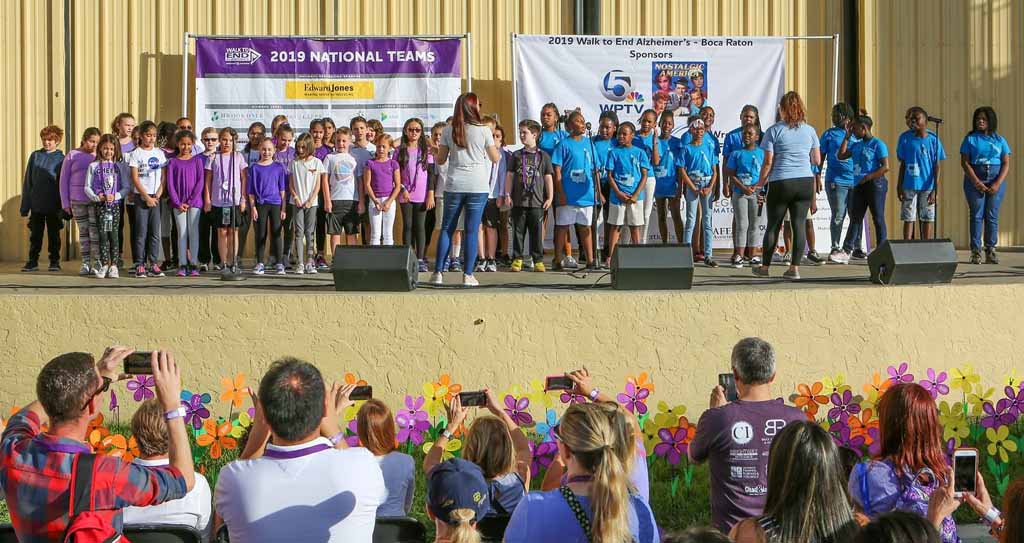 An absolute perfect fall weather, welcomed a sea of purple as the participants exited Mizner Park Amphitheater.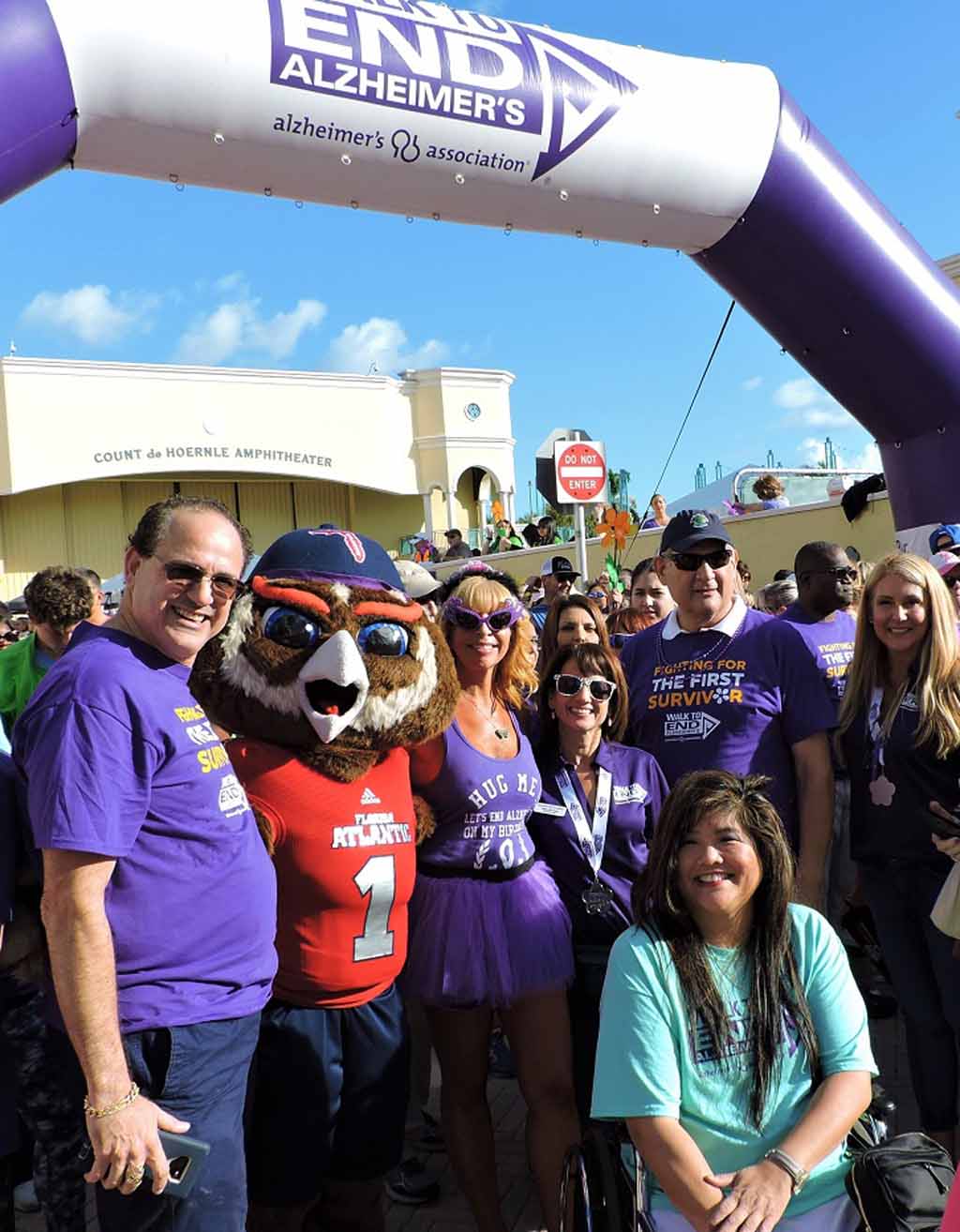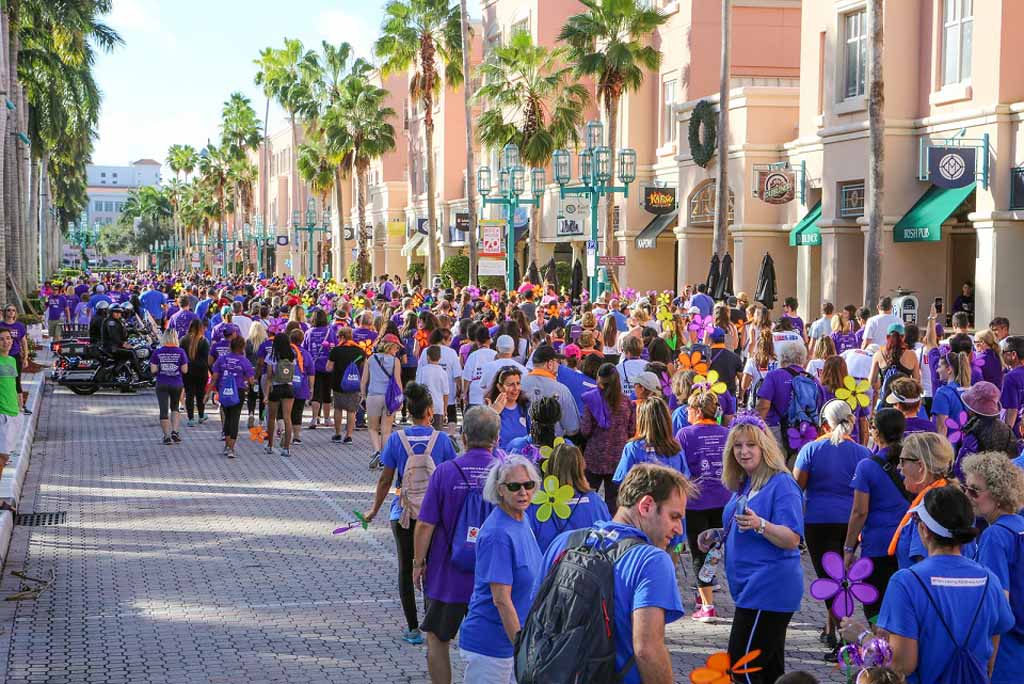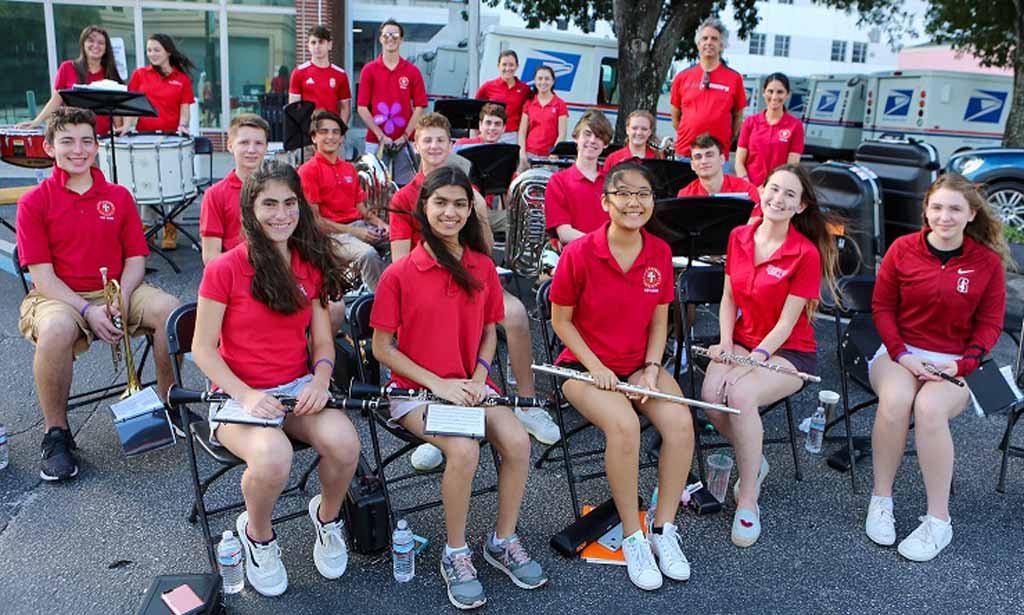 The Alzheimer's Walk is the largest event to raise awareness, and funds for the Alzheimer's Association. Plans are already underway for next year's walk.
For more information, to get involved, or make a donation to the Alzheimer's Association Southeast Florida Chapter, please contact:
Stefanie Mardar
(954) 786-1533
3323 W Commercial Blvd.,
Suite 260, Fort Lauderdale, FL 33309
or visit alz.org/walk