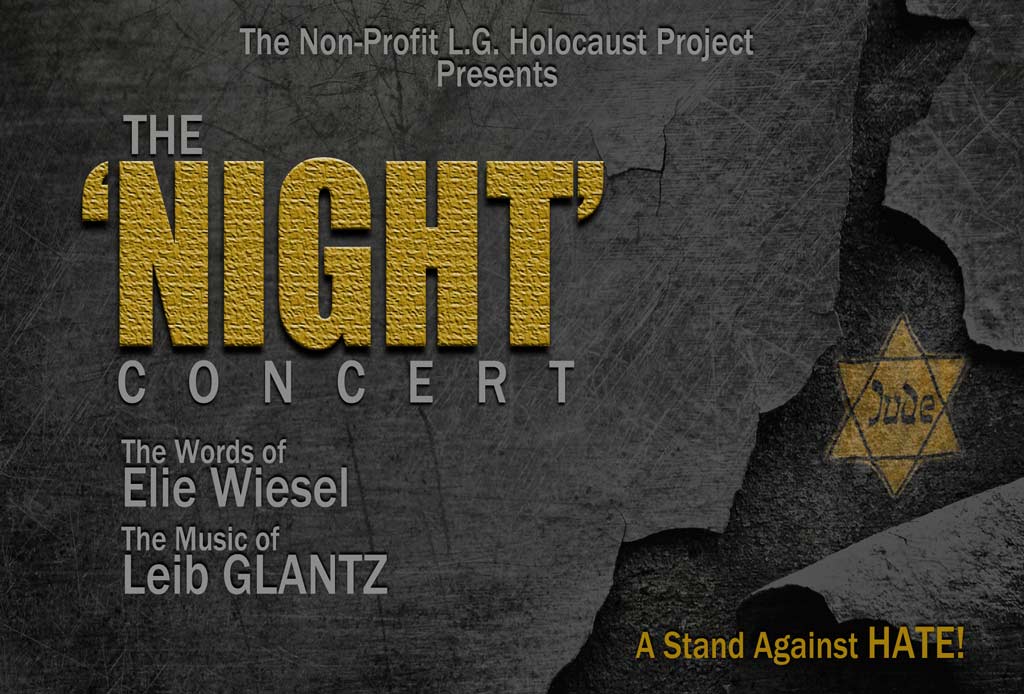 The external heartbeat and the lyrics are the soul in sweet vibrations. The music soared through the air like an eagle on an up-draft, taking with it the very souls of the listening audience. The conductor wands his hands excitedly through the air in front of the choir and drowns within musical thunders.
A choir, a symphony orchestra, and numerous soloists will perform and honor Jewish history and music with The 'Night' Project. A concert and tribute to the memoir of a 15-year-old Holocaust survivor of the Auschwitz death camps, Elie Wiesel, with the music of cantor and composer of Jewish music, Leib Glantz.
Considered by many worldwide as the greatest cantor and composer of Jewish music, Leib Glantz was the greatest cantor of the Golden Age of cantorial art – Jewish Liturgical music. Leib Glantz studied piano, composed 216 compositions, had leading roles in operas and classical music throughout the world in such places as the United States, Canada, South Africa, Mexico, Western and Eastern Europe, and Palestine.
On the other hand, Elie Wiesel published nearly 60 books that earned him the 1986 Nobel Peace Prize. Wiesel was also appointed to chair the United States Presidential Commission on the Holocaust and he was awarded the Congressional Gold Medal of Achievement. Originally published in 1956, 'Night' is a book by Elie Wiesel about his experience with his father in the Nazi German concentration camps at Auschwitz and Buchenwald in 1944–1945, at the height of the Holocaust toward the end of the Second World War.
The 'Night' Project performs excerpts from Wiesel's the memoir 'Night' and it's accompanied by a rear-screen projection of historical genocide images, a symphony orchestra, a massive choir, and vocalist. Leib Glantz's music is sung in Hebrew with translated subtitles appearing on the giant screen. The world premiere of The 'Night' Concert took place in the Baltic Sea city of Kaliningrad Russia January 27, 2019, and the second 'Night' concert was two days later in the capital of Lithuania, Vilnius, formerly known as "The Jerusalem of the East".
Son of Miriam and Leib Glantz, Dr. Jerry Glantz, is now bringing his worldwide concert to Palm Beach, the Kravis Center of the Performing Arts, students, and soon to be announced other locations.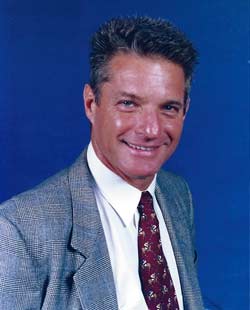 Dr. Jerry Glantz, who represented the United States as an athlete in the 1976 Montreal Summer Olympic Games and an officer in the Israel Defense Forces, is the author of 'The Man Who Spoke to God'. The 2008 book is a tribute and a collection of passages of Leib Glantz edited by his son Jerry.
Dr. Jerry Glantz believes a concert like his is a stand against hate and we need a concert like this now more than ever.
"Look what's going on in the world today. You watch social media, hate. We have hate against Blacks, hate against Jews, Christians, immigrants, politicians, and this project is a message to show how hate leads to violence and violence, as we learned from the Holocaust, leads to genocide," said Glantz.
The 'Night' Project is performed by acting/narrating actors in the language of each country in which the event is performed. Some stars include the award-winning People's Artist of Ingushetia, Georgia, Tamara Gverdtsiteli, and Russian-German singer Helena Goldt.
Dr. Jerry Glantz believes having these global household names is another way to reach young people.
"With young people, high school and college students, if you bring it to these kids live, with a famous actor, it's going to be moving, it's going to influence them to start thinking and not feel like required reading from school," said Glantz.
Even Florida Atlantic University student Jordan Dennis believes students can learn Jewish history more effectively in our education system. Dennis believes when it comes to Jewish history being taught in the school system, students should learn more about the lives and success stories of these people.
"When it comes to the way schools handle Jewish history and learning about the Holocaust, we don't usually dive too deep into those Jewish people who have success stories as part of their background," said Dennis. "We just get little snippets of videos and interviews only talking about the Holocaust. Not that it's a negative thing. But I'd like more of a focus on historical figures instead of the same thing every time."
"I wanted to combine the words of Elie Wiesel with the beautiful music of Leib Glantz and I want to raise awareness mainly among young people to let them see and know something new," said Glantz, "To really inform them what hate can lead to and how to stand against it."
While at a concert in Boca, Dr. Jerry Glantz came across whom he calls a genius musician.
"I walked on over to him and he knew Leib Glantz and said, "Are you kidding me? He is the greatest cantor that ever lived," and that's how I met Joseph Ness, he is a genius musician," said Glantz.
As a conductor, Joseph Ness has led choral-orchestral masterpieces such as 'The German Requiem' and Beethoven's 'Choral Fantasy'. Ness has also officiated as the chief cantor at Beth Temple in West Hartford, Connecticut, for the last 29 years. The orchestra and choir have gained national recognition under his direction. Glantz and Ness have been taking their concerts all around the globe together for the last three years.
Harsh and biting, driven into faces, blinded by the frantic flurry of swirling white-silver and wind cutting through gloves and pants. The storm was more flakes than it would ever make sense to count, yet each makes its own daring path to the white dunes they build taller. Snow, the gift wrap only spring will open.
With over 2,000 people in attendance, the Russian premiere in January would have had even more in attendance.
"We had 2,000 people in that crowd, and over 1,000 other people trying to get in," said Glantz, "Those other people had to watch outside from the snow just to get a look. The concert was two hours and ten minutes, not one person got up to pee. It's inter-faith, its Jewish music, with classical music, in a Christian setting. The audience was mesmerized," said Glantz.
The 'Night' Project is an educational event that brings people together and it's a form of standing against the hate that is shimmering all over the world. High school students will be invited for free to raise awareness of the dangers of hate. The first two North American shows are scheduled at the Kravis Center of Performing Arts in West Palm Beach on Wednesday, November 20, 2019, at 2:30 pm and 7:30 pm for an audience of 2,200 per concert. They will feature Palm Beach Symphony Orchestra, tenor Daniel Mutlu and pianist Elena Klionsky. Future dates and locations will be announced.
On January 27, 2020, The UN International Day of Holocaust Remembrance, The 'Night' Project will be performed in Germany at the 3,600-seat Kuppelsaal Concert Hall. "On that day nothing is open, no television, the only thing happening that night is the concert," said Glantz, "This concert no matter where it is, I feel a feeling of relief and let's stop this hate all over the world and help raise awareness."
For more information, you may visit www.TheNightHolocaustProject.com
Email: info@TheNightHolocaustProject.com
Phone: (561) – 289 – 6606