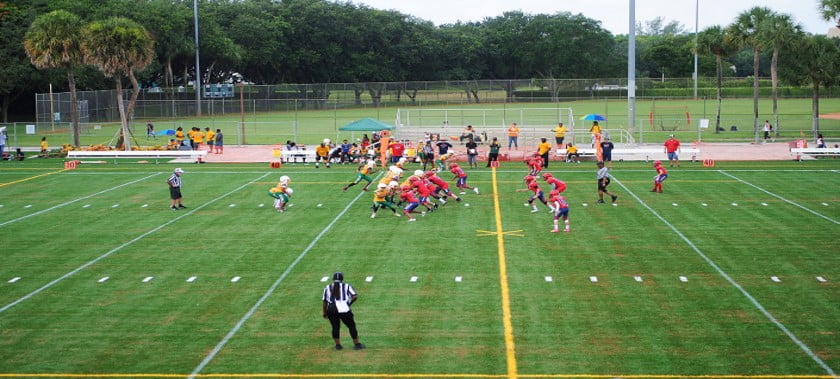 17 Sep

Patch Reef Park's New Turf Fields Draw Rave Reviews

This article was originally published by Al Zucaro on BocaWatch.org, preserved here now for historical purposes.
If there are questions or concerns with the content please e-mail info@4boca.com.

Todd Deering heard plenty of positives about the new artificial turf fields being installed at Boca Raton's Patch Reef Park.

On Saturday Sept. 7, when the Boca Raton Braves played on those fields for the first time, he found that the new surface exceeded the hype..

"This is incredible. This is awesome," said Deering, President of the Braves youth football organization. "The kids actually came out for the first time on it today, loved it. Loved the feel of it. It's basically like real grass, too. Safety wise the kids are loving it. We love it."

When complete, the $4 million Greater Boca Raton Beach and Park District project that began in March will create three new turf fields for community use in place of what previously were natural turf fields.

The new turf fields require less maintenance, affording more time for play. And the new drainage system underneath the fields eliminates the need to cancel games because of soggy fields.
Two of the multi-purpose fields are already complete, with the third scheduled to open by the end of the month. Fields will have permanent lines for football, lacrosse and soccer, but can be used for most any sport that requires a field.
"In response to resident needs and requests, the District designed and developed the fields to extend and elevate the recreational experiences of our community," District Commissioner Bob Rollins said. "These fields will not require the extensive downtime for maintenance, hold up terrific in our tropical climate and give our youth the experience of playing on a professional level surface. We are excited that the project is coming to a close and look forward to the community enjoying the fields."
Located on Yamato Rd. just west of Military Trail, Patch Reef Park also offers baseball fields, softball fields, outdoor basketball courts, outdoor tennis courts, a fitness trail, a playground with a splashpad and picnic pavilions
Patch Reef's Ultrablade MX turf field, manufactured by Sprinturf, features a natural filler as opposed to the rubber pellets poured on top of most similar artificial surfaces. Composed mostly of coconut husk and cork, the natural fill keeps the field cooler than the rubber-filled fields that have been known to get so hot in South Florida that they melt shoes. Because it's organic, the GreenPlay fill is also better for the environment.
"It doesn't hold a lot of heat," said coach Willie Dublin, whose 8-and-under Braves christened the new field with a 33-6 victory over the Deerfield Rattlers. "It's really top-quality turf."
Softer than actual dirt, the natural fill makes for a safer field, providing a cushier landing for participants.
"We do travel away to some other turf fields and they are like concrete," Deering said. "We're happy to be back home at Patch Reef."
---
ABOUT THE GREATER BOCA RATON BEACH AND PARK DISTRICT: The District is committed to the acquisition and development of parks and recreation facilities. It seeks to provide entertaining and engaging leisure, educational, athletic and cultural activities to all of its residents and guests. The District owns multiple recreational facilities and/or parks in the Boca Raton area, including Sugar Sand Park, Patch Reef Park, the Swim and Racquet Center and Ocean Strand. In addition, through interlocal agreements with the City of Boca Raton, it funds the operating expenses of the Gumbo Limbo Nature Center, Red Reef Park, Spanish River Athletic Facilities and Mizner Bark Dog Park.