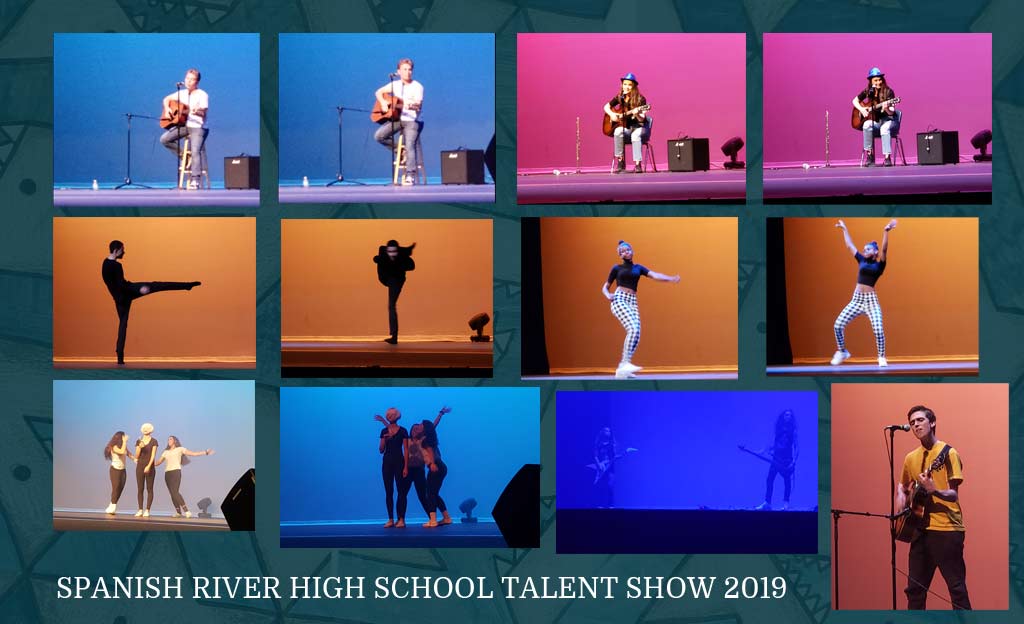 Wow! Spanish River High School has some amazingly talented young people among it's students. Monday night's performances really delivered for the $5 ticket price. There was singing, dancing, guitar, piano and even a contortionist. The performers put their hearts into their acts, mesmerized the audience and had fun.
Here's who performed and what they did:
Caius Pelish played guitar and sang "Yesterday" by The Beatles
Meagan Valliere played guitar, flute, and sang "Tiny Dancer" by Elton John
Jonathan Knowles performed a contortionist and dance routine
Victoria Muscadin performed a hip hop dance routine to a mix of several songs
Cate Rosenthal, Allie Lopez, and Julianna Vajda did a comedic interpretive dance
Jonah Monahan and Clarke Tracy played bass guitar and lead guitar, respectively, to the song "Too Young to Fall in Love" by Motley Crue
Samuel Graf played guitar and sang a song he wrote
 Andy Capriles played an electric guitar solo
Cameron Saslov and Mikayla Hoffman did a guitar and singing duet
Isabel Guevara played a Chopin piece on the piano
Rachel Selby sang the song "Call You Mine" by The Chainsmokers
Livv Haut sang "If I Ain't Got You" by Alicia Keys
THE SHARK BOYS did a lively dance routine.
Congratulations to the Winners!
Livv Haut won first place. Her rendition of this piece was flawless and her voice was really powerful. Victroria Muscadin won second place and Samuel Graf won third. All of the performers deserve praise and so do the judges who had a really tough job. All the performances were filled with so much soul by young people gifted with incredible talent.