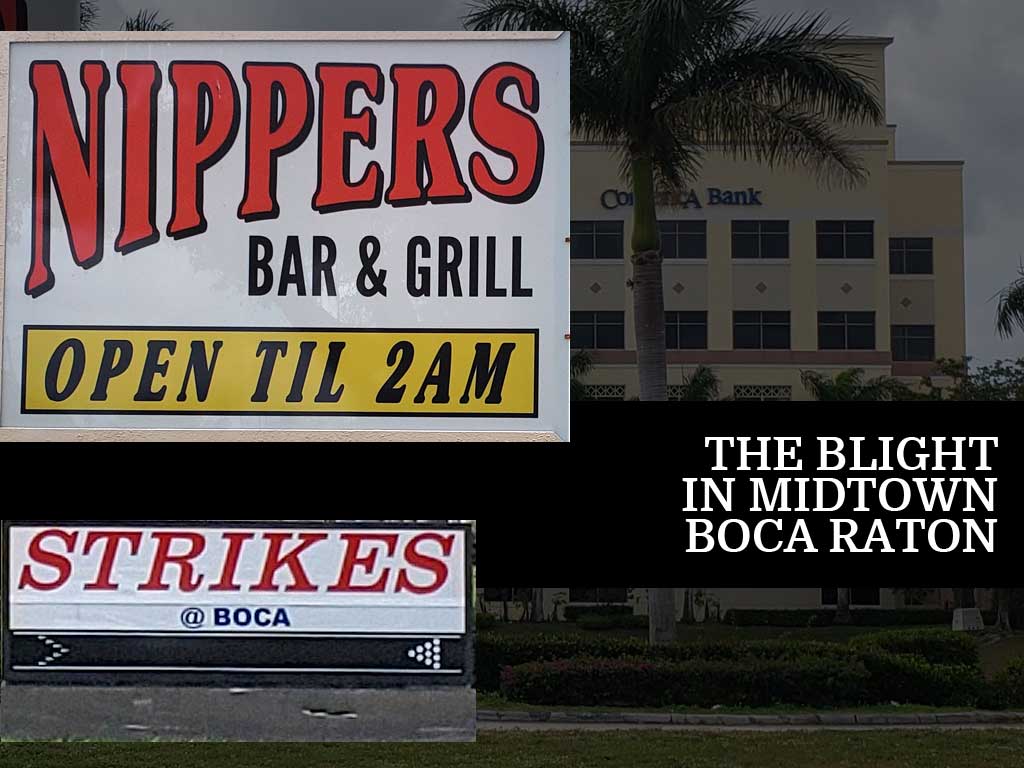 NIPPERS AND STRIKES
properties located at Commercial Trail and N. Military Trail
For many of us, especially those that have been here for decades, locating Nippers and Strikes needs no navigation system to find this 10-acre parcel of Boca Raton landscape in the middle of what has now become the political battleground, Midtown.
These properties hold memories for generations of Boca Raton residents; memories of the 'good old' days. Today, however, these properties are better described, perhaps, by a phrase like the 'bad new' days.
There is little argument that these properties are not in serious disrepair. Serious disrepair is an understatement. In fact, they are in such disrepair that argument can be made that they are 'blighted' properties; blighted properties that could serve as the basis for a Community Redevelopment Area (CRA) allowing Boca Raton additional financial means to pay for the infrastructure necessary to improve this geographic area. Properties whose owner should be encourage, perhaps incentivized, to make improvements and remove the 'blight'(*).
Truth be told, removing the 'blight' is exactly what the owner has wanted to do for 8 years now. An owner that is asking for no incentives, no extraordinary requests and no special consideration. Simply an owner ready, willing and able to remove the blighted conditions but in need of one governmental action; the City Council to approve land use regulations allowing this owner to construct a 204-unit residential building with retail commercial on its street level.
But no….the City Council has chosen to tie up improving this blighted area by their refusal to include residential in the Council's ill-conceived 'small area plan' fiction; a fiction that has now spawned at least three lawsuits; two from Crocker Partners and one from CRVII Boca TC, LP, the owner and applicant for the Nippers and Strikes land.
CRVII Boca is part of the Cypress Realty of Florida, LLC group. Cypress Realty is an accomplished real estate development company with successful projects throughout Palm Beach County. Cypress Realty is the developer that took a U-Pick'em strawberry field and turned it into Abacoa, a town within a town in Jupiter, Florida. Cypress Realty also took a blighted piece of property in West Palm Beach and transformed into a serious residential structure in a section of town most groups would not have taken the risk. Enough said…Anyone interested can simply Google 'Cypress Realty' and research their successes here in Florida and throughout other areas in the United States.
The man heading up Cypress Realty here in Boca Raton is its Vice President Nader Salour. Full disclosure here…I have known Nader for over twenty-five years now dating back to my days as City Commissioner in West Palm Beach. He is a man of his word and a man with unquestionable integrity and his story, here in Boca Raton, is an incredible story rife with broken promises; shifting political winds and, now, expensive litigation.
Suffice it to say that this story dates back 8 years. 8 years ago, Mr. Salour, a stranger to Boca Raton, identified a parcel of land that he saw potential for. His motivation was profit, no doubt, but his idea was also to improve the location for residents in and around the geographic area; a win- win situation. His story dates back to the days of Anthony Maghess, the City Councilman, who first had the nerve to challenge the 'old boy' network here in Boca Raton, but I divert; another story for another day.
What is significant however, is that some of the same decision maker of today where the decision makers of 8 years ago. Instrumental in Mr. Salour's decision to acquire these blighted properties was his meeting with the City Manager Leif Ahnell and Deputy City Manager George Brown.
Per Mr. Salour, he approached the city administration with a basic question; to wit: Would the administration be in favor of his improving that section of Boca Raton with a 204-unit residential complex?
If yes, he would close on the property and begin the process; if no he would walk away from the deal, no harm no foul. 204-units is exactly what the city code allows for residential development; 20 units per acre on a 10+ acre parcel of land; no incentives, no extraordinary requests, no special considerations.
Amazing…an owner wanting to simply come in and develop to code; improve the neighborhood and exit with everyone better off than before.
But…alas, it was not to be….
The story is best told by Mr. Salour himself.
BocaWatch has obtained a copy of a May 4, 2018 letter sent to Mayor Scott Singer that eloquently presents the shifting sands leading up to CRVII Boca law suit against the city of Boca Raton. This letter is attached in its entirety for you, the reader, to form an opinion on the events; the promises made and broken over the years. No opinion is offered here as to the merits with this lawsuit. Suffice it to say that the only winners in litigation like this are the lawyers, especially the outside lawyers retained by the city in these Midtown litigations.
What is the open question, however, is why has the City Council allowed this circumstance to continue; why have the two attorneys on the city council not sought ways to negotiate settlement of this dispute. For all the same reasons cited in LOSE, LOSE, LOSE – Part One, this legal action was and is avoidable; resolvable.
One final thought before you read the May 4th letter….
Fundamentally Fairness requires that this conflict be resolved.
8 years is long enough for the city administration to have published the land use regulations. The city council should demand regulations; regulations consistent with residential density city wide (20 units per acre).
I challenge the City Council members, especially the two attorneys on the Council to act and act now…negotiate resolution to these ill-advised legal expenses.
Win or lose, Boca Raton, its residents, and the investor/business community are already losers.
It is one thing to be resident friendly but quite another to be resident responsible. Continuing this and other similar lawsuits, however, is clearly Resident Irresponsible…Stop It!!!
Click here to view the letter from Nader Salour, written last year to Boca Raton Mayor Scott Singer, about this property. 
* Editor's Note: Strikes is still open. Their food there is great and it's one of the best places in Boca for birthday parties and to have a fun time. Nippers hasn't closed either. -JP