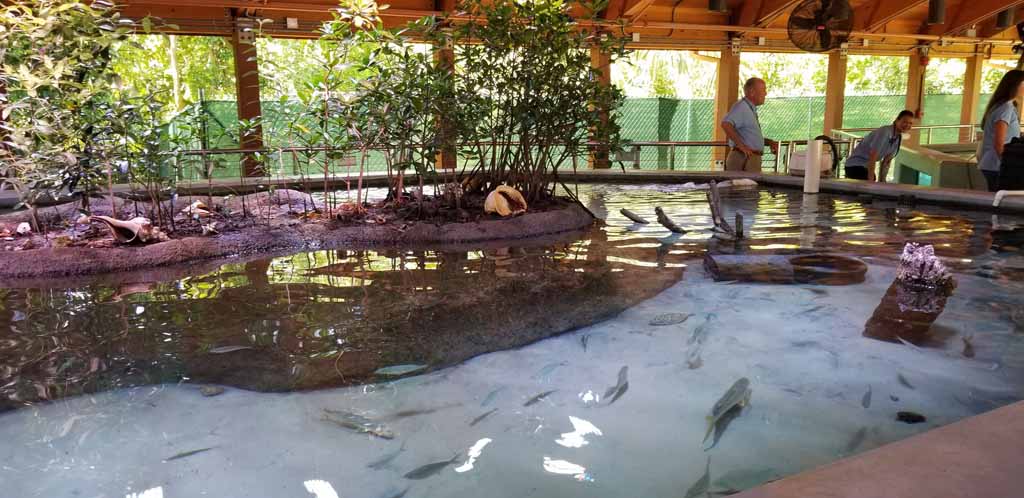 The water shone like a molten mirror and below the serene surface was a fish. Small, barely a dart of silver, yet fast. Glimmering in the early morning sun, the fish darted into the reeds before a small girl yelled out she could see it. The girl's hair was deep hues of fierce crimson against her pale face. Her smile grew as much as spring flowers could open. Gumbo Limbo Nature Center volunteer John Jarvis said, "Kids and families like it and kids like the Harry Potter names for the turtles. Any upgrades we're getting soon is really for a better future for the community."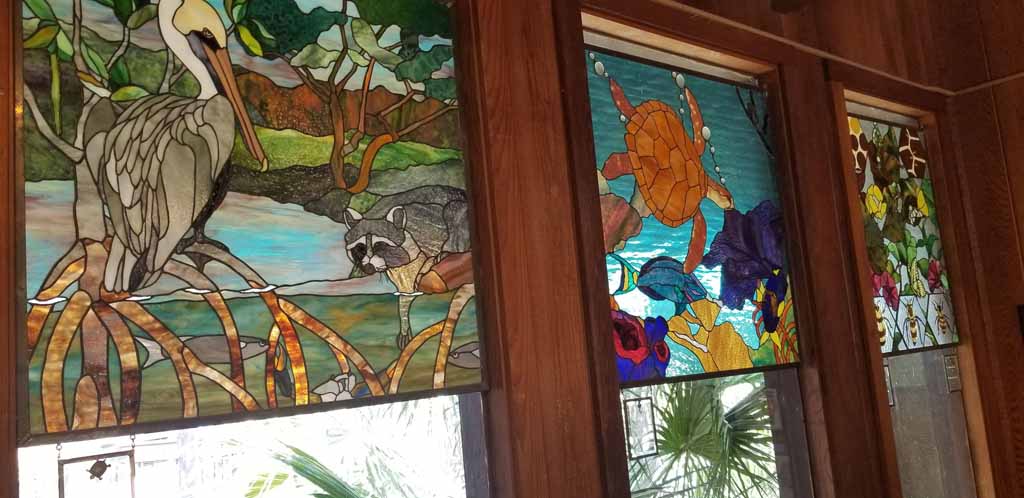 Located at 1801 N. Ocean Blvd. in Boca Raton, Gumbo Limbo is a museum and nature complex that was designed to attract 10,000 visitors. Since its establishment in 1984, Gumbo Limbo attracts 200,000 visitors.
The complex currently includes exhibits, a nature trail, an aquarium, and other outdoor events. On the other hand, Gumbo Limbo is looking to improve on the past and upgrade with new attractions that will have the capacity to attract in excess a half a million people yearly.
Gumbo Limbo would be a facility twice-as-big with roofs built over ground-level parking along with water-front parks with great views of the beach. The renovations would also feature shaded structures for outdoor activities, a new aquarium, classroom spaces, and nature-friendly playgrounds.
Serving its 3rd generation, Gumbo Limbo wishes to serve the next generation while still having a primary focus on nature. Kathy Cottrell and Michele Peel of Geosyntec Consultants state how the overall demand has grown for the facility. "We need a facelift, an expansion really," said Cottrell.
The organization Friends of Gumbo Limbo makes up 20 percent of the operating budget for running the center. Cottrell and Peel, who are with the organization, believe this is the best time for these renovations. "Things like climate change, what people can do to help, has grown in popularity, and more people want to help our environment," said Peel.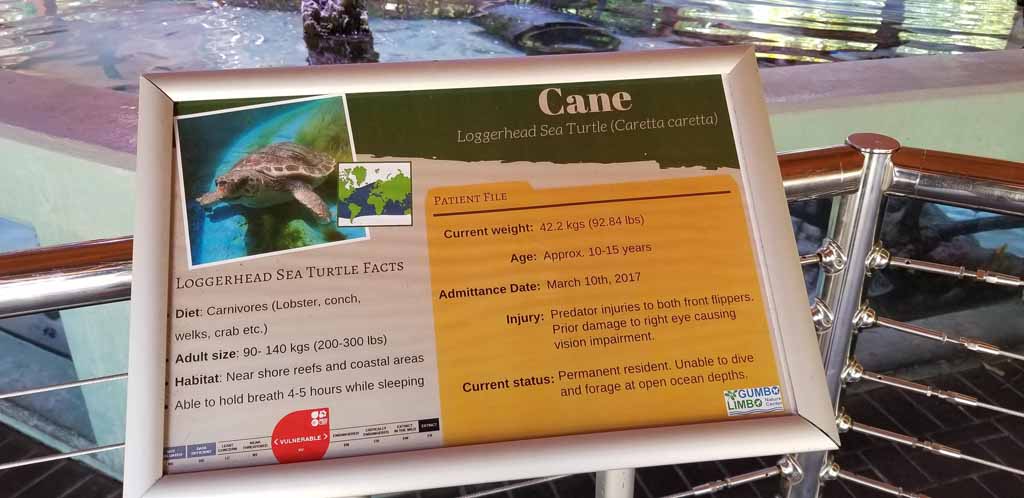 Gumbo Limbo is also an attraction for school children and with the Gumbo Limbo revamp for a larger facility, more classes can attend. "The demand has grown exponential, we can handle two classrooms of school kids at a time," said Peel. "Most grades have four to five classes in a grade. So that means fewer schools and classes can come in a day."
Peel and Cottrell also discussed how the modernized facility will go through phases. "Right now we're more focused on the biological things that go on," said Peel. "Like the turtles, fish, helping people understand climate change, the shifts of the sand and how that affects the barrier islands. But the first phase would be parking, classrooms, and a permanent home for rehab."
"During the phases, the marine life will still function," said Peel. "But sometimes we gift the fish, for example, to other locations. We had this really nasty Angel Fish that liked to chew on the backside of a turtle and the turtle couldn't tell because it had a severed spinal cord. So that fish was a bad actor and we said nuh-huh. So we could say that we gifted that fish to another institution."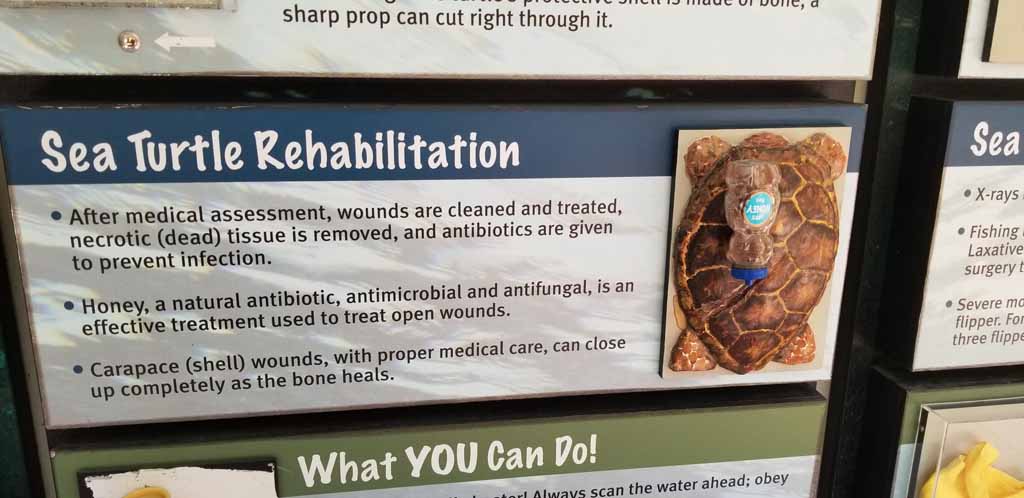 Cottrell's giggle after the comment rolled out of her like waves on a long shallow beach. They seemed to disappear for a moment just to build up and break the surface once more.
Peel and Cottrell agreed the best time to visit Gumbo Limbo, if you want a quiet atmosphere to yourself,  would be early Fall and late Spring.  "Spring Break is very busy and the holidays, which is why you should go now," Cottrell advised. There was something about the way Peel smiled. The way butterflies seemed to escape from the pit of her stomach and the way the sun had somehow toppled down from the sky and made a home in her heart.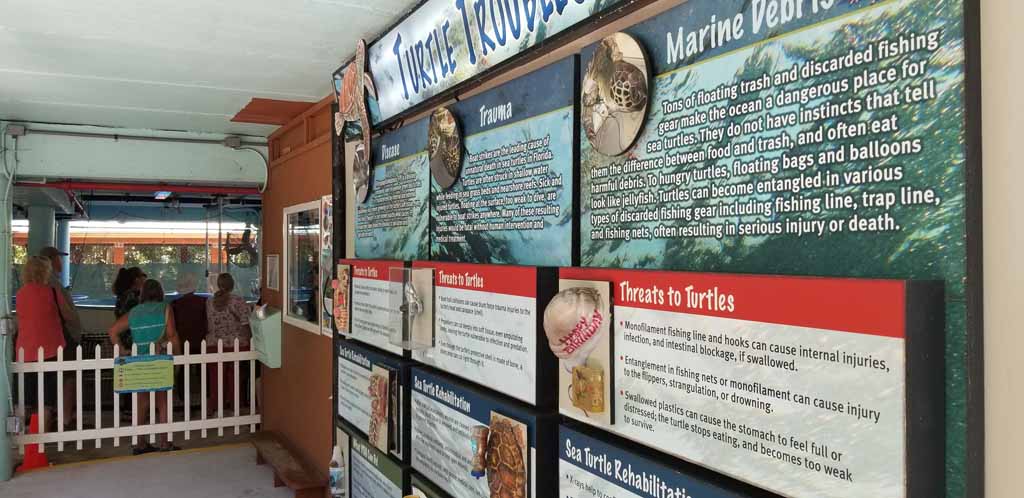 Peel remembered when her twin boys turned nine and they wanted to donate their birthday money to Gumbo Limbo. "So I called and they made a big fuss about it and my boys wanted to volunteer at nine," said Peel. "So I became a member myself and I fell in love with everything they have. I want the next generation to experience what I and my kids have experienced and I want it to be here for the next generation."
For the renovations, Friends of Gumbo Limbo believe the city should share the cost. An estimate for the entire project equals 30 million. It's being funded by the district and the city doesn't put in any money.
Charlo Guyllaume was with his family at Gumbo Limbo and it's been a while since he was there. "I haven't been here since I was seven-years-old, not since I was in elementary school," said Guyllaume.
Guyllaume, who was there with his two kids, doesn't want his kids to miss out on what Gumbo Limbo has to offer. "I haven't been here in 30 years. I don't want my kids to miss out like I did and I like the fact my kids can come here and learn information with other kids and everyone else," said Guyllaume.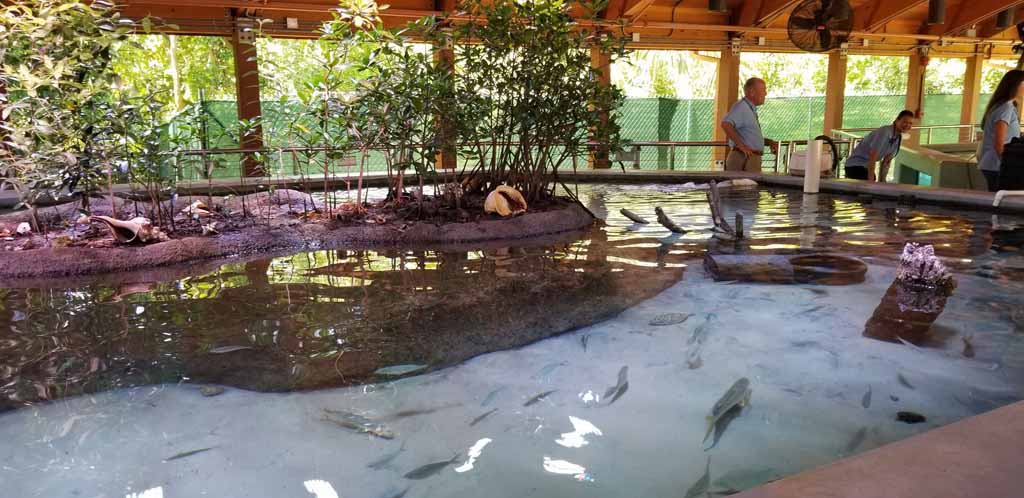 The crowd moves like enchanting shoals of fish. Each person in the Gumbo Limbo crowd moves as if unseeing hands drag them this way and that, pulling their eyes to one thing and then another. But underneath that is free will, the ability to choose their own path. Children move like a flowed river, never stopping for obstacles but swirling around them. A group of children dressed in white, jump in a huddled group like Tic-Tacs being shaken in a box when they see a 300-pound loggerhead sea turtle.
The nature center includes a sea turtle hospital that deals with everything from boat strike injuries to plastic ingestion. The complex also helps turtles with fishing hook removals, flipper repairs, tumors, and shark wounds.
Everyone from different age groups jam-packs the 16,000-gallon tanks, leaning forward, with eyes gazing, hardly blinking, almost for a fear of missing what the volunteers say. The volunteers at Gumbo Limbo do their best to inform all who visit on some educational insights.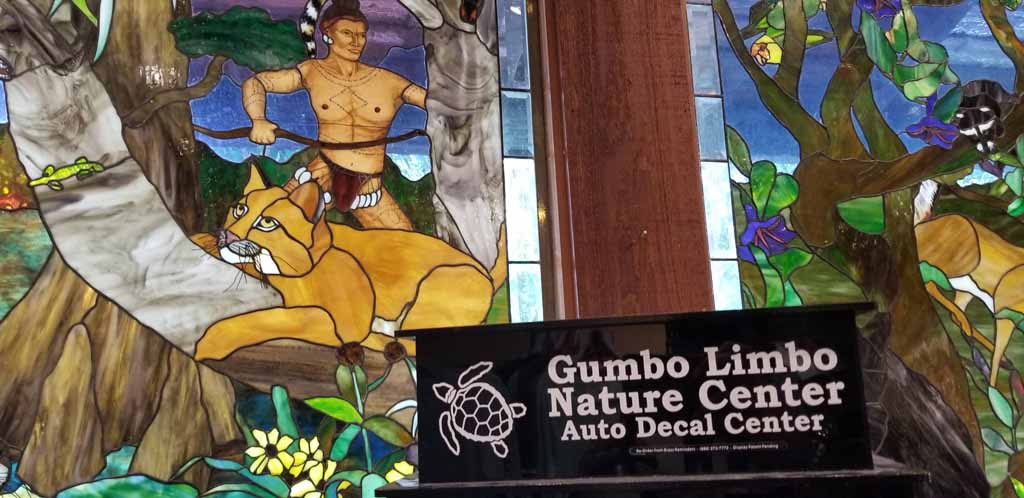 One of those volunteers is John Jarvis. Since December of 2017, Jarvis has been informing all those who come through Gumbo Limbo. "We need sea turtles for a healthy ocean and without a healthy ocean we don't have a healthy planet," said Jarvis.
Jarvis, who is part of the sea turtle rehab center, believes that we can all help take the steps to a healthier ecosystem. "If we can all at least pick up something every time we're on the beach, like plastic, we can all help," said Jarvis.
"Plastic is a main issue for sea turtles. They love jellyfish and they're like cookies for them. So when a sea turtle sees a plastic bag in the water, there is not much reasoning power. If we can help get the plastic out of the ocean we can get these little critters to survive," said Jarvis.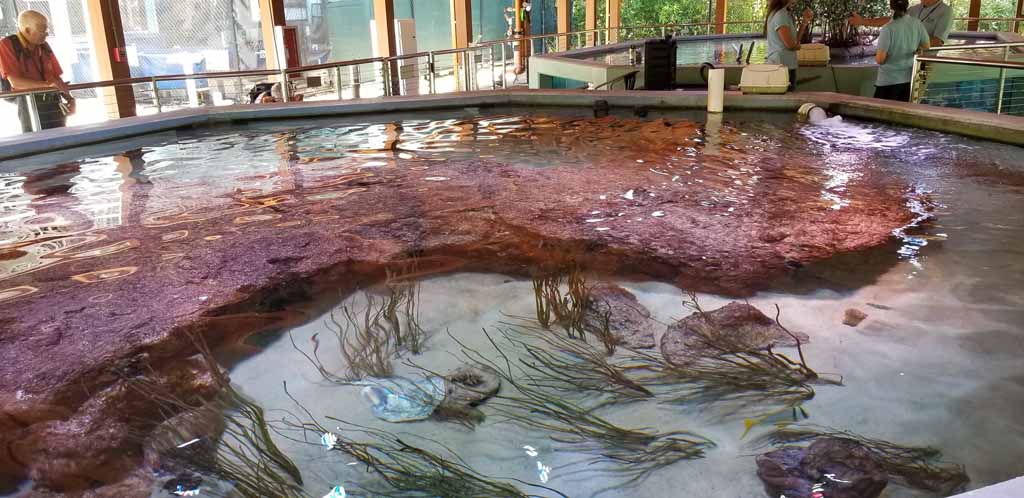 The excitement wired his body like he was plugged into the mains. He felt like his brain was on fast-forward and there wasn't an off switch.
"We're really doing everything we can and informing anybody who comes," said Jarvis. That's why coming before 2 o'clock is a good time to catch us for Turtle Talk where we inform people on what we do, what they can do, and other information. Did you know the largest sea turtle recorded was a leatherback that weighed 2,019 pounds in Wales of September 1988?"
He bounced on his flexing feet and rubbed his hands together as he spoke. He wore the facial expression of a child who received an especially large Christmas present.
In order to keep track of the sea turtles, Gumbo Limbo has developed a system by coming up with some quirky names. "Last year we were naming and categorizing them by breakfast foods," said Jarvis.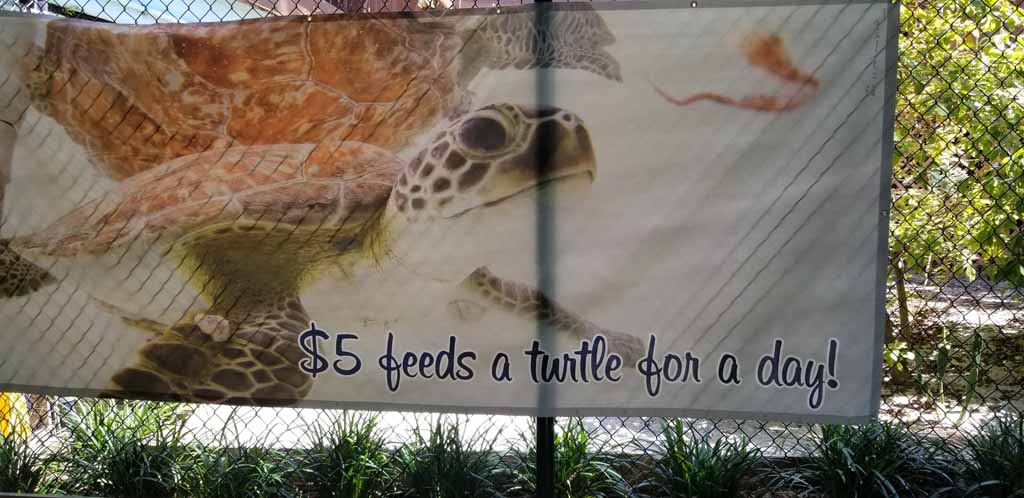 "Now we're using Harry Potter names from A to Z. We use names to keep track of who's been hear the longest. If one of our patients has a name from last season or the last batch of names, we know they still need to be on track," said Jarvis.
According to Jarvis, 70 percent of the guests at Gumbo Limbo are actually nonlocals. "We've gotten people from Europe, Canada, Mexico, Brazil, Portugal, Russia, China, and all over coming here," said Jarvis. "But at the same time, we get people who mention how they've been in Boca for over 15 years and never knew this place existed."
Jarvis hasn't heard too much about the upgrades as of yet. However, Jarvis wants this to be in everyone's favor.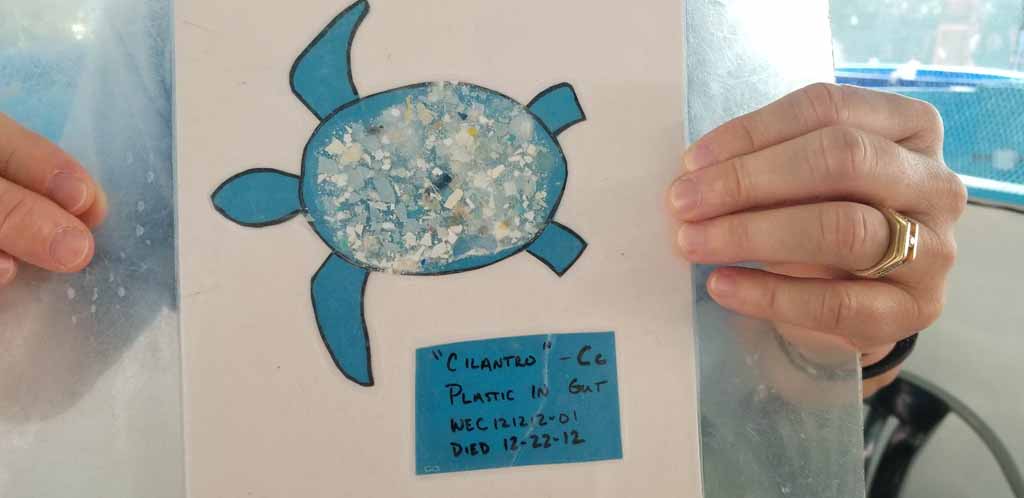 Gumbo Limbo exists because we're trying to tilt the odds back in the sea turtles favor and our residents are part of that experience," said Jarvis. "This is only a drop in the bucket, but that ocean is made up of a whole bunch of drops. Every drop is important."
If you'd like to visit, contact, or volunteer at the Gumbo Limbo Nature Center located at 1801 N. Ocean Blvd. in Boca Raton, you may call 561-544-8605 or visit www.gumbolimbo.org
Publisher's Comment:

Gumbo Limbo is the truly 'World Class' destination in the city of Boca Raton. Serving hundreds of thousands yearly in an outdated and inadequate facility is unacceptable. Yet the elected officials at the District and the City seem unwilling to or incapable of funding the improvements to allow this 'diamond' to literally come out of the 'rough' for future generations. Hence, another example of elected officials 'talking the talk but not walking the walk' of being both 'resident friendly' and 'resident responsible'.
STOP THE POLITICAL DIVIDE…GET THE GUMBO LIMBO IMPROVEMENTS FUNDED!!!
Al Zucaro
Publisher of BocaWatch