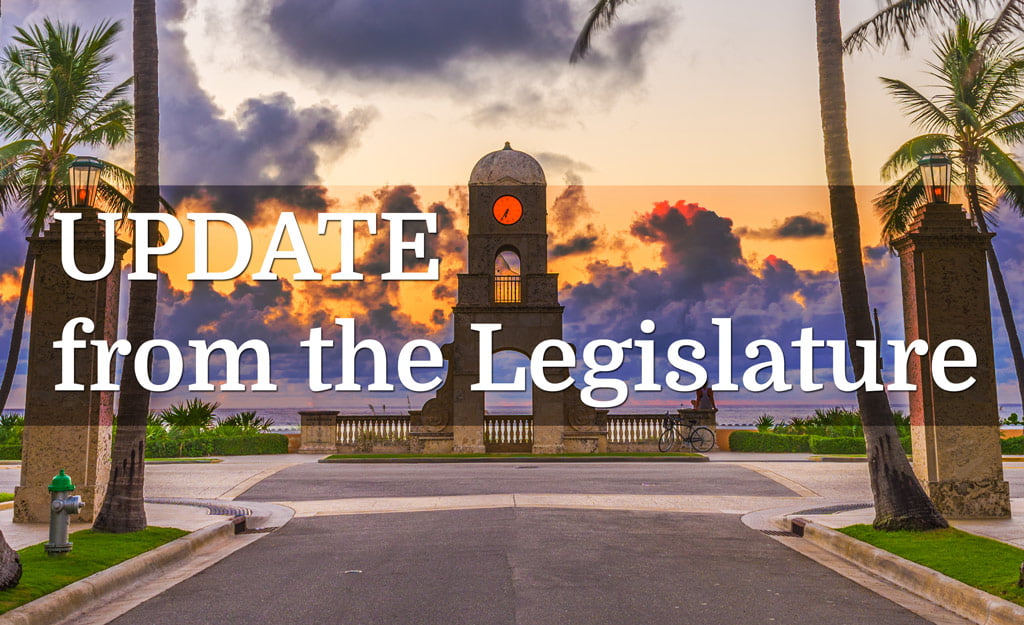 The Florida House Budget for 2019-2020
The House passed its recommended budget for Fiscal Year 2019-2020. The $89.9 billion budget plan amounts to $4,194.25 per capita – slightly less than the spending level in 2018-2019. The budget continues the House's conservative approach of responsibly funding our state's critical needs, including significant investments in hurricane response and preparedness, education, and the environment. The House Budget also provides tax relief by covering the cost of property value growth in the K-12 funding formula and preventing property tax increases. Finally, the budget responsibly plans for the future by placing over $3.3 billion in reserves to prepare for any unforeseen future economic uncertainty.
The House budget covers important elements that will positively affect all Floridians while also securing long-term budget surpluses for the future. Over the next few weeks, the House and Senate will work towards passing a final budget, and I will keep you updated as we move through this process. Even though we spend a lot of time working on good public policy, passing a budget is the only bill the legislature is required to pass each year.
Firefighters
On Monday, Firefighters from throughout Florida came for the unveiling and dedication ceremony of the Firefighter Memorial Monument at the Capitol. I'm grateful for the visit from my Boca Raton, Delray Beach, and Palm Beach County Firefighter friends!
Children's Home Society & Lauren's Kids
I also had meetings with Children's Home Society, among many others. Finally, I participated in the walk with Lauren's Kids, which was held in the Capitol. Volunteers walked for 42 hours on a treadmill to represent 42 million survivors of child sexual abuse.
Ethics Reform
The House passed HB 1 – Ethics Reform, increasing transparency and accountability of elected officials in our state. This bill strengthens conflicts of interest law so government employees and elected officials do not use their positions for private gain. Provisions in the bill include requiring disclosure and reporting offers of conflicting employment, prohibiting state and local officers or employees from soliciting a job from a business or entity that the officer or employee's agency has regulatory power over, and revising executive branch lobbying registration requirements. HB 1 now heads to the Senate for their consideration.
Healthcare Reform
We also passed a number of healthcare reform bills that increase access to affordable quality healthcare for all Floridians. HB 935 – Price Transparency in Contracts prohibits a health insurer or HMO from limiting the ability of any provider to discuss pricing information with a patient. Health care providers will be allowed to share all information on the costs of care and the availability of more affordable care options. Clear, accurate information about the costs and quality of health care is necessary for consumers to select health care services that provide good value. HB 821- Health Care Practitioners allows advanced practice registered nurses and physician assistants to practice without physician supervision, if they meet certain criteria. The bill responsibly allows nurses and physician assistants to practice to the greatest and safest extent of their training, which will increase access to care.
Property Tax Exemptions
One of the bills that I sponsored also passed the House last week. HB 1295 – Property Tax Exemptions Used by Hospitals requires hospitals to demonstrate they provide a level of charity that equals or exceeds their property tax liability in order to qualify for an existing property tax exemption. The bill ensures hospitals do not abuse the tax exemption available to charitable organizations. These healthcare bills will now go to the Senate for consideration.
Additionally, the House advanced legislation that expands career education opportunities and reforms the state's criminal justice system. I look forward to continuing our work to advance legislation that moves Florida forward.
Read the previous update from Representative Mike Caruso.