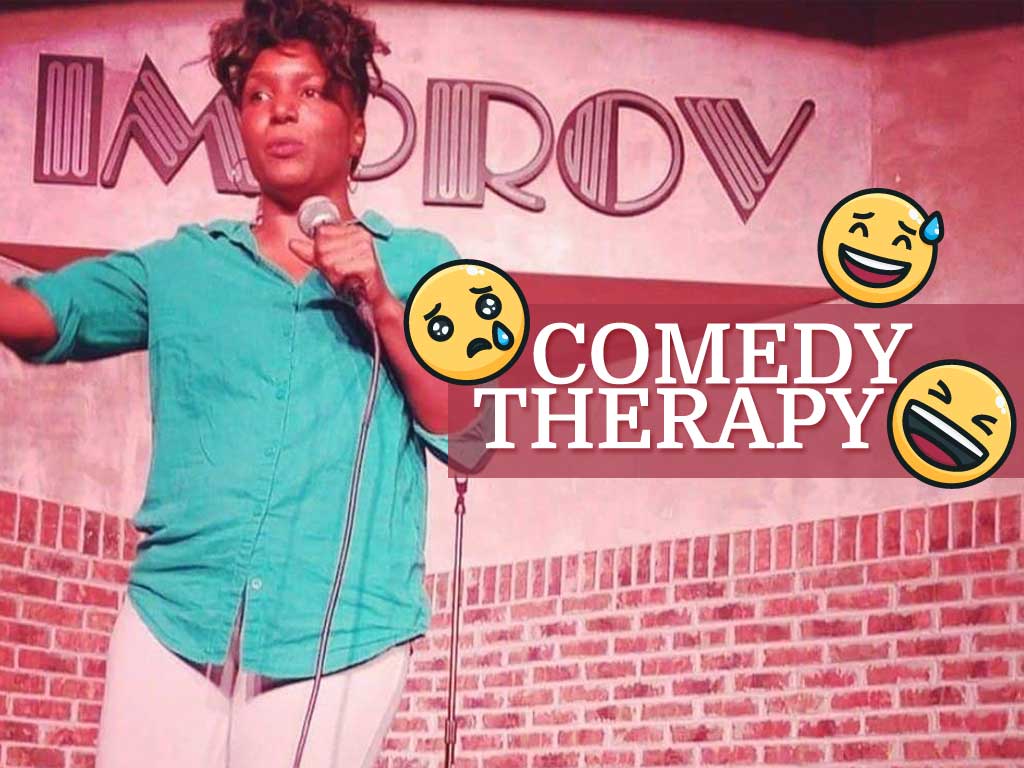 When it comes to balancing my own fragile mental health, instead of going to the therapist, I've always turned to comedy because healthcare is a luxury in America. When upset or sad, I like to contradict those emotions. I try to laugh and smile, instead of pout myself into a headache or anger myself into violence. For me it's always been a free or accessible form of mental therapy.
As I have more freedom to explore hobbies, I've naturally gravitated towards comedy. Those close to me know that I've talked about getting into comedy for over a decade and started with my blog Blamegirl.com. There, I allowed the world to witness me develop my creative writing into something mildly interesting and funny to others. The writing was therapeutic, but I still felt like something was missing, anxiety, so I become a comedian in South Florida.
I needed very formal steps to enter the scene because I am a nerd, so I took classes at the West Palm Beach Improv with Ramon Garcia, Comedy Whisperer. He suggested that after leaving his class, his students frequent open mics in and around Palm Beach County; so, I did. Later, I took Richy and Ben Leis' Comic Cure class in Boca Raton. Now, I'm a regular at three open mics in the county:
Monday – Backstage Café in West Palm Beach, hosted by Jackie Sanchez
Wednesday – Mad Robot Brewing Co., hosted by Mike Cintron; and
Thursday – Swampgrass Willies, hosted by Dom Nesci.
As I navigate this South Florida comedy scene, I realize that performing is also excellent therapy; I am happier than ever cracking jokes on the stage and perfecting my jokes offstage. It's also therapeutic to sit and be entertained by the other open micers. Before I knew it, I found myself with new friends and a social life again.
With anything I do, I like to push it to the limit. While I know I'm an amateur comedian, I have set goals to see where this therapeutic hobby may take me. After going to open mics, my goal was to get booked in shows. After whining to the right people, I have been in booked shows since May and am grateful. My next goal is to become a feature and win a few contests.
If you want to try out some comedy therapy, please attend any of the open mics. If you want to come see me bash men, I have the following booked shows:
Tuesday, August 6, 2019, at 9:30pm – Nippers Boca in Boca Raton
Thursday, August 8, 2019, at 7:30pm – Pop Up Comedy Show, Jo Baby Crawfish & Cajun House
August 10, 2019, at 10pm – Beast of Backstage Comedy Contest, Backstage Café West Palm Beach
August 11, 2019 at 6:00pm – Hand Crafted Comedy at The Brewhouse Gallery
August 29, 2019 at 9:00pm – Comedy Night, The Spot Wynwood, Miami
September 21, 2019 at 10:00 pm – Mad Robot Comedy Presents: Jordan Garnett, Mad Robot, Boca Raton
The Block Party Comedy Tour – dates and times TBA, West Palm Beach.
Please follow me on social media at
Facebook – Go Neal
Instagram – Blamegirl
Twitter – Blamegirls
YouTube – Blame Girl
Website: Blamegirl.com