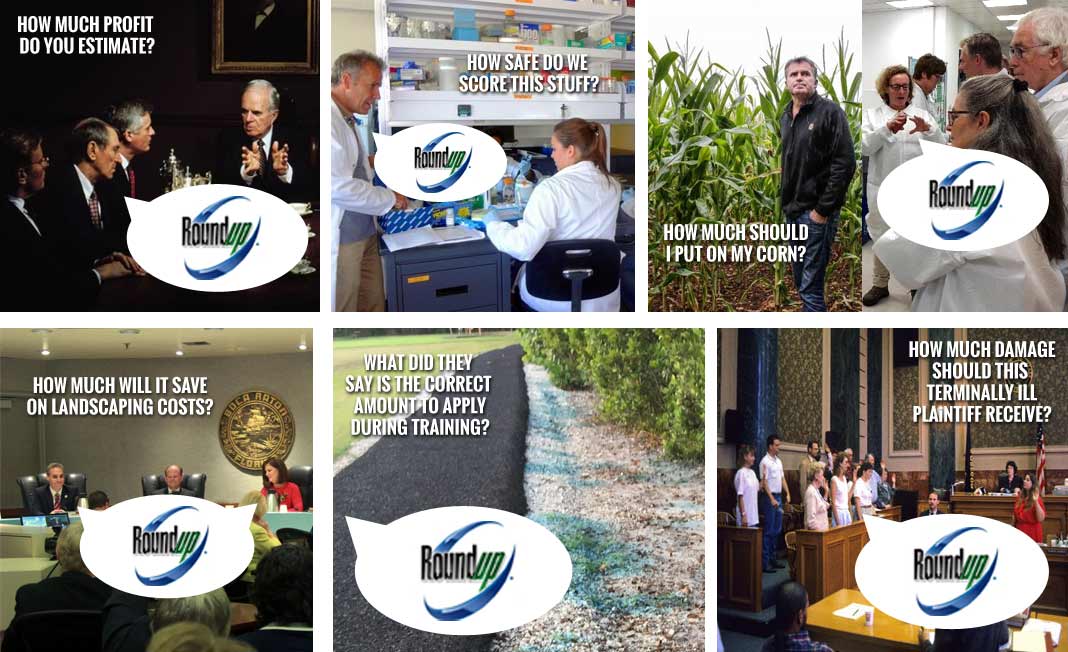 On Friday, August 10, 2018 Monsanto, maker of Roundup, a herbicide used in Boca's parks, was ordered to pay $289 million dollars in damages to a groundskeeper in San Francisco who claimed his terminal cancer was due to years of using it at work. While scientists debate whether the long term effects of Roundup cause cancer the legal system is responding more quickly; sympathizing with suffering people and punishing big business whose negligence was ignoring costs and brushing liabilities under the rug.
Recent citizen pleas to Boca Raton City Officials, reported by BocaWatch in recent stories, petitioned our City Officials to stop purchasing these toxic chemicals. However in the last four (4) Boca Raton budgets, City Council members, including Acting Mayor Scott Singer and Deputy Mayor Jeremy Rodgers, have approved expenditures of some $1.2 million dollars for the purchase and continuing use of these dangerous chemicals.  In this year's latest appropriation, the only City Council member who voted 'no' to this purchase was Council-member Monica Mayotte.  Kudos!!!
Is that where the costs will end though? 
Glyphosate is a white solid powder, an organophosphate herbicide, the active ingredient in the mixtures Monsanto markets as 'RoundUp.' The City sprays it in our parks and on our beach to control weeds. When sprayed it is mixed with a blue dye that makes it easier to visualize the dose, easier to see where it's already been applied with no posted warnings. Unfortunately it colors the rocks a pretty blue, an attractive color that almost looks decorative. Generally, there's no sign when it's applied. Park visitors are expected to understand that blue rocks mean poison. Little kids are expected to understand that pretty blue rocks aren't good to collect; in fact they might be quite dangerous.
There's no magic spell that keeps us, our children, protected from the same disease the man in the judgement is dying from. There's no magic barrier that keeps blue dust from blowing into neighbor's yards. There's no guarantee the same thing that happened in San Francisco can't happen here. There's no guarantee one of our groundskeepers won't get even more sick, or that two of them won't, or more. There's no guarantee that kids won't pick up blue rocks. There's no guarantee that a jury might think a rich-old-city needs to learn a lesson or two if it's a kid that gets sick, or two, or more.
Not only are we gambling with people's lives – but think why we're doing it – to save costs. It's cheaper and faster than hand-weeding, weed-eating, or mowing. Are people's lives and/or all the funds earmarked for disasters worth it? How many lives are we risking? For what?
Boca Raton is a wealthy city; a city with an estimated $19 Billion Dollar tax base and rising.  The additional costs to replace the use of these toxic chemicals; to stop exposing our children to harmful health dangers; and, to protect defenseless critters from debilitating harm, is but a mere 'Roundup' item in the grand scheme of the Boca Raton budget.
What are we waiting for?
Al Zucaro
Publisher – BocaWatch