A BocaWatch reader requested us to provide additional details regarding the pro-development votes cast by Boca Raton City Councilman Jeremy Rodgers. Here is a link to the article:
/boca-raton-election-candidate-voting-record/
Our response in the comment section of the referenced article caused quite a stir because of the huge number of condos, apartments and townhouses that have been approved for development by the City Council and are scheduled to be built in the near future. To put this in context, turning the City into high density completely violates Boca Raton's Low Density Planning Directive, which states:
"The city council hereby declares that it adopts as a planning directive the conceptual goal that the city develop predominately as a low-density residential community, and that single-family owner-occupied residential units be encouraged, fostered and perpetuated as the major implementation tool to achieve such goal." Boca Raton Code of Ordinances, Article IX Single-Family Residential Districts, Sec. 28-333.
Here is the text of our comment response to the BocaWatch article.
Following are Councilman Rodgers development YES votes. He voted YES to approve development of 2,470 multi-family residences and 394 hotel rooms.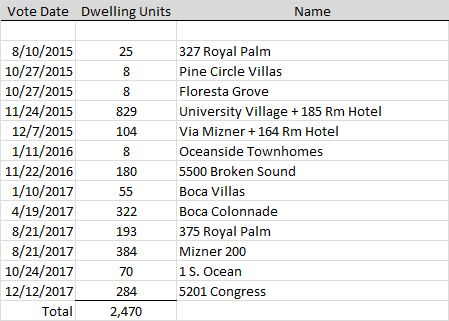 These will be completed over the next several years, so the City has not felt the impact of this growth yet. Added to this problem are developments currently under construction that were approved before he was elected, such as Tower 155. Approval of any new residential development projects will further exacerbate the problem. His irresponsible voting YES on the above projects has created a tsunami that will further crush the City with more school overcrowding, more traffic, more parking problems and a reduced quality of life. What was he thinking?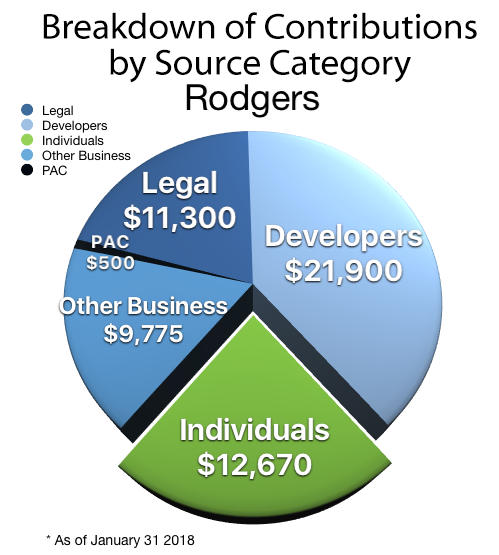 And then there are his votes against the will of the residents who want to protect our waterfront parks from being commercialized.
Above is the text of the comment posted to a Bocawatch article. From this information is clear that Councilman Rodgers is not resident friendly and is motivated to help Boca Raton become a high density city without the infrastructure upgrades to sustain a high quality of life.