Publisher's Comment:

The article gives a full accounting of Councilman Jeremy Rodgers' voting pattern for his three (3) years in office. However, the last quarter of 2017 is not available in an Excel format at the City Clerk's office. this last quarter is recorded simply with individual vote records on individual issues, much to numerous to list in this article. If anyone would like to review the last quarter, 2017, those records are readily available at the City Clerk' office, Monday thru Friday every week.  Thank you. Al Zucaro
Narrative:
In previous local elections for City Council in Boca Raton, Bocawatch has provided residents with the voting records of all incumbent candidates. This year Councilman Jeremy Rodgers is the only incumbent candidate running in the March 13, 2018 municipal election. The following analysis of his voting record while on City Council can be used for fact checking campaign promises as well as an indicator of future voting tendencies.
The voting information summarized in this article was obtained from the Boca Raton City Clerk for the regular City Council meetings. Two formats were provided. One is in Excel spreadsheet format and has voting records from 2015 until the end of September, 2017. The other format is scanned copies of the voting scoresheets from the City Council meetings. We have voting records in this format for the last quarter of 2017. Note that the voting information provided by the City Clerk is the only information used in our analysis and includes all votes cast at the meetings.
Following is Councilman Rodgers voting record from April 14, 2015 thru the end of 2017. Since there are only 14 "No" votes and no recuses, it is rather easy to analyze his voting patterns. That is, out of 524 issues voted-on during this period, he voted 'Yes' 488 times and 'No' 14 times. He was absent for 22 votes during this interval
Councilman Jeremy Rodger's Voting Record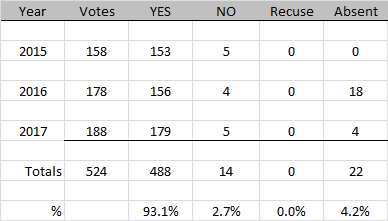 The following table includes a description of Councilman Rodgers' 14 'No' votes since he's been in office. All other votes have been Yes.
Councilman Jeremy Rodger's No Votes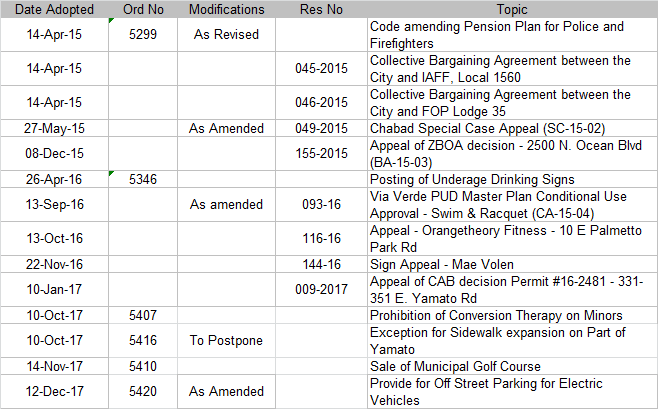 The details of the ordinances and resolutions that are listed in the above No Vote table can be found by entering the ordinance or resolution numbers into the boxes of the form in the following link. https://forms.ci.boca-raton.fl.us/weblink/Welcome.aspx?cr=1
We'll let the residents decide to what extent this voting record is 'resident friendly' versus 'developer friendly'.