Most alleyways feel like an individual is walking on a rough narrow cobbled street. Seeing only bland buildings that are tightly jam-packed together, shadows illuminating off brick walls, and the feeling of something eerie lurking around the corner. Once a month at ROC Urban, Art in the Alley, which is an event by The Flamingo House, has different ideas for the alley and warehouse space.
Music fills the air of the alleyway for multiple vendors, a young man in a fedora licks the dark brown barbeque sauce off his pink fleshy lips and smiles at the food truck server, and numerous artists mix and mingle with all creative types.
Located on the industrial edge of the Pink City, The Flamingo House is changing the way we work. The Flamingo House, which gets their name from nature of flamingos and how those birds do better when they're together, is offering an engaging community for an artist.
One young-lady moved like an artist, her eyes taking in more details than the average individual, her limbs almost dancing even as she walked. In her long brown hair, there is a streak of blue, almost the same shade as her ripped jeans.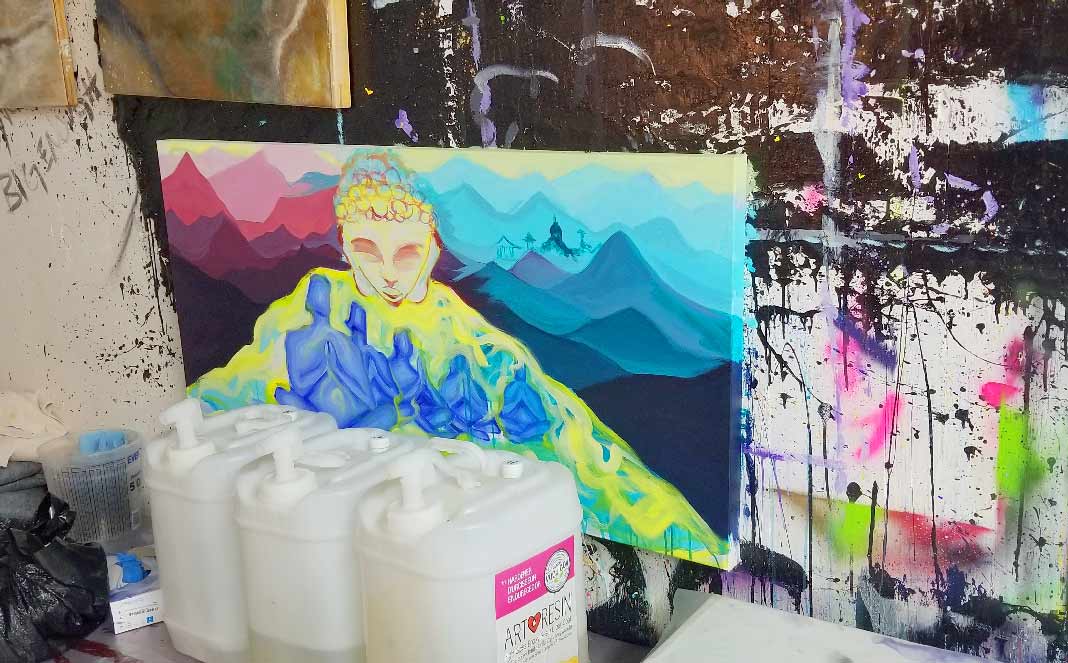 Boca's The Flamingo House is creating an artistic workforce for the community. The Flamingo House provides creative co-working, studios, events, meetings, and more for all kinds of artistic and creative individuals.
Photographer Michelle Guerra, says, "Flamingo House is not about the traditional nine-to-five work environment." Flamingo House is a work environment dedicated to members elevating their business, talents, and a creative escape from the social norms of our society work ethics.
According to their website, "By 2020 nearly half of the American workforce will have a growing need for an alternative workspace and methods." The Flamingo House was created to help others feel free and create an industry aside from the standard office perks. Have writer's block? Kick back and enjoy the ocean breeze, dip your toes in the sun-warmed gold sand and discuss your next artistic project with all your creative types.
Guerra, who has been with The Flamingo House for two years, says, "Small businesses, artist, flexibility, and creating a creative community are an essential part of networking." Guerra has been a part of The Flamingo House since they've started and Guerra believes, "Artist and all people need to seek out opportunities. If you have a passion you feel and you want to grow it, we [The Flamingo House] can help with that. Life is short, so show people what you feel and what you're passionate about."
Like many of the residents at The Flamingo House, Guerra is passionate about photography and she says, "Everyday life is what inspires me and our everyday lives or situations can give us an identity and drive our creativity. Everyone has an artistic quality to them just from their lives alone." Guerra, who enjoys taking pictures of nature and candid photography, also added, "People may come here for one thing but may learn new and different things as well."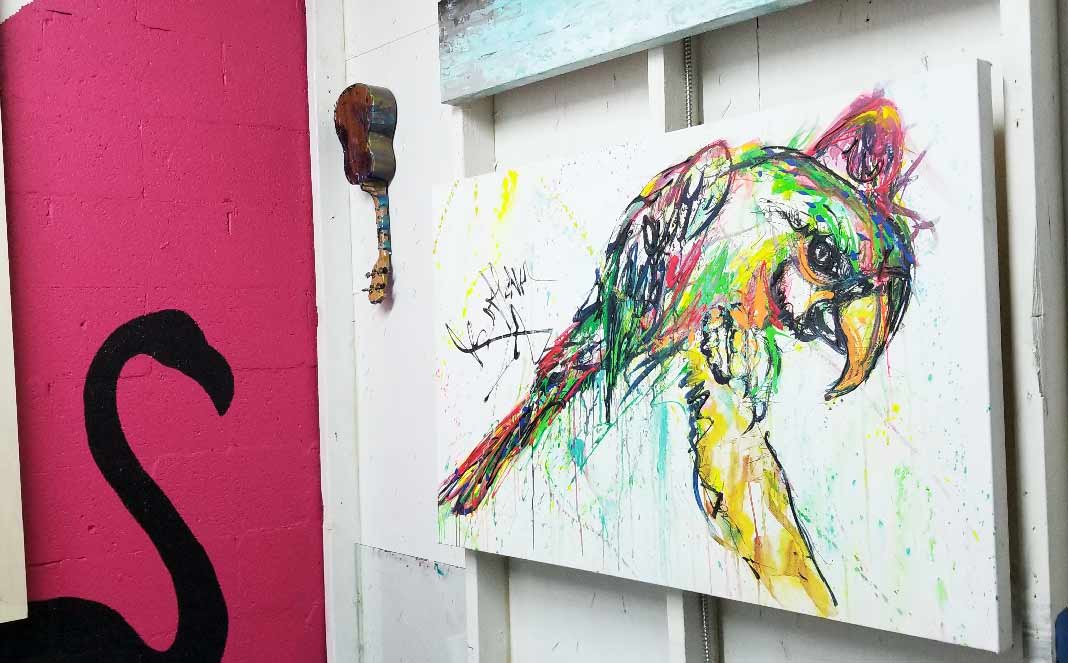 The Flamingo House also turns storage units into a gallery and studio for their working artist. Studios have all kinds of artwork and unlike the usual art galleries of white walls, people with clinking glasses, fashion, and quiet conversation, The Flamingo House brings bold colors and a studio that speaks for them and all their creatives.
One particular full-time artist, Ben Heller, has a creative workspace where the majority of the paintings dominate the walls. Every color is bold and painted within a meandering yet in precise lines that it looks like a masterful mosaic. Heller of Booboosketch Fine Art is creating wall hanging art in all styles.
Booboosketch Fine Art is Heller bringing his own unique originality to the art community, for instance, lately, Heller has been finding success with a style called "Pouring technique [a technique used to smooth out unwanted texture, get marbleized effects, rich colored glazes] with resin and paint mixed together." Heller's workspace and art pieces usually offer a vibrant splash of colors, pinks lye in depths of blue, and with a glistening touch.
The Buddha on the painting is white and the yellow paint looks like sweet nectar. The blue and pink mountains in the backdrop remind viewers of flowers widely over the canvas and sometimes when someone passes it, you can almost detect a fragrance.
Guerra gazes at the artwork and she runs a finger along the gold framing, her peach nail polish almost purple in the half-light, and it comes away smooth. Guerra ended by saying, "Challenging people to get out of their comfort zone is usually the first step in making their life what they've dreamed to be and we would like to bring that change to the community."
Whether you're looking for a photoshoot, a new non-traditional workspace, a family fun artistic event, or your next canvas to paint on, The Flamingo House has it all for you to bring change in yourself and the community. If you'd like to find out more information on The Flamingo House, events, Ben Heller and more, you may visit https://www.theflamingohouse.com/ and Ben Heller at Booboosketch@gmail.com. You may also find them on social media outlets as well.
[vc_video link='https://youtu.be/kmZs_a37nIE']