On June 13, 2017, I experienced what it is like to affect change in our democracy. As a volunteer member of the Citizens' Climate Lobby (CCL), I spent the day on Capitol Hill speaking with members of Congress about climate change legislation and the Bi-Partisan Climate Solutions Caucus in the House of Representatives. Boca Raton's local climate change champion, Congressman Ted Deutch, Florida District 22, is one of the founding members of this caucus. His founding partner is Republican Congressman Carlos Curbelo of Miami. This caucus is unique because it requires House members to join in pairs, one Republican and one Democrat. The purpose of this caucus is to "explore policy options that address the impacts, causes, and challenges of our changing climate." Currently, there are 44 members of Congress in the caucus, and indications are that it is growing rapidly.
Other Florida Representatives who are members of this bi-partisan caucus are: Ileana Ros-Lehtinen, FL-27 (Miami), Brian Mast, FL-18 (Northern Palm Beach County, Treasure Coast) and Charlie Crist, FL-13 (St. Petersburg); with many more around the state working to secure a partner to join.
According to the Yale Program on Climate Change Communication, which manages a comprehensive database of American opinions on climate change, 40 million Americans, 19% of the population, are alarmed about how climate change will affect their lives. Congressman Deutch's district encompasses all of Boca Raton's city limits, and other surrounding areas and south into coastal Broward County. Sixty-two percent (62%) of those living in his district are worried about climate change.
The Citizens' Climate Lobby, a nonpartisan, nonprofit organization, was created to engage our elected officials on climate change action and legislation. It is building political will for a livable world. The legislation which CCL supports is titled Carbon Fee and Dividend. It's a solution that is simple, market-based, and revenue neutral. The three components of the policy are:
Place a fee on fossil fuels at the source (mine, well or port). Each year this fee will increase to incentivize polluters to reduce their usage of fossil fuels and increase their commitment to renewable energy sources.
Return 100% of the revenue generated by the fee to U.S. households in the form a monthly check divided equally among American households.
Apply a border adjustment fee on companies based in other countries that do not have a carbon fee policy that are importing goods into the U.S. This is to discourage U.S. businesses from relocating to other countries where they can emit more CO2 and to encourage other nations to adopt an equivalent carbon fee policy.
Implementation of this legislation will stabilize the climate and boost the economy by:
Cutting greenhouse gas emissions by 50% in 20 years
Creating 2.8 million jobs, boosting our GDP and saving 200,000 lives
Once this legislation is passed, every household in the United States will receive a monthly dividend check similar to the one depicted below.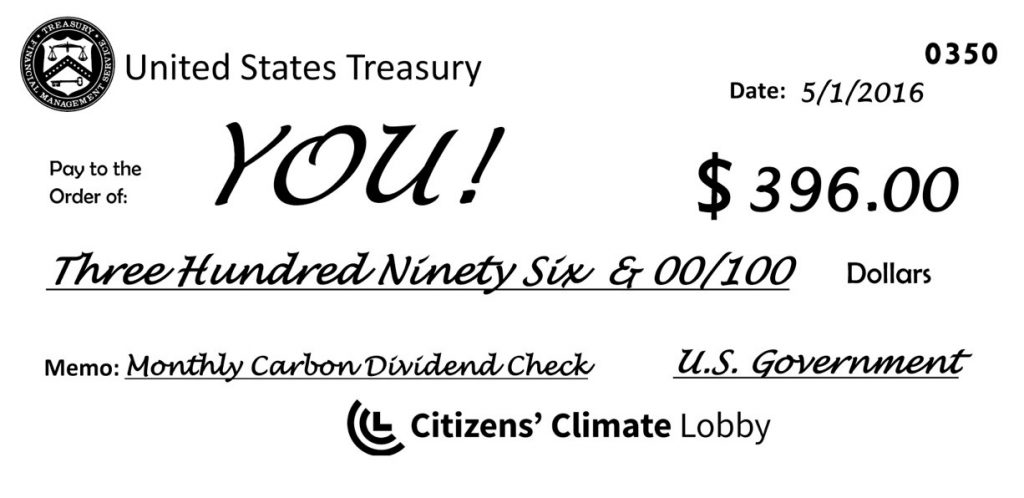 According to reputable economic studies, this legislation will raise the price of gas by an estimated $0.15 per gallon and increase electricity costs for those areas of the country that rely on dirty fossil fuel for electricity generation. This monthly dividend check is meant to offset any increases experienced in gas prices, electricity costs and heating fuel prices.
Low income and middle class households benefit the most from the legislation because their carbon footprints are typically much smaller than the households in a higher income bracket. A household's carbon footprint is based on the amount of electricity and fuel it uses.
The most incredible piece of information about this legislation is that ExxonMobil supports it!
Another organization –  exclusively Republican – supports a very similar carbon pricing policy. It is called the Climate Leadership Council. They call their carbon pricing policy "Pro-Environment, Pro-Growth, Pro-Jobs, Pro-Competitiveness, Pro-Business and Pro-National Security."
Members of this organization who authored its Carbon Dividends Plan are:
James A. Baker, III –  U.S. Secretary of State and White House Chief of Staff under President George H. W. Bush
George P. Shultz – U.S. Secretary of State under President Ronald Reagan
Republicans are slowly realizing that their constituents are concerned about climate change and how it will affect their lives, regardless of where they live, so they must understand this concern and take action.
Being on the front lines of climate change legislation by speaking to our elected officials has been one of the most rewarding actions I have taken as a climate change advocate and activist.  I recommend it to anyone who is passionate about the future of Boca Raton, our state, our country, and our planet.
If you would like to learn more about Citizens' Climate Lobby and its proposed legislation, please join the Boca Raton chapter at our next meeting on Saturday, July 15th, at 12:30 pm at the Unitarian Universalist Fellowship of Boca Raton church located at 2601 St Andrews Blvd, Boca Raton, FL 33434.
If you can't make it to one of our meetings, please check us out on Facebook, https://www.facebook.com/BocaCCL/. The best way to ensure our elected officials represent our views is to write, call or email them to let them know how important it is to you that they address climate change.