This fall film crews will once again descend upon South Florida to resume filming a movie that tells the story of a group of unique Florida artists and their mentor A.E. Backus.
Florida's Division of Cultural Affairs includes Albert Ernest Backus (January 3, 1906 – June 6, 1990) in its list of 'The Florida Artist Hall of Fame' along with such notables as Jimmy Buffet and Ernest Hemmingway.
Backus, know to all as 'Beanie' was Born in Fort Pierce and devoted himself to painting at an early age, his studio was color blind and always open to lively company. This became the perfect setting in which to nurture the talent and ambition of the local young artists, later known as Florida's Highwaymen.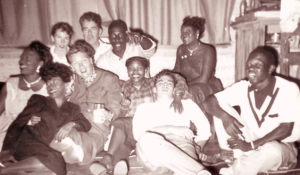 Florida Atlantic University has close to 40 works by Backus in their private collection.
Starting September 15th through November 17th FAU's Ritter Art Gallery will present an exhibit and lecture series entitled: 'A.E. Backus – Florida's Highwaymen, History, Commerce & Art'.
W.Rod Faulds, the Director of the University Galleries, along with Professor Arlene Fradkin, and Professor Brian McConnell have combined their knowledge and creativity to bring us this extraordinary opportunity to view a treasure trove of art unique to our state.
There is no question that the art of any era is also a reflection of that society's history. The history of South Florida during the 1950's to 1970's is as dramatic and colorful as the story of Florida's Highwaymen itself.
Included in the exhibit will be rare works by two of the original Highwaymen – Harold Newton and Alfred Hair. Recalling her first meeting with Backus, Doretha Hair Truesdell, Alfred Hair's widow, said, "I remember a kind and fun loving man who loved to help people. I first met Beanie in 1959 when Alfred was still in high school and taking art lessons from Beanie and I remember him saying
no one painted the ocean like Alfred".
The Ritter Art gallery is located at FAU's School of the Arts 777 Glades Road, Boca Raton, Fl 33431. www.fau.edu/galleries
Facebook group 'Florida's Highwaymen' will be posting updates.