The gold necklace gleams as bright as the sun's rays lighting the ocean dawn; radiant and shining. Her eyes played with the light the way honey teases an unsuspecting sunbeam. Her eyes and complexion match her glistening luxe jewels; like tea mixed with honey, orangey-brown. If Ellie Vail of Ellie Vail Jewelry had ever known failure or hardship, it didn't show in her lucent looks and personality. Everything from the way she held herself, to the way she spoke, to that look of unassailable confidence in her eyes said she could run a successful business.
"I hope that every single woman and girl is wearing Ellie Vail Jewelry within the next couple of years," said Vail.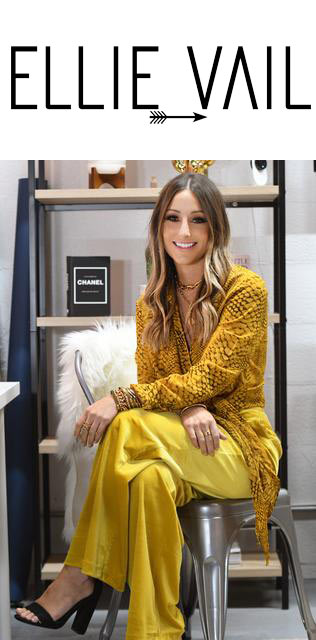 When 28-year-old Ellie Vail isn't taking her dogs Milo and Indo to Delray Beach – North End or traveling to such places as Morocco, Vail creates classic-cool jewelry. Founded in 2014, Ellie Vail creates jewelry for the everyday woman with a mix of classic-looking pieces combined with some of the latest trends. Some of Vail's items include necklaces, bracelets, earrings, and rings.
Each hypoallergenic design is made with stainless steel that is plated in 18k gold, for long-lasting luxe pieces to match multiple forms of styling. Vail mentioned she always wanted affordable yet high-quality and hypoallergenic jewelry. Ellie Vail Jewelry uses surgical stainless steel, the same steel that's used in operating rooms, that way there aren't any skin irritations.
"Cheaper jewelry was what I could afford at the time," said Vail. "But they would turn my skin green when you're sweating from the acidity in your skin. There would be discoloration. Certain metals, like earrings, can make your skin scab, bleed, and puss. That was something I experienced a lot before I even started this and I wanted to make it about quality and affordable pieces."
Vail's mornings were as old and bland as the murky surface coffee on an office desk. The clock ticking on the wall seemed to be slowing down with each tick. Time flowed like cement and the piles of papers just stacked higher-and-higher.
"I was an Executive Assistant for a medical marketing job," said Vail. "It was not creative at all, a boring office job and that's half the reason I started this business."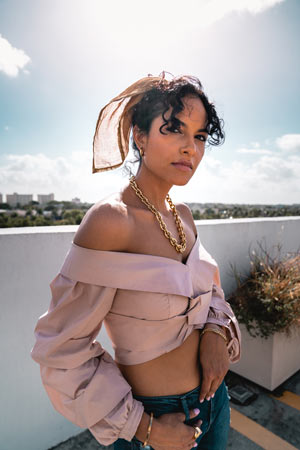 Starting as a hobby, after her office job, Vail took a jewelry class at Boca Beads. Vail's first piece of designed jewelry was a lariat necklace with a Hamsa symbol pendant. Friends wanted to buy it from her and Vail thought other people would like to buy it as well. Opening an Etsy account, Vail made $2,000 selling her jewelry pieces. After selling hundreds of pieces in just a few months, Vail quit her office job and dropped out of the University of Florida.
"Even though I dropped out of school, my mom was supportive," said Vail. "Most parents would think you're crazy. But I told my family I'm not a lazy person and I'm going to do this."
About 20-years ago, Vail's dad left the family and Vail's mother worked two jobs to raise her three kids. Despite it being a costly community, Vail's mother kept her children in Boca so they can go to good schools. Vail said her mother taught her how to push through and how to work to make your dreams come true.
Becoming independent is an adventure for sure, yet one Vail went into with both eyes open. She didn't want to be one of those as the hamster on the wheel. That's why as an entrepreneur and during the early stages, Vail had to fight her failures and struggles. Vail lived on $400 a month, which mainly would go to her student loans. Vail faced rejections, nonpayments, and her social life was suffering. However, Vail reached out the same way a lot of young entrepreneurs reach out.
"When I first started this business, my main approach was through wholesale," said Vail. "I was reaching out to stores so they could resell the line through their customers and I did a lot of that through Instagram."
With Instagram having over 800 million monthly active users, the platform is a great marketing tool if utilized effectively. Like anyone seeking to grow their business brand on Instagram, Vail took steps such as,
Making sure every post exudes her brand image.
Tagging products to make them shoppable.
Curate hashtags.
Vail would search through Instagram looking for hashtags and accounts. Vail would use this social media platform and Vail's first retailer came from Lilli & Tori's Boutique.
"$500 wholesale that just came through a DM," said Vail.
Vail also made sure her Instagram business page had,
Promotional Posts that include product posts or anything related to the company.
Conversational Posts such as posts that encourage the audience to engage in a conversation, such as, asking your followers a question to giveaways and contests.
Sharing Posts that include sharing industry news or even cross-promoting with her audience or other companies.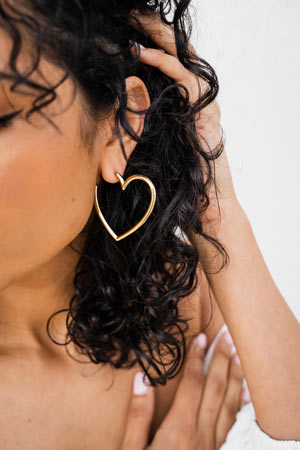 "I learned a lot of skills that weren't directly contributed to running a business. But people skills, work ethic, responsibilities, I learned that at an early age working and working in retail," said Vail. "I made some mistakes along the way, like over-ordering merchandise before I had enough customers for it and taking on too much at once. There are only so many things one person can do."
FSU Alumni and Chief Brand Officer at Ellie Vail Jewelry 24-year-old Brooke Layton is an assistant with Vail and leading wholesale. Vail's wholesale has grown exponentially since her first retailer.
"With the growth of the company we've added on additional hands to make it all possible," said Vail.
The wholesale growth was growing so rapidly that they also had to bring in Brooke's sister 22-year-old Jenna Layton as Junior Brand Officer. Vail's retailers include specialty boutiques, hotels like the Marriott, Fontainebleau, and department stores like Urban Outfitters, Nordstrom, and Ellie Vail Jewelry can be found in over 500 stores worldwide. Some of the places Ellie Vail Jewelry can be found and places they've sold to include,
Australia
Boca
California
Delray Beach
Dubai
Fort Lauderdale
Hawaii
Miami
New York
Ontario
Singapore
Texas
United Kingdom
Vail worked as a personal stylist at Saks Fifth Avenue in Boca Raton, then at the department store's location on Worth Avenue. There, Vail provided exclusive styling for 'Modern Family' actress Sofia Vergara, five-time Grammy Award winner Celine Dion and the Kennedy family.
Also, Ellie Vail Jewelry would later be spotted on Kourtney Kardashian and Ellie Vail Jewelry has been featured in magazines like Seventeen, Harper's Bazaar, Oprah Magazine, and the May 2019 issue of Cosmopolitan. Making Ellie Vail Jewelry the,The Fashion Forecast That Should Be on Your Radar. Vail plans on sticking to jewelry. On the other hand, Vail mentioned perhaps one day she will get into apparel.
"I think about apparel all the time and buying clothing is like my kryptonite," said Vail. "But the thing about apparel is it's a lot harder with sizing. But maybe one day. Who knows?"
Ellie Vail of Ellie Vail Jewelry mentioned how style is more than just how someone looks or what they're wearing. Style is confidence and how you choose to present yourself to the world. Ellie Vail Jewelry is for the everyday woman of any age who is seeking to keep it classy while having some modern-day looks.
"Starting this business I knew nothing and in just a few years I figured it out by learning as much as I can," said Vail. "I feel like people don't go through with some of their dreams or aspirations because they're too scared. But if you feed into those fears, you're never going to be able to do what you're fully capable of."
Video By: Tyler Nemec (@TNemecMedia / TNemecMedia@Gmail.com)
Pictures Courtesy of Brooke and Jenna Layton