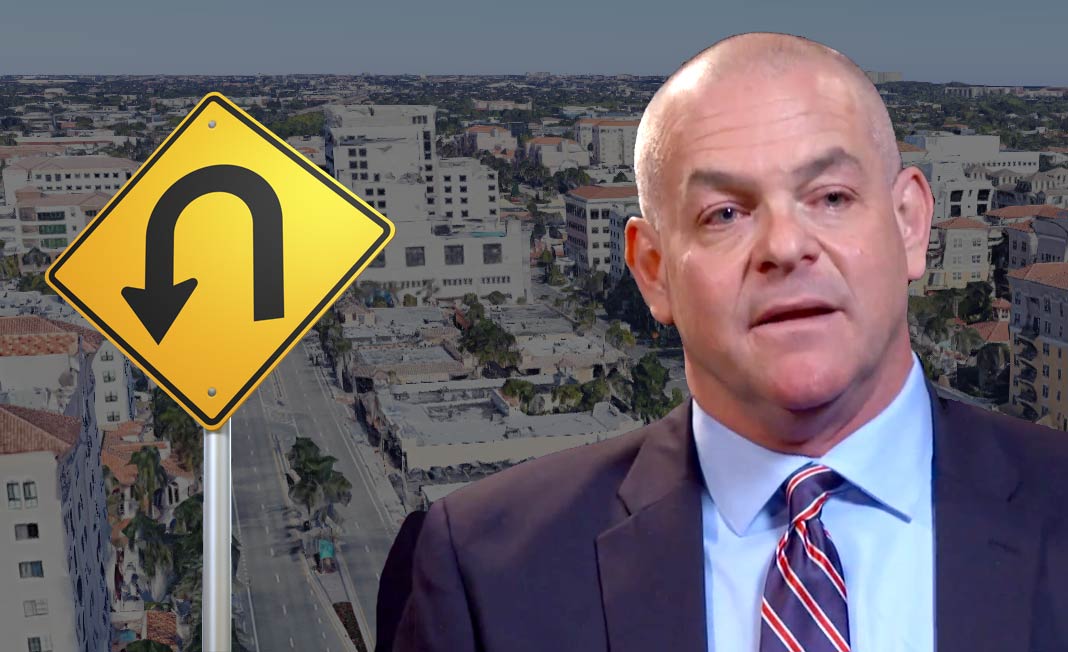 I moved my law practice to Downtown Boca two- years ago.  My first law office was in Dayton, Ohio's downtown 25 years ago; a downtown in decline, within a city in decline.  A downtown's growth instead of its decline was something I wanted to experience.  It's been a great two year experience.  However, I have some trepidation about Downtown Boca's direction.
My office is in the Bank of America Tower (that's the name, I'm from New York, I know it's not really a tower), next to the 5th/3rd Building.  These two buildings are the prime office buildings along Downtown's main artery, Palmetto Park Road.  Since I moved in, Bank of America has moved its local headquarters from my building to Midtown along with Merrill Lynch, from 5th/3rd.  These prime downtown buildings are housing substantial vacancy rates.
In just the past few weeks, Mobu, Truluck's, Uncle Julio's and Pellegrino's, 4 really nice restaurants, have closed.  I couldn't relate accurately which shops have turned over in Mizner, Royal Palm and the roads in between.  Not surprisingly, the cycle of store closures never ends.
While Tower 155 is rising from the ground, Mizner 200, now "Monarch" is not.  The developers of Monarch seem to be in no rush, and after fighting to get plans approved, they are trying to revise the plans, presumably because if they build now, as planned, it won't make much financial sense.   101 Via Mizner and Palmetto Promenade seem to have tenants trickling in, but remain largely vacant.  Nobody really knows their vacancy rates, nor those for the condominium buildings downtown.
This is not a doom-and-gloom piece, just a snapshot of where we are in the CRA today.
What is of great concern is that this is a mere snapshot during a very late stage of a growing economy.  I don't believe we are well-positioned for the inevitable downturn in this changing economy.  Retail is and will continue to suffer due to the internet.
Prime office space seems silly to much of the Millennial generation.  Restaurants have a tough time during booms, let alone during recessions.  Rents in the newer apartment buildings downtown cost several thousand dollars a month, and a lot more housing is approved and in "the pipeline" to be built.
I sense tough times ahead in the absence of planning, leadership, and investment by our elected officials who comprise our CRA Commission.  I write because we have two elections approaching, and those elected will serve on our CRA Commission and will need to address these issues and more.
The newly comprised CRA might need to consider a new "Downtown Plan" with an eye towards the remaining development and future redevelopment within the CRA boundaries, obtaining grants available from the Federal and State governments, establishing small business incentives with  grant and loan programs, short-term and long-term parking, sidewalk widening and connectivity, CRA operated and/or funded transit (circulator and/or point-to-point), commitment to ensuring a business presence in the Downtown (in lieu of becoming a strictly residential downtown), and recruiting businesses from other cities to expand or relocate in Boca's Downtown.
The Downtown is on less-than-firm footing.  The time for leadership and action is now, while the economy is still growing.   I look forward to the candidates who wish to fill both CRA Commission seats discussing these issues and more. Let's hear debate about creating a shared vision for Downtown Boca, and how to lead us there.  If we don't get such substantive debate, it won't be for a lack of issues to discuss.