The question in October, 2017 was whether The Greater Boca Raton Beach and Park District was about to 'sell' Patch Reef Park. The public reaction was immediate and loud….the District Commissioners quickly quelled the rumors and stated that Patch Reef Park was not for sale. Terrific!!!
What was actually happening then and has resurfaced now has the District furthering a negotiation to enter a Public Private Partnership. The Partnership aims to lease a portion of the park to the international tennis star, Rafael Nadal, for a private tennis training facility baring his brand and name.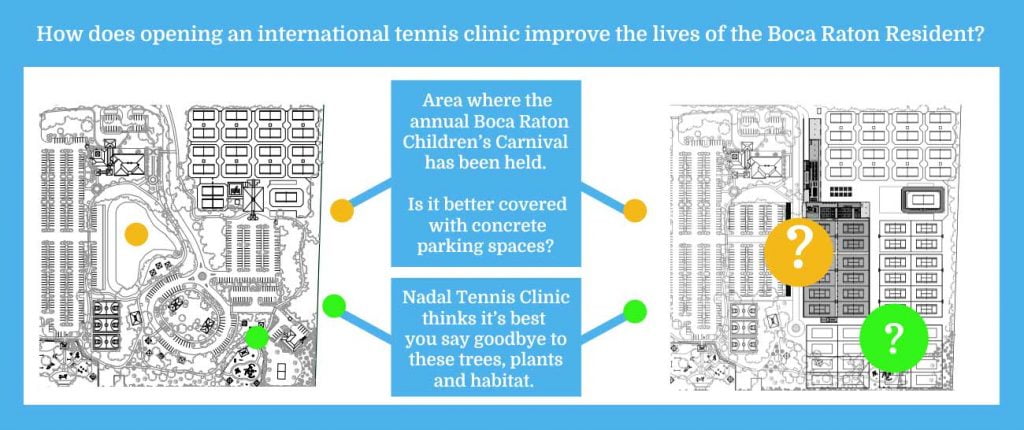 BocaWatch reported on this last year. The District emphatically stated that this was an unsolicited offer and that nothing had been agreed too. The District committed to further look into the offer and get back to the community with additional information.
The District has not kept the community informed on this possibility. Now, 6 months later, the 'unsolicited' offer has resurfaced with full drawings and facility dimensions and with a proposed usage suggestion allowing the facility to be lease to this private entity with the facility unavailable to the public for up to 40% of the time. What is more irritating is that no representative of the Nadal organization was in District chambers last Monday evening to present this proposal. The proponent of this 'unsolicited' offer was the District's Interim Director and General Counsel, Art Koski.
Mr. Koski stressed that the District has offered no encouragement to the Nadal people and that out of the clear blue sky, these detailed drawings and usage criteria was strictly the Nadal Organization's unilateral efforts…REALLY???
In 2017, recollection has it that Mr. Koski told the District Commissioners that he had entered into conversations with the Nadal group and that he, on his own dime, flew to New York to meet with them and explore possibilities. In Chambers on Monday, Mr. Koski stated that the District has taken only 'baby steps' since last year but at times in his comments those 'baby steps' began to accumulate demonstrating his interacting with Nadal to get this to the point it is now at….
The community reaction was visceral. Dozens crammed the District Chamber to voice opposition; to voice concern that the community in general has not been made aware of these activities; and specifically that the neighbors living next door in the Preserve had no idea this was being considered. The District Commissioners themselves appeared genuinely surprised at the extent of this 'unsolicited' offer and even more concerned with the audience's 'in your face' opposition….and well they should be!!!
Commercializing Boca Raton park land has been met with considerable opposition over the years and especially over the last three years. Last year's effort by City Councilman Scott Singer and School Board Member Frank Barbieri to take land from Sugar Sand Park for a school campus met with significant push back by residents near and far. In November 2016, over 27,000 Boca Raton residents voted emphatically against the Chamber of Commerce's efforts in conjunction with some elected officials like Mayor Susan Haynie, Councilmen Rodgers, Singer and Weinroth to the commercialize Boca Raton's Intracoastal Waterfront Park Land.
The message could not be clearer….Boca Raton resident oppose all efforts to take away their green spaces; to commercialize their recreational parks. Period!!!
Elected officials that move in a direction against this overwhelming sentiment do not have their finger on the pulse of our community and, perhaps, should not be the representative voice of Boca Raton residents; a word to the wise here should be sufficient!!!
Patch Reef Park dates back some 36 years. Patch Reef Park was always planned to be a park available to residents for recreational purposes. Indeed there is a large body of evidence on this including but not limited to what appears to be deed restriction protecting the public use of this park.
Mr. Koski is a talented attorney and one can only assume he is prepared to justify this proposed Public Private Partnership. However, legal manipulation aside, the public does not want it….
Mr. Koski is the only proponent of this deal at this time. The Nadal organization did not even send a representative to present the plan.  Mr. Koski seems intent in advocating for a deal that, by his own admission, is not anywhere near ready to enter the public realm.
On Monday evening, the District Commissioners did agree to allow Mr. Koski to continue discussions. They however, expressed reservations as to its merits….so….
CALL TO ACTION:
Residents are encouraged to share this article within their sphere of influence and on social media to your neighbors and friends. Please use the array of social media share buttons we've just installed on the site below.  Get the message out!!!
Residents are further encouraged to contact the Greater Boca Raton Beach and Park District Commissioners and express your disapproval to the possibility of losing any portion of Patch Reef Park to a commercial entity.
The Greater Boca Raton Beach and Park District is located at 300 S. Military Trail, Boca Raton, Fl. 33486. Telephone 561-417-4599, Fax 561-347-3945 www.mybocaparks.org
E-mails, letters, phone calls, faxes, even carrier pigeons…but get the message across…
The individual Commissioners are:
Craig Ehrnst
Steven M. Engel
Robert K. Rollins, Jr.
Susan Vogelgesang
Erin A. Wright
An informed resident is an asset to the community.  Stay alert and stay informed….
Thank you for taking your time to read this.
Al Zucaro, BocaWatch Publisher