Since the City Council election's qualifying time closed, an explosion of campaign fundraising events have erupted.  Some of these events are relevant and timely; some are distant and confusing.  Let's examine….
On January 11th, the day after the March City Council election qualifying period ended, Deputy Mayor Jeremy Rodgers invited the local political influencers to a fund raising event.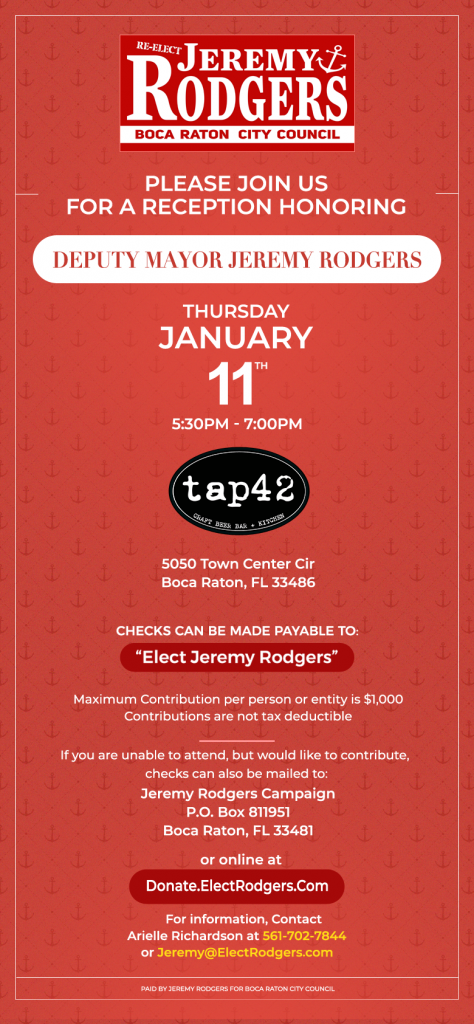 The event held in Boca Center at Tap 42 is squarely in the exact geography involving the controversial Midtown Boca rezoning project.  Is it coincidental that representatives of the Midtown Boca developers and a host of other developer interests were there front and center? It will be interesting to see how this event impacts the developers' percentages in Mr. Rodgers contribution pie chart after the February 10th reports are published.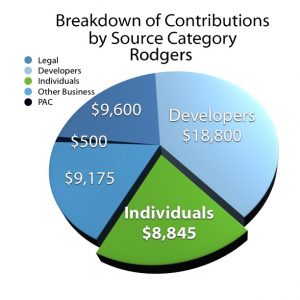 Mr. Rodgers opponent, Kim Do, a political newcomer to Boca Raton politics has not, as of yet, announced any fundraising events.  BocaWatch will continue to follow this race and encourage the reader to pay close attention to the big money influencers and their contributions.
---
On January 18th, Councilmember Scott Singer invited the Boca Raton political influencers to an event at Ouzo Restaurant in Mizner Park.  Mr. Singer has announced his intent to run for Mayor in a race that is not yet announced; may not actually take place; and is certainly premature.  Mayor Haynie has announced her intention to run for the open District Four County Commission seat.  Ms. Haynie has not officially kicked off her campaign and some argue that she will withdraw from that race before the qualifying period.  That being said, even if Ms. Haynie does qualify for the District 4 County race, she will have to resign her seat as Mayor no earlier than November, 2018.  Assuming that to be the case, a Boca Raton Mayor's race will take place no earlier than March, 2019.   If she withdraws from the county race and all things remain the same with her pending ethical challenges, there may not be a Mayor's race until March,  2020, the date her term would come to an end.  Mr. Singer's actions have prompted two other candidates to file an intent to run.  These names are Property Manager and Real Estate Consultant Glenn Gromann and realtor, Bernard Korn.  Neither Mr. Gromann or Mr. Korn have scheduled any events to date.  Mr. Gromann did send an informal request to Mr. Singer to cancel his January 18th event, a request that went ignored by Mr. Singer
Click here to view Mr. Gromann's request.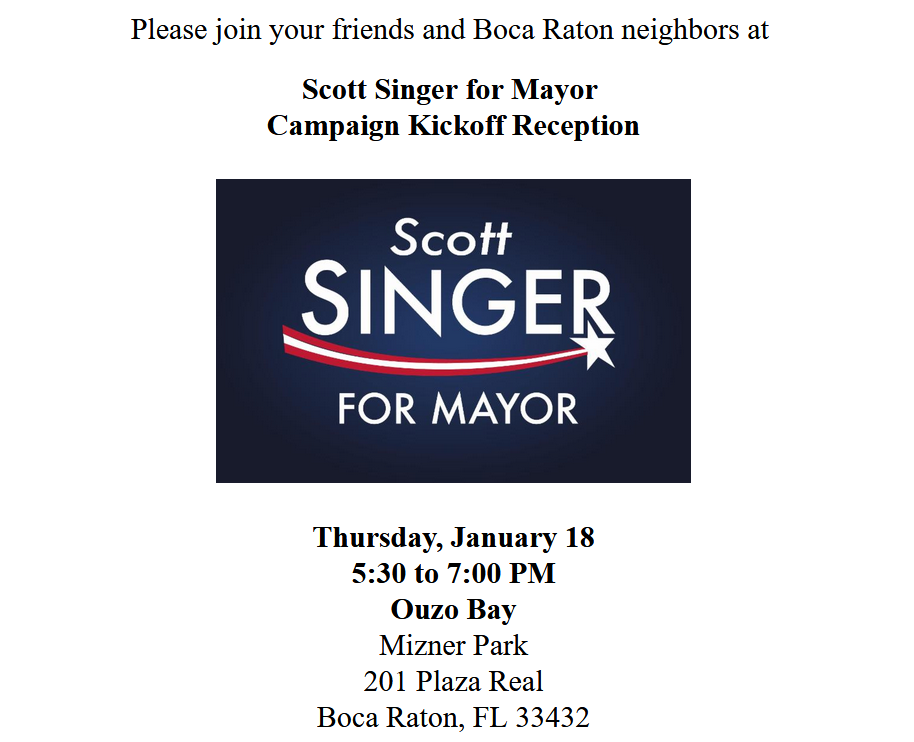 Again, as with Mr. Rodgers, it will be interesting to see what changes become apparent with the percentage of developer donors in Mr. Singer's contribution report due to be file on February 10th .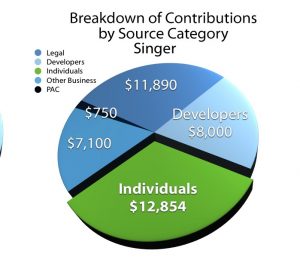 ---
Next up is Councilman Robert Weinroth (D) who had filed his intent to run for Seat D, City Council Boca Raton, but at the last moment withdrew his candidacy to run in the District 4 County Commission race against Mayor Susan Haynie (R).   Mr. Weinroth has been the most prolific fundraiser in this election cycle bar none.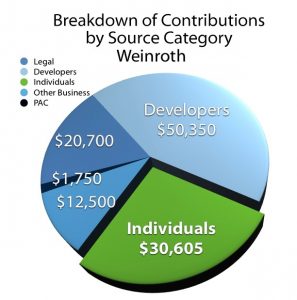 However, with his withdrawal from the City Council race, he informs me that he will be refunding all donor contributions taken in the non-partisan race for City Council so that the contributor can reassess their support for his County Commission race as a Democratic candidate in a partisan election.  The Race for county commission has not drawn any other names at this time.  Rumors swirl that termed out State Representative Bill Hager will enter the race sometime after session in Tallahassee at which time Mayor Haynie is rumored to be exiting.  Only time will tell…. Below is the invitation from Councilman Weinroth to his initial fund raiser scheduled for this Wednesday, January 24th at Prezzo restaurant in the western corner of Boca Raton on Military Trail.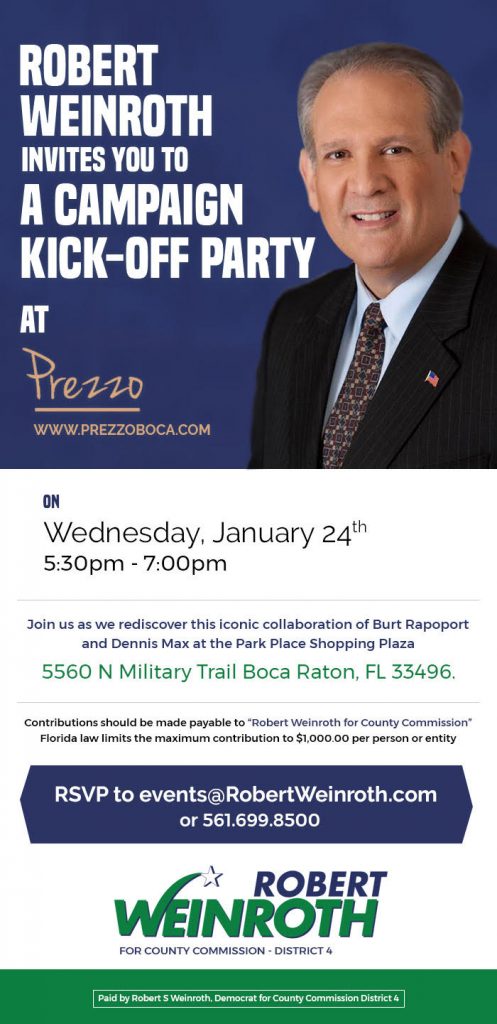 ---
The only other candidate that has filed a campaign contributor report is Boca Raton City Council Seat D Candidate Monica Mayotte, Seat D.  Candidate Mayotte has received virtually no funds from the developer community.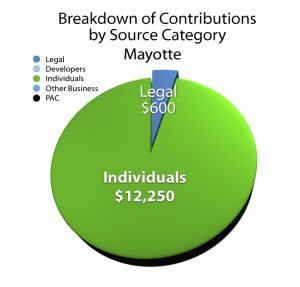 Mayotte is not expected to attract large developer contributions as she is running on a 'Resident Friendly' platform.  Ms. Mayotte has been endorsed by Boca's Firefighter Union.  Other endorsements will be announced as they are given and announced.  Ms Mayotte has sent out a 'Be My Valentine' campaign kickoff event scheduled for February 12th (see invitation below).  No other invitation for events in this race have been received. BocaWatch will keep you informed as these are scheduled.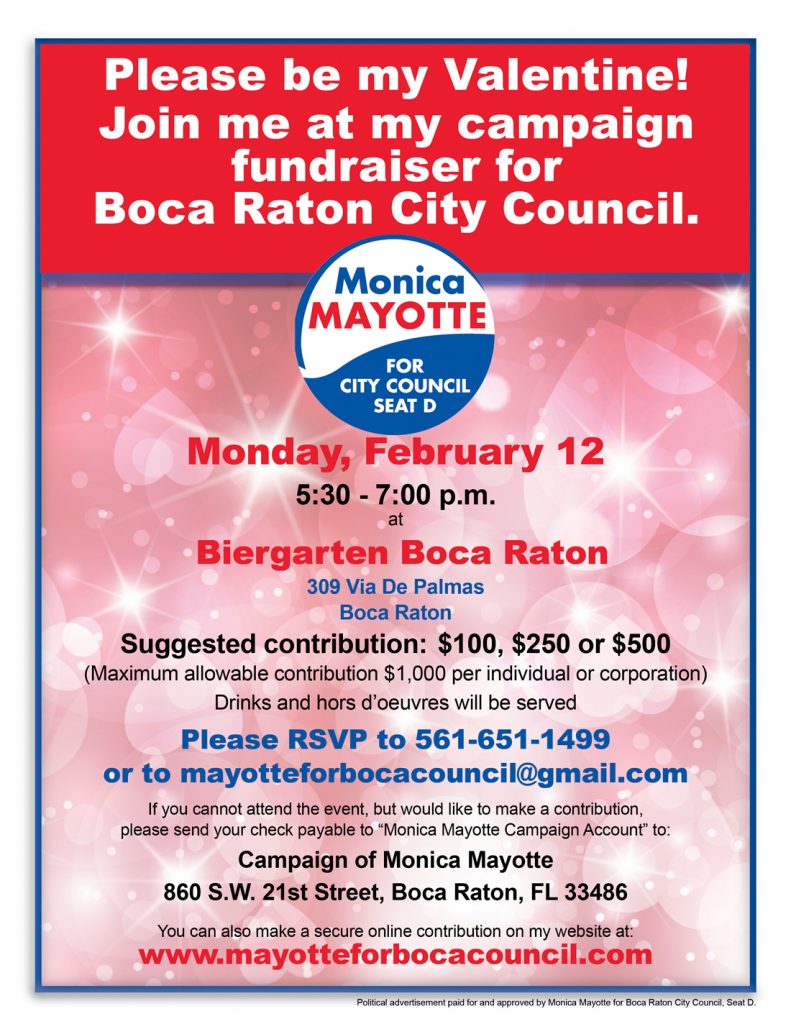 The race for Seat D on the City Council has attracted two other names; to wit:  Armand Grossman, a longtime resident with developer involvement and Dr. Paul Preste, a Broward County Doctor and real estate entrepreneur who competed for the purchase and sale of the Boca Raton Municipal Golf Course last year.   Mr. Grossman is expected to be embraced by the development community and the Chamber of Commerce.   A complete profile is being compiled on all candidates for future publication.  All candidates have been invited to send in their campaign literature and sit for an interview by Katie Barr on 'What's Boca Saying.'  Stay tuned…
---
Late item received at publication time:
Reported by the Sun Sentinel and the Palm Beach Post, Susan Haynie has sent a letter to her supporters that she is 'in it to win it' with regards to her run for county commissioner.  Listed in this letter are her supporters.  Amongst those listed are Boca Raton Deputy Mayor Jermey Rodgers and City Councilmember Scott Singer.
More on this next week but with two investigations for ethical violations by Ms. Haynie currently open and pending and with Rodgers and Singer refusing to conduct an investigation into these 'public trust' matters, their support begs the question of why would these elected officials close their eyes to the public trust issues and potential corruption matters pointed out in the series of reports last November in the Palm Beach Post.  Closing one's eyes to these matters makes one complicit to the breach of the public trust and the potential underlying corruption that exists.  Stay tuned.
_____________________________________________________________________
That's it for now…as if that was not enough for the first 10 days post qualifying for City Council…Hold on to your hats folks…this is becoming very interesting.  So as a last thought for today….
Remember….
Your vote is your voice; Let your voice be heard in the March 2018 municipal elections.