Roughly 9,300 voters cast ballots in the March 13 2018 election for two City Council seats. We have to go back to 2015 to find a comparable election with only city council seats up for grabs. In that one, only one city council seat was on the ballot. In it, 6,858 votes were cast in a 3-way race for Seat C compared to 9,300 in the March 13 2018 election for two seats.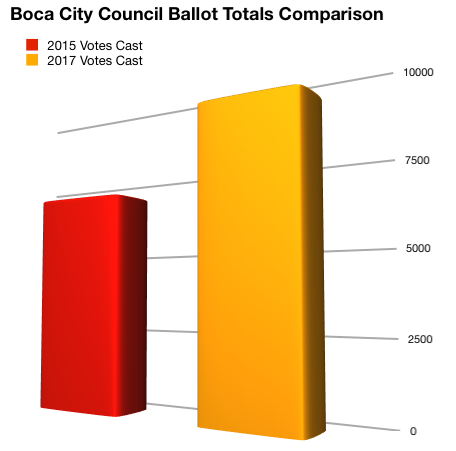 In what has become the norm for resident activists and casual observers alike, campaign signage became an indicator of "Resident Friendly" versus "Developer Backed" candidates. City ordinance says signs must be on private property. So when the vast number of commercial properties owned by Investments Limited drowned the city eye-ways and by-ways with super-sized Rodgers and Grossman signs, it no doubt lead to a conclusion in the minds of many that the signs were condoned by the property owner. The Boca signage assault was brought up often on social media … usually accompanied by sardonic commentary. In contrast, traditional sized yard signs for "resident friendly" candidate signs were found on yards of residents throughout the city.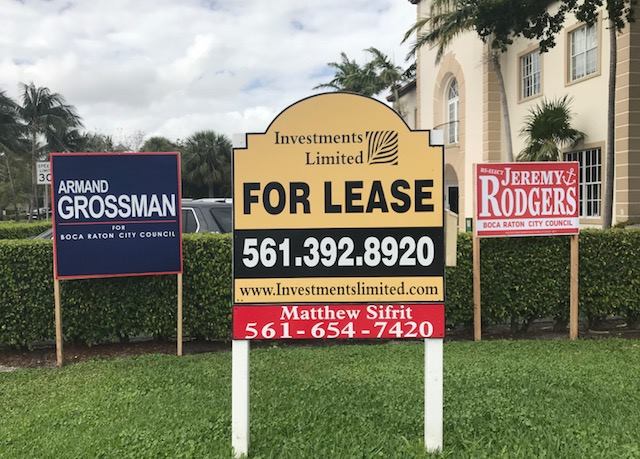 Signs don't vote, people do.
This truism of campaign sign wars was no more apparent than in the final tally of the March 13 election. Resident friendly candidates endorsed by BocaWatch tallied 10,345 votes versus 7,759 votes for the two "developer backed" candidates. The multitude of big signs on commercial property didn't represent a multitude of votes of property owners. But the multitude of signs in neighborhood yards apparently did.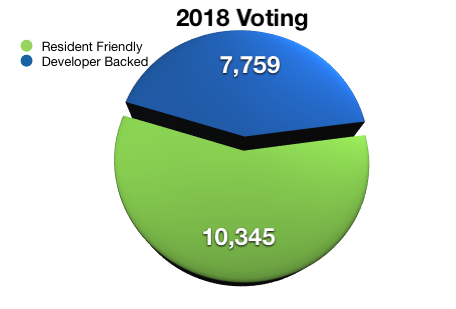 For all his signs, mailers and TV advertisements, "developer backed" candidate Armand Grossman was beaten soundly by "resident friendly" Monica Mayotte for seat D with a 38% margin out of 9,344 total votes. Arguably, the increased turnout was "resident friendly" voters making their voice heard about the perceived "developer majority" city council.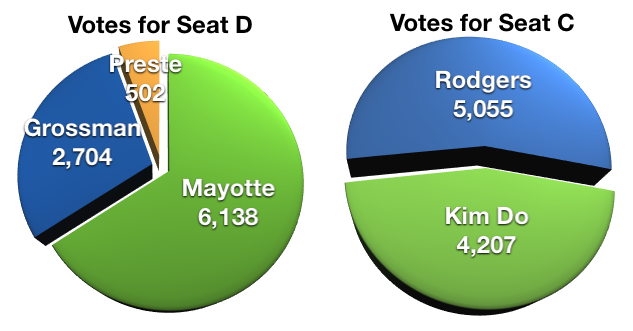 "Shot across the Bow" turned into an all-out attack
In last year's 2017 city council election, pundits and amateur observers alike took note that in a race that should have handily been won by incumbent Scott Singer against newcomer Patti Dervishi, 30% of voters just pulled the lever for Ms. Dervishi as an out and out rejection of the status quo in the then "developer majority" city council of Haynie, Singer, Weinroth, Rodgers and Mullaugh.
That often termed "shot across the bow" turned into an all-out attack a year later on March 13 2018 with Deputy Mayor Jeremy Rodgers squeaking out an 848 vote win over newcomer Kim Do. These numbers could indicate that what was a 30% rejection of the status quo in the 2017 Singer race, grew to a 45% rejection in 2018.
Rodgers is no stranger to narrow wins. His 2015 election was by only 717 votes in a three way race that saw 6,858 total votes. If voting in the Rodgers versus Kim Do race had followed the same ratio as the Mayotte versus Grossman/Preste race, roughly 1,900 votes would have gone to Kim Do but instead went to Rodgers.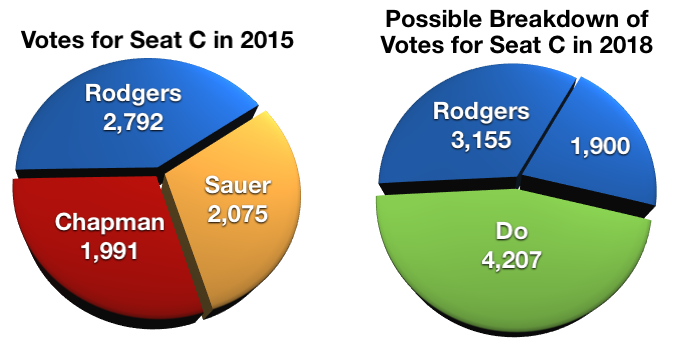 Said another way, Rodgers' 5,055 votes consisted of some 1,900 "resident friendly" voters that voted for Mayotte in the Seat D race. Those 1900 "resident friendly" voters were convinced to vote for incumbent Rodgers. The message is still clear: Residents want change. 4,207 voters thought Kim Do was the person they wanted do that… a remarkable showing against an incumbent… "developer backed" candidates are under the microscope and voters vote "Resident Friendly" ….
Elections have consequences.
Elections are over for this cycle.  A special election for the mayor's seat is anticipated and Councilman Scott Singer has already announced his intent to seek that seat. That means voters will again have the opportunity to put two more "resident friendly voices" on the City Council: one in the Mayor's seat and one in the seat Singer will have to vacate.
Designated as an off year; a year without City Council elections, March 2019 may prove to be the next most important election for residents to have their voices heard.
Stay tuned, stay alert and keep reading BocaWatch.
And remember:  Your vote is your voice; let your voice be heard loud and clear at the ballot box whenever the opportunity arrives.