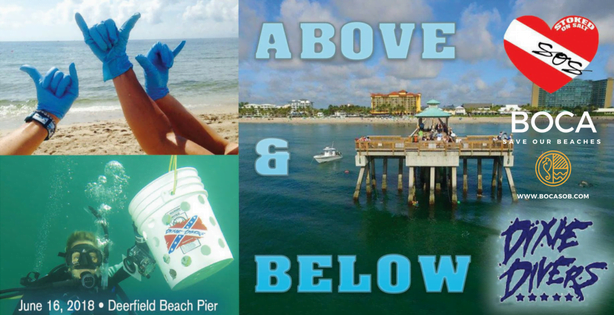 07 Jun

An Above and Below Cleanup for the Ocean: Join Us

This article was originally published by Al Zucaro on BocaWatch.org, preserved here now for historical purposes.
If there are questions or concerns with the content please e-mail info@4boca.com.

JOIN US FOR AN ABOVE AND BELOW CLEANUP!

When: Saturday, June 16th
Where: Deerfield Beach Pier
Time: 8:00AM to 10:30AM

All ages are welcomed, and community service hours will be provided by Vŏnē Research. After registering with Dixie Divers, please stop by our table to grab a pair of disposable gloves and a bucket. See Event HERE

[add_single_eventon id="24911″ ev_uxval="1″ show_exp_evc="yes" ]

Volunteers are also needed to dive the pier and man the pier topside such as pulling up the buckets divers will fill with mono-filament line and lead sinkers and co-ordinate with the surface onlookers. Proper protective gloves are mandatory. RSVP HERE

*** All participants must sign a Liability Waiver at the Dixie Diver registration table day of event. If diving, you must show your C-Card. Please bring sea snips and proper diving protective gloves. Beach cleanup supplies are provided. Dress for the hot Florida sun and sand. ***

Parking is located across several public lots along A1A in Deerfield Beach.