Nutrients are what's causing algae blooms threatening South Florida beaches, turning our otherwise crystal clear water poisonous and brown. These aren't the kind of nutrients that are good for you like proteins and carbohydrates – instead these are the kind of nutrients plants use. Nitrogen and phosphorous are the two elements, the nutrients, that get into our freshwater systems and create environmental damage when their concentrations are too high. Beach-goers faced with warning signs and nasty water wonder how that damage occurs and where these two nutrients originate in South Florida waters.
Lake Okeechobee gets filled up with water from freshwater sources to the north. The rate at which it's filled, and water level that results, depends on rainfall. When we've had a decent amount of rain in Central Florida it implies the water being high in Lake O, held back by high levees in some places. Water management authorities need to discharge the water in order to maintain the safety of the levees and the health of the grasses in the lake. Recent discharge events, over the last couple years, have resulted in die-offs of fish caused by toxic algae blooms. These algae blooms are attributed to the presence of nutrients in the water, nutrients that flowed into Lake O from the sources to the north.
Do you like this article? Do you need marketing in Boca Raton? Contact Massive Impressions Online Marketing.
What's been the history behind these nutrients in South Florida water – has it always been like this?
Blaming "Big Sugar" has been popular for years in Florida, and while it's true that the sugar industry was a source of pollution for a long time, lots of effort from State and Federal officials have forced the sugar industry to clean up its act. Lake Okeechobee receives very little of its water inflow from the sugar cane fields to the south. Most of the water, the most polluted water, flows into it from the watersheds to the north now.
Phosphate
Phosphate was the nutrient that was considered the most problematic and most documented in terms of its impact. Even a tiny amount of phosphate made the water unsuitable for discharging into the Everglades. Phosphorus is literally in all living things, mostly as some form of phosphate, but often bound into more complex organic molecules like DNA.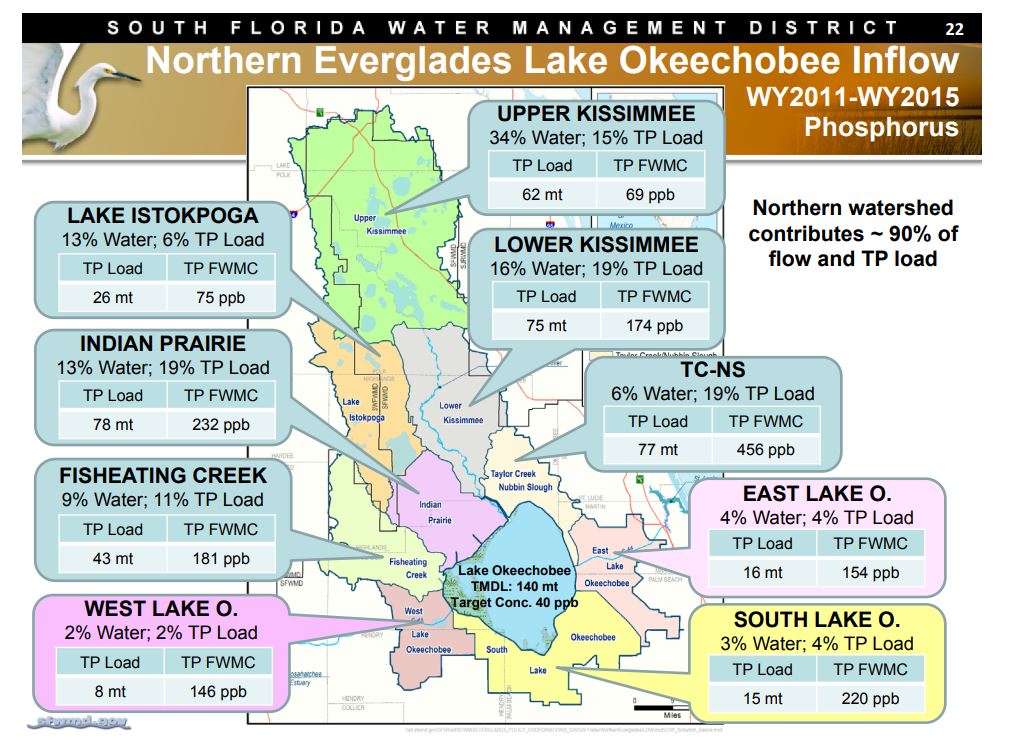 Nitrogen
Nitrogen is the other nutrient that causes algae blooms. It's present in all living things too. Protein, muscle, is made of amino acids which all contain nitrogen. Nitrogen is even the most common element in the air we breathe although when it's in that form, a gas, it's not a contributor to nitrogen pollution in water. Nitrogen occurs in water as ammonium, as nitrate and as nitrite. These are all just simple forms of nitrogen that dissolve in water. Ammonium has no oxygen but nitrate has two and nitrate has three. In nature, via biological processes, these nitrogen is converted between these forms as well as getting integrated, fixed, into living material as it grows.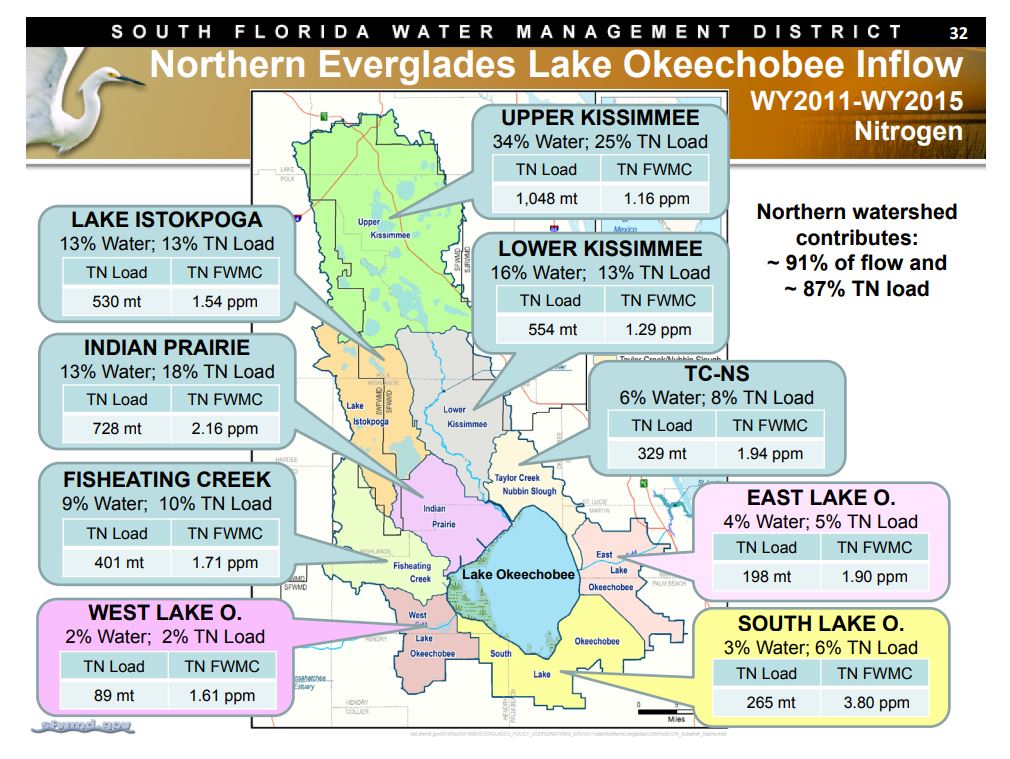 Nitrogen and phosphate are both sold commercially as fertilizer. Bagged fertilizer comes with a number score consisting of three numbers. These numbers express the concentration of nitrogen, phosphorus and potassium. Knowing these concentrations is important to farmers because sometimes the ratio of the three needs to differ depending what's being grown. The third element, potassium, is found in abundance naturally in seawater, so it's not considered problematic for marine ecology. When farming is blamed for nutrient levels it's either from fertilizer being applied or from runoff from animal farms, dairy especially.
So why do the nutrients turn the water murky or brown?
Basically the nutrients are used by algae as "food". The nutrients are often the limiting factor for algae growth. This means that the algae will keep growing until the nutrients are consumed. Instead of blue, clean water we're faced with water that isn't as pleasant to swim in: less inviting. Worse yet, some of the algae can contain toxic chemicals – things that can actually prevent you from swimming in it. It's not just yucky – it could very well be dangerous.
What's going on with the nutrients we generate as a South Florida community?
Nitrogen and phosphate also come from wastewater, from the discharges coming from homes when toilets are flushed, dishes are washed, clothes are cleaned and showers are taken. In Boca Raton, at one time, before our innovative IRIS reclamation system, we consumed over 400 gallons per day per person. Now we've gotten that to under 250 gallons per day for the 130 thousand people being served in Boca. A little less than half of that makes it back into the septic system carrying with it the nitrogen and phosphorus that comes from daily life.
Our wastewater doesn't drain into Lake O. We, as residents of Boca Raton, aren't directly responsible for discharging nutrients into Lake O or for that matter into the ocean any more. Even if we aren't responsible directly for the nutrients causing problems above us in Port St. Lucie we still are impacted by the quality of the water discharged there. I'll explain why in an upcoming article.
We do something quite innovative here. Council Member Jeremy Rodger tipped me off one day during one of my more public rants about the impact of overpopulation. He corrected me when I said we discharged wastewater into the ocean. He let me know we don't do that any more for the most part.
I learned that now we do something really interesting, something unique to Boca still. It sounded so interesting that it prompted a visit to the Water Plant in order to learn more. I'll explain more about what I learned: what happens to our wastewater in an upcoming article about our Water Plant. Keep your eye on BocaWatch.