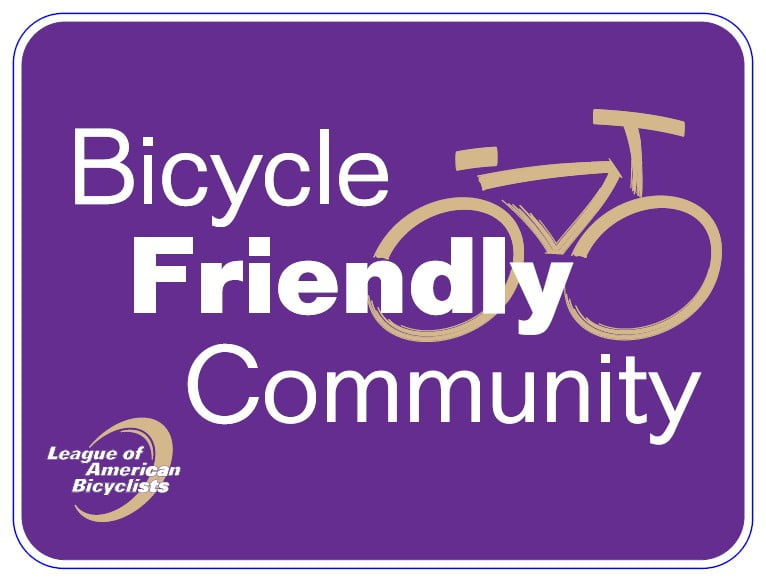 You've seen the purple signs proclaiming Boca Raton as a Bicycle Friendly Community (BFC), but what does that really mean? This brief article explains the BFC award in general as well as Boca's BFC status in particular.
The League of American Bicyclists created the BFC program in 1995 as a roadmap for improving conditions for bicycling in communities across the US. That is, community leaders are provided with feedback on the status of their community's bicycling-related status as well as suggestions for improvement. The areas addressed are:
Engineering: Creating safe and convenient places to ride and park
Education: Giving people of all ages and abilities the skills and confidence to ride
Encouragement: Creating a strong bike culture that welcomes and celebrates bicycling
Enforcement: Ensuring safe roads for all users
Evaluation & Planning: Planning for bicycling as a safe and viable transportation option
Communities that are interested in participating in the BFC program are required to have a government official complete an application consisting of more than 80 questions regarding the above five areas. The application is then reviewed by the League and a score assigned. The score determines the award level. The following chart shows the latest BFC award ranking.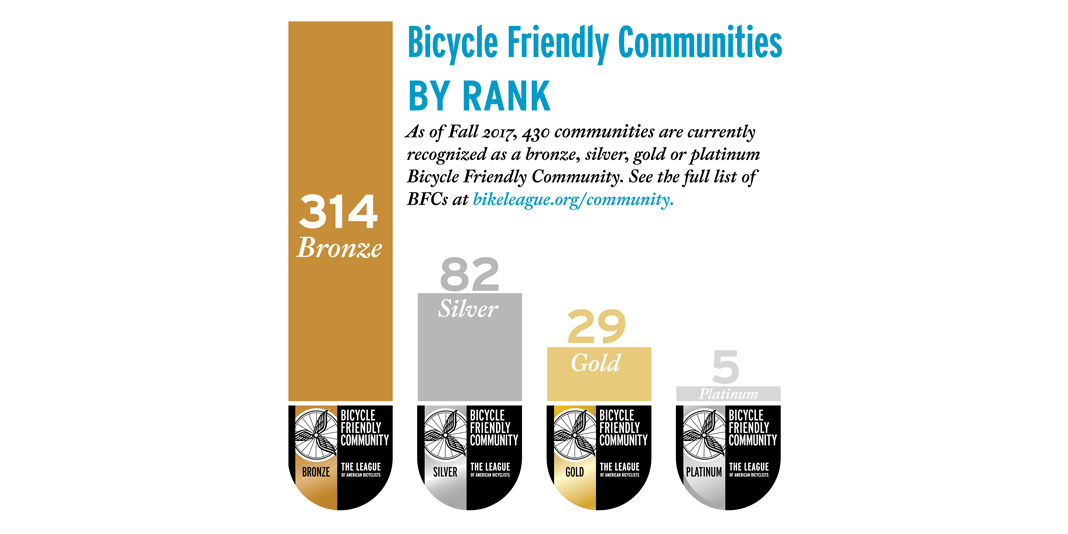 Communities who receive awards must reapply every four years to receive an evaluation and a determination of an award level, if any. Since its inception in 1995 over 1,500 community applications have been processed and 430 communities are currently recognized as BFC's. The reason for requiring re-applying every four years is that the bar for qualifying for awards continues to be raised.
Boca's first BFC award was a bronze level in 2003. At that time there were only a few BFC's in Florida and none in Palm Beach County. Today there are 26 BFC's in Florida and Boca is still the only BFC in Palm Beach County. Of the 26 BFC's in Florida seven have the silver award and 19 have the bronze award. Click here to see Boca's latest report card.
Our city scored very good in the category of Bicycle Education in Schools. Here is a League comment on Boca's most recent award.
Renewing Bronze BFC Boca Raton, FL, is committed to "providing more opportunities for education and outreach to younger riders." The city has offered a three-week bicycle education program that includes off-bike (pedestrian safety) and on-bike (bicycle riding skills) components. Two out of five of the Boca Raton elementary schools received bike education last year. The other three will receive education within the next few years.
May is National Bicycle Month (Florida Bicycle Month is March) so let's use this as motivation to take advantage of the bicycling opportunities in Boca. Where to go? The City makes available some awesome cycling maps in print format and on-line. Print maps are available in City Hall as well as other places around the City and on-line cycling maps are available at: https://www.myboca.us/420/About-Bicycling.