The Boca Raton Chamber of Commerce is trying to create Fear, Uncertainty and Doubt (FUD) regarding City of Boca Raton Ballot Question. BocaWatch has performed a fact check on the information in a flyer the Chamber recently distributed and is reporting on two significant misrepresentations.
The format we used is the same as the political fact checking site Politifact.com, i.e., assertions are scored using a Truth-O-Meter.  Scores range from a high of True to a low of Pants on Fire. Their definition of a Pants on Fire score is "The statement is not accurate and makes a ridiculous claim."
The two Boca Raton Chamber of Commerce assertions receiving Pants on Fire scores relate to financial analysis of the Wildflower site development.
Misrepresentation #1:
In 2014 a multi year ground lease was submitted by a restaurant group that could generate more than $30 million dollars over the course of the term.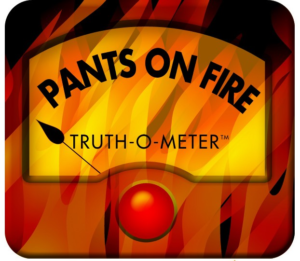 This statement is not accurate because when relevant City costs and the time value of money are accounted for, the 45-year lease results in a financial LOSS for the City.
Misrepresentation #2:
"THE COST to Boca Raton Tax Payers for the Wildflower property ALONE – if converted to a park – could cost $40 million … and that doesn't even include the cost of annual maintenance."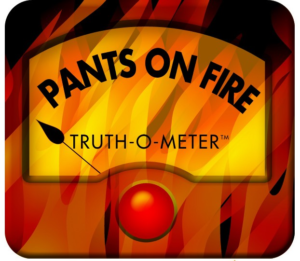 This statement is also ridiculous because in December, 2015 the City Staff estimated the cost of converting the site to a park at $313,000. Another example of how bizarre the statement is includes the costs to open Deerfield's Sullivan Park to citizen recreation by adding amenities such as boat docks, an interactive water feature, art, etc. The total 2016 cost of this project is $3.9M. The cost to the Deerfield taxpayers is reduced to $1.87M with a $2.03M grant from the Florida Inland Navigation District.
So it is clear that the flyer being distributed by the Boca Raton Chamber of Commerce misrepresents financial information regarding the Wildflower site. The statements are not accurate and make ridiculous claims. Do not be fooled, vote YES for City of Boca Raton Question(last page of ballot) on November 8th and get your friends and family to do the same.