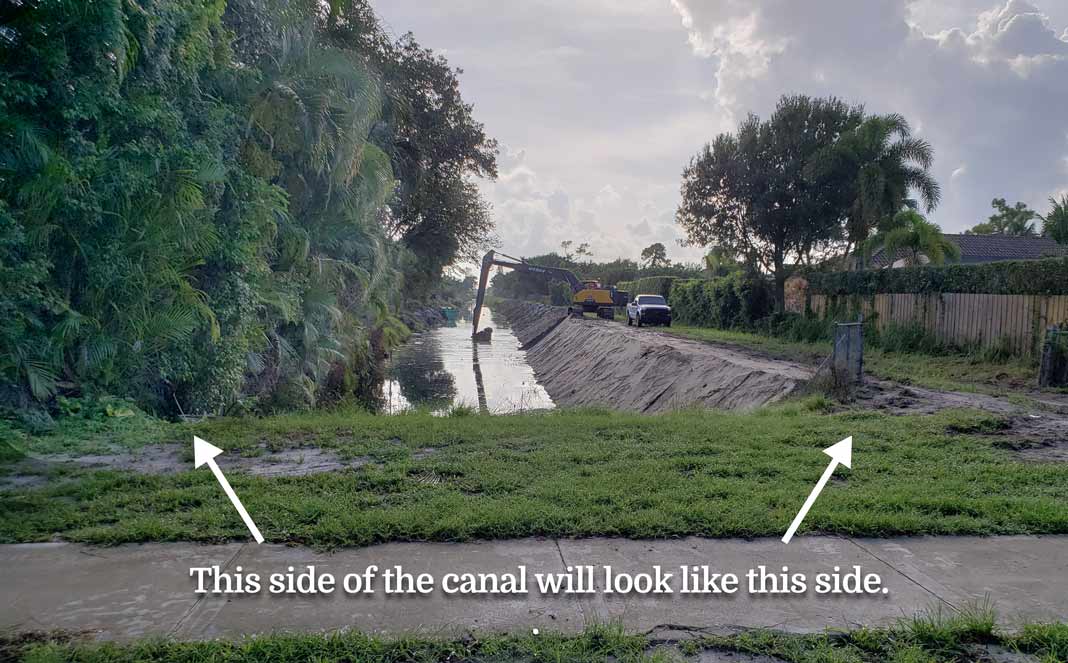 No one disagrees that your mission is to keep water flowing through the 29 canal systems within your District boundaries, 4 of which are in Boca Raton. As residents, we understand the intention is to keep us safe during hurricane season, prevent residential flooding and the vegetation should have been removed years ago. Residents understand that the Lake Worth Drainage District has to do these things; however, has the line been crossed under the pretense to uphold those responsibilities?
Tensions within Boca Raton has been building about this issue since early January, when residents received letters notifying that a "necessary rehabilitation" would be taking place. Homeowners were expecting routine maintenance; instead, what they received were bulldozers in their backyards clearing out all vegetation. The recent measure to strip clear the canals of vegetation in our City has been an extreme measure after many years of minimal activity.
At July's City Council meeting, our Deputy City Manager states, "they [the City] have had a rocky relationship [with Lake Worth Drainage District] in the past." However, he admits "the people we are working with now are willing to discuss with us and look at options." It is unfortunate for the residents who have already been cleared, but going forward the remaining Boca Raton residents want to know that if this clearing continues – it will not be tolerated.
TOO LATE FOR SOME
Many areas of Boca Raton have been cleared including some of the most pristine areas along Potomac Road and Palmetto Park Road. These roads were once lined with trees and were gorgeous. Do you think planting a tree three feet tall next spring will bring back that beauty? Above those three foot trees, everyone driving into our City will be looking at a medley of exposed fencing and private backyards. For years while these trees slowly grow, residents lose privacy, security and noise reduction. With these cherished characteristics of homes lost, so do the property values.
If this had happened in your backyard, would you be heartbroken?
In another area of Boca Raton, homeowners are disputing the authority to move their property lines. Surveyors came into their backyards with stakes and told residents that they did not own their property in their backyards. These stakes marked their new property lines at 10 feet from their bedroom windows. Some of these residents have been here for over 30 years. They are also contesting any clearing because their lots back up to a lake – not a canal. These properties are not even located in the Lake Worth Drainage District's jurisdiction as a large portion of East Boca Raton was de-annexed by the District in 1951.
Conflict Resolution
Currently our city has initiated a conflict dispute resolution in hopes to come to a mutual agreement. The 3 objectives are:
Boca Raton takes over all of the maintenance of canals.
Boca Raton explores the option of entering into a high level maintenance agreement with LWDD, where the City can take over the maintenance of the canals in a manner more acceptable to the residents.
Boca Raton to arrange an agreement for residents to replace lost vegetation by installing landscaping from an allowed list of species to enhance privacy.
Dear Lake Worth Drainage District, please work with our residents to come up with a better solution.