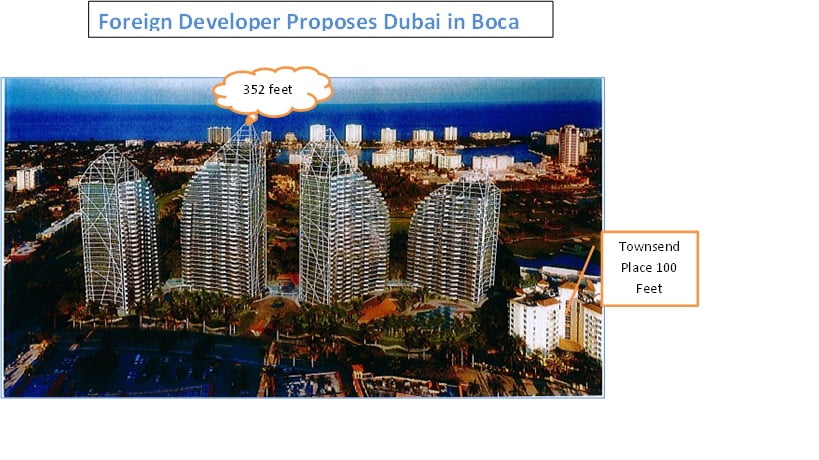 As our mayor has well said Boca is an "urban village".  It was not meant to be a place of trendy, high rises for the international set. It was meant to be a community with architectural coherence where families could raise children and empty nester could enjoy a village with urban amenities.
El Ad, a foreign developer, is proposing to change all of this. The Developer plans to replace the two-story townhouses at Mizner on the Green (210 SE Mizner Blvd, Boca Raton, FL 33432) with four huge towers. The towers range in size from 277 feet to 352 feet and average more than 3 times the height allowed under Boca's development laws which allow only an average height of 100 feet. See City Ordinances 4035, 5051 and 5052.
In addition to grossly exceeding current City height restriction the proposed development also violates City design requirements. City Ordinance 4035 states that building design should reflect the fundamental concepts which are found in the architecture of Addison Mizner.
We, the Citizens of Boca, need to unite to insure that our current Ordinances are upheld and that neither a new ordinance nor an amendment to the Downtown Development of Regional Impact (DDRI) written specifically to allow this project is passed by our Community Redevelopment Agency (CRA) and City Council. Ordinance and Amendments specific to a particular project are too open to favoritism and encourages corruption.
Let your City Council know that you support existing Ordinances and oppose special Ordinance for individual development projects. Council emails are: