This will be our final campaign finance report prior to the August 28th election. 
Early voting at the city library has emphasized a political ticket being presented by our city's unions. As we have illustrated in prior reports, both Mayoral candidate Scott Singer and Seat A candidate Andy Thomson are heavily supported by special interest money in the form of; Legal donors, Developer Related donors, PAC's and Unions.
Mayoral Race
True to his past record Mr. Singer has thus far recorded 49% of his funding from special interest groups and now has amassed more than $154,000 total for his campaign when you include in-kind contributions. By comparison, Singer's opponent Al Zucaro has received $36,000 in total funding. Both totals exclude candidate's loans to their campaigns.
City Council Seat A
Dubious congratulations to Andy Thomson! BocaWatch has been doing in-depth campaign finance analysis for several different elections covering seventeen different candidates (some are repeat candidates). Never have we seen the high percentage level of special interest money accruing to one candidate. Thomson has 61% of his funds from PAC's and other special interest sources. And these numbers are greatly understated when you consider the PAC mailings paid separately on behalf of both Singer and Thomson that total many thousands of dollars. In Thomson's case, the numbers also exclude the more than one hundred individual union member contributions that typically register at $25 each. Don't take our word for it. Check out Thomson's last two campaign finance reports here: https://www.myboca.us/1554/Andy-Thomson.
As for the other candidates for Seat A, Tamara McKee continues to struggle finding contributors and raised a mere $50 for the last reporting period. Meanwhile, BocaWatch endorsed candidate Kathy Cottrell, has raised 87% of her funding from individuals. A stark contrast to Andy Thomson. Ms. Cottrell has actually surpassed Thomson in dollar amount raised from individuals when you factor out Thomson's individual union contributors.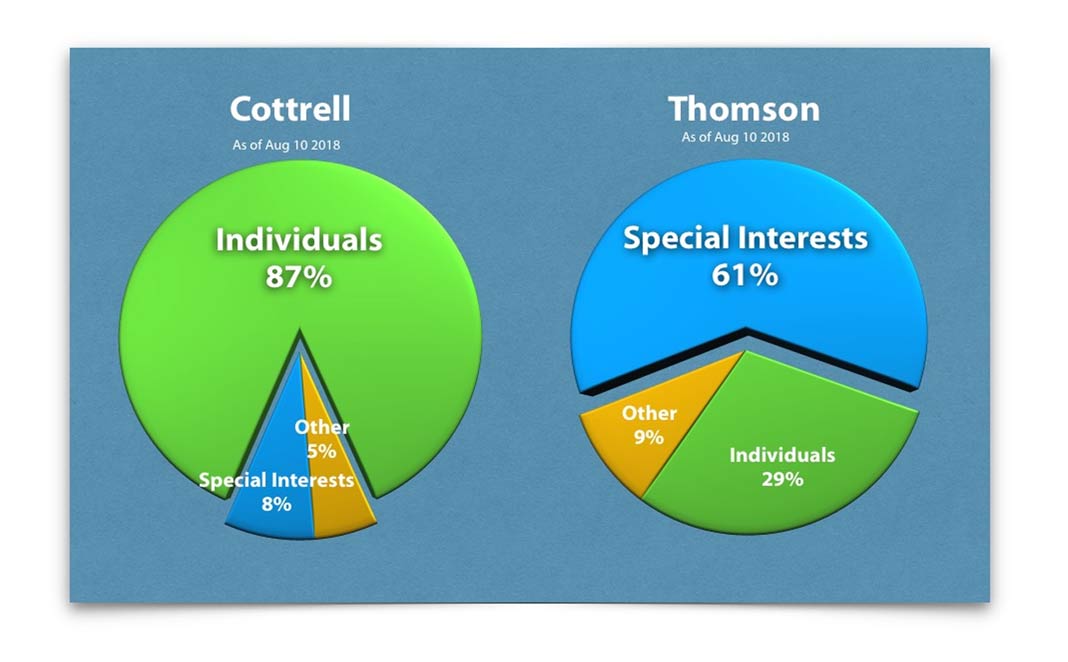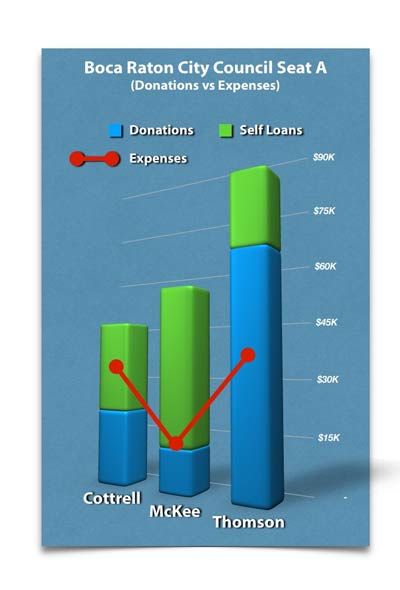 A further examination of the expense side of the reports points out an oddity. Both Cottrell and Thomson have reported expenses in excess of $30,000. McKee, in spite of loaning her campaign $43,100, has expensed only $11,894 which is almost identical to the amount raised from others. It is almost as if the loaned money to her campaign is really not her's to spend and may be there for appearance sake only to legitimize an otherwise wayward campaign. Wittingly or unwittingly, Ms. Mckee may be playing the part of a spoiler in this campaign by receiving votes that may have otherwise gone to a particular opponent, most likely Cottrell. We don't know the answers, but it is a peculiarity. We have not witnessed this type of disconnect from any serious candidates over several campaign cycles.
Summary
Voters need to be aware that the City of Boca Raton union contracts will once again be under consideration in approximately one year. The unions along with the PAC's and special interest groups have placed their bets on the candidates of their choice. BocaWatch will continue in its quest to elect those candidates it feels will best represent the residents of Boca Raton and not special interest groups.