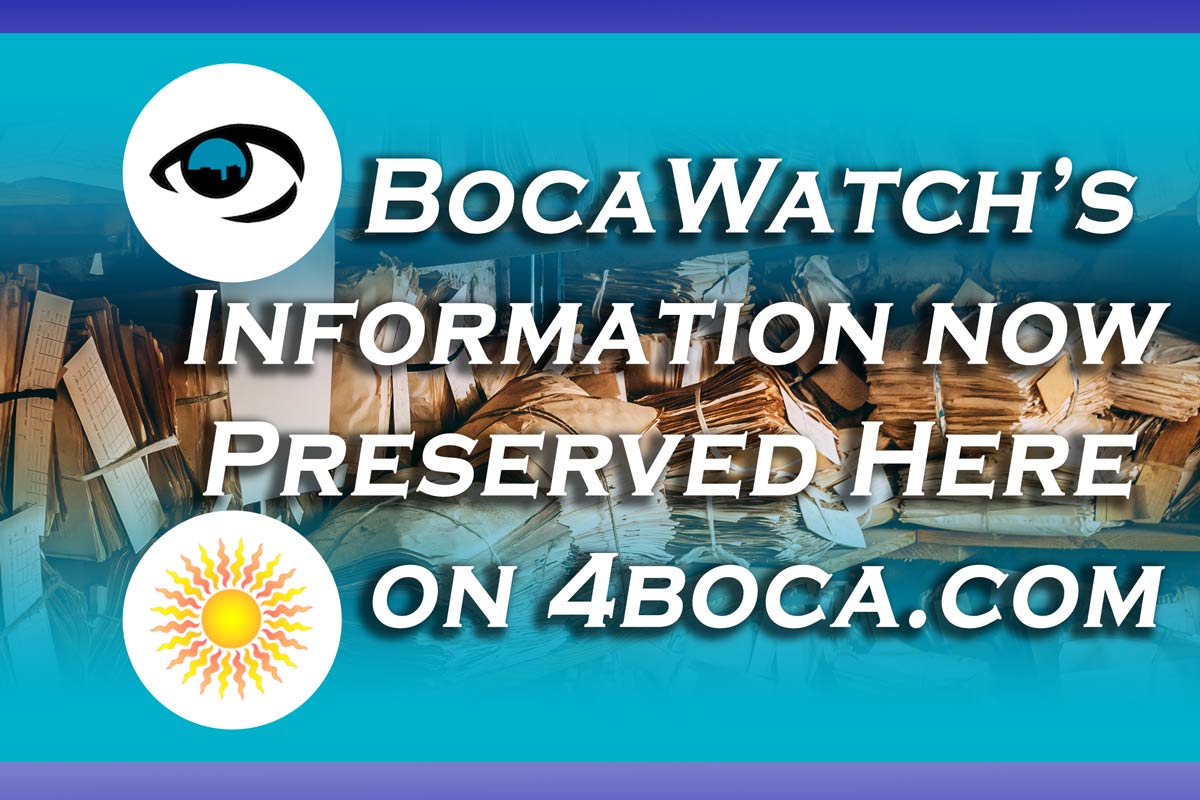 Old BocaWatch articles are now being served from this domain, 4boca.com. Read how and why here. 
BocaWatch began in 2012, published by Al Zucaro. Over its heyday more than 1100 articles were written by Boca residents, for Boca residents. 
Unfortunately, for Boca,  Al Zucaro hasn't been contributing to it for quite some time. He's working on other wider reaching projects now. 
I'm Jason Pelish, the Publisher of 4boca.com. I run a local marketing company that has its own web hosting servers. Massive Impressions Online Marketing, my company,  has been the web host preserving BocaWatch on its servers, the same web servers this site, 4boca, served from. I was also Editor of BocaWatch since 2018, during which time I curated the articles into categories and re-designed the site. I enjoyed that a lot, made a lot of strong community connections and learned about Boca politics. 
People have asked me "Why don't you start BocaWatch up again?" 
That's a good question. I've thought a lot about it, and wondered what it would be like without Al. I know I couldn't do it without him. 
BocaWatch just isn't the same without Al. It was Al's creation. Without Al being active in BocaWatch, it wouldn't be BocaWatch.  His knowledge of law, Boca Raton and politics is still unmatched. Al led the BocaWatch effort as its Publisher for years, inspiring many Boca residents, myself included, to get engaged with politics and local blogging.
Without Al Zucaro, BocaWatch would be less than BocaWatch. I can run 4boca, but I can't make BocaWatch work without Al. In late 2018 I connected BocaWatch to a payment collection system, but nobody ever donated to BocaWatch. Al and I believed people would donate, but not a single person did. I can't speak for Al, but it was somewhat discouraging for me. It seemed like people expected a free ride, but they didn't care to chip in for the gas. Some people felt like they were even entitled to BocaWatch for having contributed. Ads help a tiny bit towards covering costs of hosting this content, but the revenue from them is laughably low. 
I kept BocaWatch running, but it wasn't "active" because nothing new was being added to it. Keeping BocaWatch alive had admittedly small monetary costs, larger costs in attention towards security and maintenance,  but I couldn't delete it or let it die. BocaWatch contained so much content that deserved to be preserved. For a while I didn't know what to do.
One day I was drinking a milkshake from Carvel, talking with Bernie Korn. He asked what I was doing with BocaWatch. I explained the situations with BocaWatch and 4boca to him. Bernie suggested to me that I move the content from BocaWatch to 4boca. It wasn't a bad idea. The more I thought about it, the better the idea sounded. 
I started doing it, and it wasn't as easy as I imagined. Merging the two sites together, moving the content from one to the other wasn't as trivial or as automatic as I thought it was going to be, in particular with the images. It took a lot of manual editing, one page at a time. But after a couple months of late nights it was done. 
So now all that original BocaWatch content is being housed here, on 4boca. Some of the video interviews weren't recoverable, unfortunately.  
If you put your mouse over the menu option captioned "Blog" you'll see the old categories created during the 2018 redesign of BocaWatch. Use the "Search" feature or use Google to find what you're looking for. 
I hope 4boca is useful to you to keep yourself informed about local issues. I hope you can use what's in it to inform others. We are at a time of great change. Information is key to how we get through it, for better or for worse. Preserving and sharing information is important to me. My hope is that you see its importance to YOU. The door is open for you to contribute content, articles and comments. Please take advantage of 4boca.com.