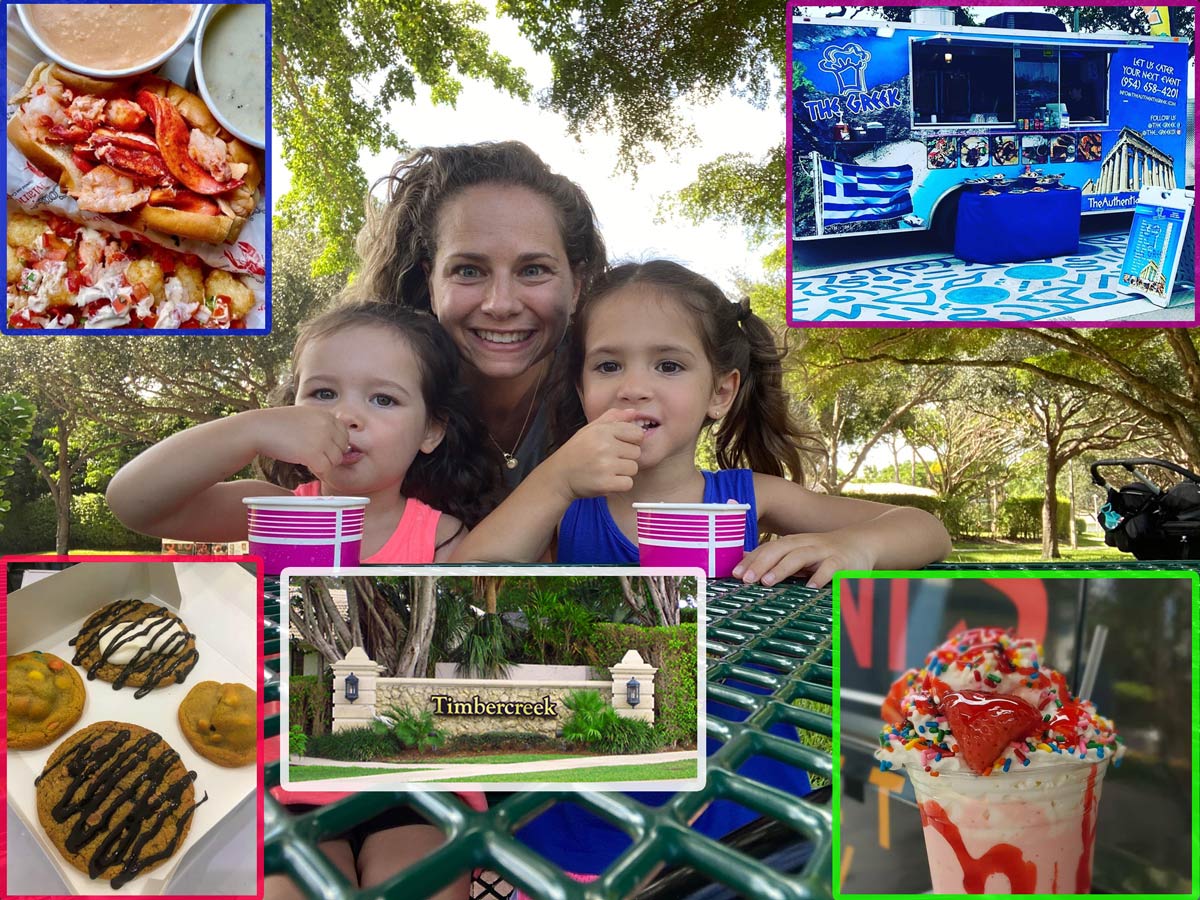 One of Boca's coolest communities is lucky to have someone whose taken the lead, a mom who knows the importance of bringing people together, especially now in 2020. Her name is Jenni Schwartz and she's been the driving force in keeping Food Trucks coming to Timbercreek. She's been successful at getting dozens of trucks, over the last couple months, to bring their tasty treats into the neighborhood, within walking distance of her neighbor's homes. As an appreciative beneficiary of her efforts I asked her some questions to learn how she does it and why she's decided to make it happen.
1. When you're not being our community's Food Truck Leader, what is your "day job?"
My husband, Mike, and I run a branding and digital design studio called Solmark Creative. Mike runs the business side of things (left brain) and I focus on the creative side (right brain). We have two young daughters, Mia(5) and Eliana(3). Being their parents is the best job we have.
2. How long have you been in Boca? What brought you here?
We've lived in Boca for four years now. We moved from Greenwich Village in Manhattan where we lived for 13 years. Our oldest was 1.5 at the time and we wanted to be closer to family. Many of them live in Boca at least half the year. We also needed more space and all those other things that are hard to get in the city. I'll always be a New Yorker at heart, but moving to Florida was the best decision for this chapter of our lives. We're very happy here and love living in Timbercreek.
3. Do you miss living there in Manhattan? What did you like about it compared to here? 
Of course I miss it! It's hard to compare New York City to Boca given it's completely different, but I appreciate both of them for what they are. I am big Grateful Dead fan, you know, "Don't tell me this town ain't got no heart, you just gotta poke around." I've noticed that I can get everything here that I desire, I just need to find it. And if I can't find it, I can create it, like how I created our own little food truck scene.
4. What started you doing this, inviting food trucks to our community?
My girls and I were taking our ritual nightly walk and ended up in Millpond (the community to the immediate north) where I found the Giovanni's Truck and saw kids enjoying ice cream. I got their contact information, cleared it with HOA and invited them to Timbercreek. This was back in the beginning of May. We've had 28 truck events since!
Covid times have been so hard and isolating. Our food truck nights give people something to look forward to and a way to gather and see friends safely. Bringing people together is one of my greatest pleasures and it's been so rewarding to see how happy it makes the community.
5. Is there a directory or something of the Food Trucks you invite?
There are a few directories online like floridafoodtrucks.com and roaminghunger.com. I also look on Yelp, Facebook or do a quick Google search. I've gotten recommendations, especially if people have a personal connection to the company. For example, the cookie truck Just Baked is owned by the son of a Timbercreek resident so she made the introduction. Their cookies are ridiculous if you haven't tried them!
6. Is there some kind of legal step you had to take, or permission you had to get from the HOA?
Timbercreek's common areas are technically property of the HOA, so I did get it cleared with. They are unaffiliated with the planning but very much appreciate my efforts have agreed that it's been great for the community!
7. How do you communicate with the community and get the word out about the food trucks?
After the first two months of having trucks, I posted a questionnaire. The answers were so helpful and I discovered what trucks people liked/disliked, got feedback and better understood how my neighbors prefer to be notified.
Since then, I created a system. At the beginning of each month, I post the month's entire schedule on both the Timbercreek's Facebook page and NextDoor. On Fridays, I will post what's on tap for the weekend and I will remind people again the day of.
8. Have there been any problems thus far – like littering or complaining people?
There haven't been any problems that I know of. Everyone has been very respectful of the property and each other. I'm sure they know if they're out of line, HOA would stop allowing it and no one wants that.
But people have complained about prices. "The ice cream costs too much" and stuff like that. Hey, if you don't want to pay that price then go to Publix and get yourself a pint.
9. I saw two police vehicles behind the Cousins' truck. Does that happen often?
I saw them too and I got so nervous! It was the only time I saw cops show up. I said to my husband, Mike: "Oh no – I hope the cops don't tell the truck to leave," but they didn't. Mike was convinced that they just wanted a lobster roll. I don't blame them, Cousins Maine Lobster is freakin delicious and a favorite amongst our community. Cousins are returning to Timbercreek on Friday, November 20th 4-8pm. I don't suggest it to the people who complain about prices 😉
10. What has your favorite food truck been/favorite food been?
The Authentic Greek truck was really awesome. The people were very nice and the food was fresh, healthy and delicious. I got the grilled octopus and a Greek salad. It was so good. I am constantly on the search for a good Greek salad and this one hit the spot. At the same time we had the Greek truck we also had the Just Baked truck. That was the first time I had two trucks at once – one for food and one for sweets. It drew a big crowd but it's still easy to social distance given we're outside.
We recently had Reggae Beets, which became an instant favorite. I just loved their vibe and positive attitude! One of the cooks came a few hours early to smoke the chicken. Timbercreek has never smelled so good! They have an entire menu of creative vegan dishes, which made our vegetarian friends very happy. Something for everyone! My girls and I enjoyed dancing to the reggae music blasting from the truck while waiting for our food.
11. Was there any food you wanted to try but didn't get to?
I've gone to most of the truck events I've coordinated, especially when they're visiting us for the first time. I want to make sure they know where to park and to oversee they're wearing a mask and being Covid-safe. I feel somewhat responsible for the success of the event, being the one who invited them.
12. Are you available for people to contact you if they want help organizing this for their community?
Sure! People can reach out to me on NextDoor or put question in the comments (below), so other people can see the answers. It's a very easy job, takes little effort, makes people happy and supports local businesses. It's a win/win on every account!