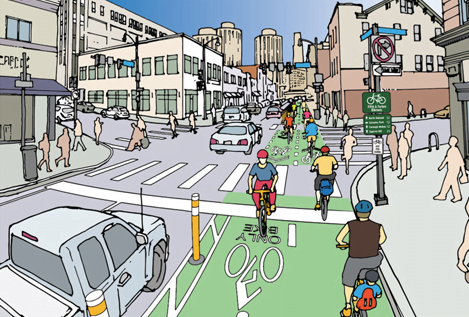 By: John Crean, General Manager, Broken Sound Country Club, and Keith O'Donnell, Principal, Avison Young Real Estate
As cities across Florida and the U.S. seek ways to revitalize stale infrastructure and inject new life into older city centers, again Boca Raton has taken a lead role. The city's Planned Mobility District (PMD) initiative currently is taking form at The Park at Broken Sound, formerly known as Arvida Park of Commerce, and other parks in the N.W. Sector market.
Planned mobility has been successfully deployed as a counter-measure tool mitigating dense and challenging urban development since its inception in Western Europe in the late 20th century. Today, it has evolved into far more than an urban core market solution. Planned mobility has become a vital spark to revitalize moribund commercial and office development; to improve life, work, and a community's overall livability; and to create an essential link in the transportation networks that unite business and lifestyle amenities with urban, near-urban, and now suburban districts.
The result of this activity also delivers critical payroll and tax revenues found with the infusion of millions of dollars in shorter-term construction and longer-term prosperity from retail, office, and residential sales and rent collections.
Moreover, planned mobility executed well can accelerate gentrification and revitalize core markets while reducing traffic, congestion, pollution, and associated issues.
This example can be found in Boca Raton's historic Arvida Park of Commerce business park. Previously home to venerable tech firms IBM, Siemens and a host of other high-tech and professional services tenants, "APOC" was designated several years ago as Boca Raton's Planned Mobility District (PMD). Today, the park is undergoing millions of dollars in site development, renovations, and new construction on the path to transforming how residents, workers, and the companies that employ them approach modern live, work, play realities.
Now renamed The Park at Broken Sound for the golf course community that shares its boundary, the property stands to become an example of sustainable, planned mobility. It's also a case study on how two seemingly unrelated interests – an upscale golf course community and a host of corporate property owners – collaborated to create a solution to a city's and region's growing workforce housing and lifestyle needs with a program that would reduce reliance upon traditional transportation modalities and create a model of sustainable, commingling of life and work.
Arvida Park of Commerce: A History
First, a bit of history…The Arvida Park of Commerce was developed in 1978 by namesake Arvida Corp. as an approximately 750-acre business and corporate park to complement IBM's position directly across the street. APOC and the immediate employment areas eventually grew to encompass some 5.2 million square feet of office space interspersed with walking paths through verdant green space – albeit few connecting with amenities to enhance the business environment. At the time, it was a model corporate park unique to South Florida and the region.
Over the years, Boca Raton enjoyed a strong commercial and office base with gated country club communities attracting CEOs and other senior-level executives. Yet, as much of the surrounding South Florida community evolved, Boca Raton was left lacking a residential base and housing infrastructure for its growing starter workforce, including many recent graduates from Florida Atlantic University, Lynn University and Palm Beach State College. Employees either moved to the western suburbs, or commuted in from throughout Palm Beach and Broward counties and beyond. As the issue grew more pressing, employers and developers sought ways to deliver suitable housing to meet the market demands.
But as the greater South Florida region grew and evolved into a more robust and global business destination, it became imperative that Boca Raton and South Palm Beach County evolve in kind to match the region's pace and serve up what were becoming highly sought-after amenities.
It didn't help that 20 years of extraordinary and insurmountable office vacancies created by IBM's departure in the early 1990s suppressed the area's prosperity, stagnated tax revenues, and saddled residents and remaining businesses with increasing demands for funding area coffers.
That's not to say Boca Raton remained stagnant. A flattening global economy, coupled with South Florida's worldwide allure as a business destination, attracted a new workforce. Where technology software companies and their engineers once thrived, there now are a variety of new employers, including tech firms, healthcare innovators, and even procurement call centers with a fast-growing employee base.
Yet, many of these workers neither live in nor contribute positively to the local neighborhoods. In fact, by commuting to and from work each day, they strain surface streets and area highways and place additional stress during peak-hour traffic.
The PMD Solution
Originated with a collaborative approach by the authors of this article, the PMD thesis was to reimagine the tired and underperforming nearby employment center office parks in Northwest Sector as a mixed-use environment. Land and property owners, in partnership with area real estate professionals, the local Chamber of Commerce, the Palm Beach County Business Development Board, and city leaders, would promote designs for multiple uses with required investments in mobility options.
Looking at the success found from planned mobility and urban revitalization in other global markets, the city and its partners knew they'd found a solution funded primarily by the private sector. The PMD overlay ordinance focused on creating incentives to connect mixed uses and requirements for investments in multi-modal transportation options to encourage opportunities to live and work in the same area.
What was unique was the "ask" by the authors. The City of Boca Raton just needed to include options for developers to earn the PMD designation through mobility investments to escape the existing Light Industrial Research Park office centric regulations and recommended designing the ordinance so that it wouldn't increase height or site density beyond the land development regulations that have been in place for over 35 years. The proposed solution was met with almost unanimous support by all.
The result has been over $500 million in investments with six projects under construction, renovation, or recently completed and another two projects in the queue. Last year Boca Raton created and retained 9,600 jobs. For its part, Broken Sound Country Club alone has invested $75 million in the creating unique and sustainable amenities for its members, winning international awards and recognition along the way. With word of the project's success reaching the media, trade, and tenant markets, existing office building owners have reported significantly more interest in Boca Raton's Northwest Sector again. What's more, the area is finding validation as a leader in business park redevelopment strategies.
The PMD designation opens new development options and opportunities for employers and tenants. Many of the 66 property owners now are investing in extensive property renovations. Others are redeveloping with an eye on more efficient infill and improved overall space utilization. What has not been lost on the property owners is the unprecedented opportunity to reinvent existing class B assets in a class A location and elevate Boca Raton's stock of top-tier office space.
While Boca Raton presents one of South Florida's finest environments to live, work, play, and educate, ultimately attracting high-wage employers requires a completely different set of criteria. To recruit and retain workforce talent, proximity to their homes is critical. If that workforce has an hour's drive time to get to work, they will opt to work closer to their neighborhoods, or spend more time shopping, dining, or enjoying entertainment options closer to work than to their homes.
Consider the effects of parking, often the simplest way for the average person to understand this impact. The parking demands generated by residential versus offices uses can be significant. For every 1,000 square feet of office space are at least four employees; similarly sized residential units average approximately two residents, or a 50 percent environmental impact reduction in favor of the residential. Remove the total reliance on automobiles as a means of commuting to and from work and the need for associated roads, parking, and maintenance fall significantly. Instead, commuter shuttles, walking and cycling paths, and bike racks find a new home in the PMD model.
Leaders of the PMD legislation supported a 2,500-unit cap for residential development in the original legislation and among the most frequent questions asked are those related to the calculations used to arrive at this residential development figure. The arithmetic wasn't based on units per acre ratios for the entire area. Instead, the solution was found in requiring providing proof of concept. City and local community leaders and developers together sought to prove the PMD theory first before looking to add more mixed-use applications or new concepts. To date, local resident, city leaders and business owner feedback have been extremely positive.
From Business Park to Luxury Housing
Even with Broken Sound Country Club's $75 million investment to increase its international stature and success, the surrounding Business Employment Center area was not prospering.
With that in mind, the collaboration was born. By partnering with business and real estate leaders, managers with the award-winning, gated luxury country club community, supported extensive studies and proposals to reshape this section of the city's northwest corridor.
With the legislation successfully approved in 2012, redevelopment began in earnest in 2016. Development thus far includes a The Fresh Market anchored, 65,000-square-foot retail site, Park Place, on Military Trail south of Office Depot's global headquarters. It also will include Burtons Grill, The Habit Burger Grill, Phenomenom Nitrogen Ice Cream & Bake Shop, Park Place Deli, and Raw Juice. This center provides a much-needed amenity for both the Broken Sound Country Club and the employment center nearby. Success!
Yet, with only one in eight people who work in Boca Raton – or about 10,000 of 81,000 – living in the city, the need for affordable, yet luxury rental housing is clear. With 2,500 units proposed for the area, projects target households earning from $50,000 to $100,000 a year, many are software engineers working for the area's newest technology growth companies, such as Modernizing Medicine, Campus Management, and LexisNexis.
Developers have taken note. Boca Raton-based Altman Development Corp. is building Altis, 400 LEED Certified luxury rental units. Danburg Properties is completing its 282 apartments at the Allure, plus 10,500 square feet of retail at the corner of Military Trail and Clint Moore Road. Codina Partners, the Coral Gables-based developer behind the development of "Downtown Doral" and the west Miami-Dade County resurgence, is also completing 850, a 370-unit rental project on the former Siemens campus.
Sustainability and Transportation
This is only part of the sector's long-term vision for sustainability. Broken Sound Country Club for a generation has sought community-wide sustainability. The opportunity to advance the city's In-City Reclamation Irrigation System (IRIS), an initiative to use reclaimed water to irrigate its two championship golf courses was promoted by the club. Additionally, through John Crean's leadership, Broken Sound Country Club successfully lured the Professional Golfers Association for the Allianz/BRRH golf tournament and other events critical to area economic vitality and as examples of environmental sustainability. Even the club's events have become examples large-scale sustainability and reductions in waste output.
Important to the success is its access to nearby transit, and its encouragement of alternative transportation modalities, including carpooling, biking, walking, and public mass transit. This complements the growth of the Boca Raton airport and its new customs facility, as well as other area international airports.
Boca Raton continues to position itself as an ideal location for corporate headquarters, international events and higher education. Examples include Office Depot, which decided to keep its corporate offices in the city, joining more than 200 other corporations that call the city home, ranging from ADT, Bluegreen Corporation, Cancer Treatment Centers of America, and Tyco, among others.
The PMD ordinance presents both a sustainability and quality of life tool that emphasizes logical connected uses and designs. Internationally, and now in Boca Raton, planned mobility has delivered a host of valuable direct and ancillary benefits to residents, employers, retailers, and shop owners. All enjoy the reinvestment in existing office product, the infusion into the market robust live-and-play attributes, improvement of quality of life by reducing vehicular traffic and congestion, and all the elements that promise to transform and elevate Boca Raton – and the region.
Finally, this successful community collaboration was built on trust, commitment for action, and a transparent process where all parties succeeded. For any public-private initiative, that truly is a blueprint for success.
To learn more, contact Keith O'Donnell at keith.odonnell@avisonyoung.com and John Crean at john_crean@brokensoundclub.org or visit theparkatbrokensound.com.