This is an update to an article on Councilman Rodgers' development voting record that was published in BocaWatch on February 20, 2018. The reason for this update is information provided in a comment to the article by someone named Thomas. He or she pointed out that University Village was approved prior to Councilman Rodgers becoming a member of City Council and his subsequent YES vote on University Village was to allow the developer to increase the dwelling unit density of University Village. We also incorrectly added the number of hotel rooms approved by Councilman Rodgers.
In correcting the article we realized that we had mixed two story lines. One was Councilman Rodgers' voting record and the second was the massive volume of development that has been approved, but not yet built out. We were shocked to learn this during our research on voting records. To make the situations clearer for our readers we decided to write this correction article focusing on Councilman Rodgers' voting record only and follow-up with a separate article on the approved development.
The following spreadsheet is updated to reflect only the development that Councilman Rodgers has voted to approve. University Village was initially approved at 440 dwelling units and Councilman Rodgers voted to allow the developer to increase the density of University Village by 409 dwelling units to a total of 849 units – a 93% increase. Adding the two hotels' room plans together results in 349 hotel rooms.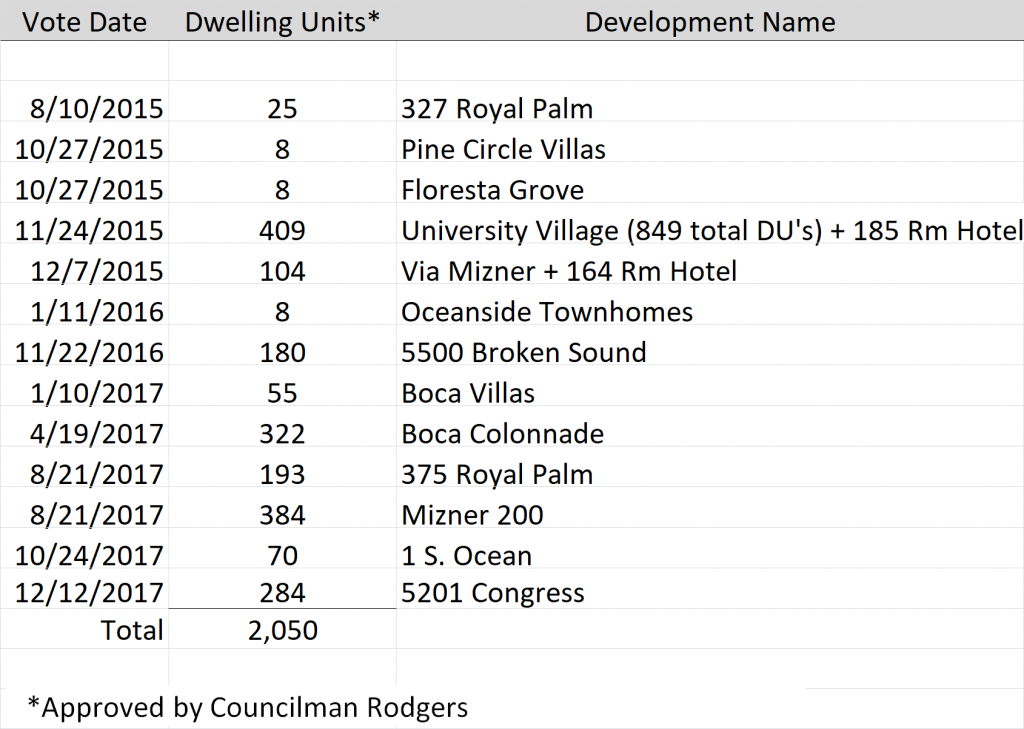 In summary, the above updated table represents the number apartments, condos, townhouses and hotel rooms approved by Councilman Rodgers. The 349 hotel rooms are not included in the 2,050 dwelling unit total. These developments will be coming on-line over the next several years, which will be the subject of a subsequent article.