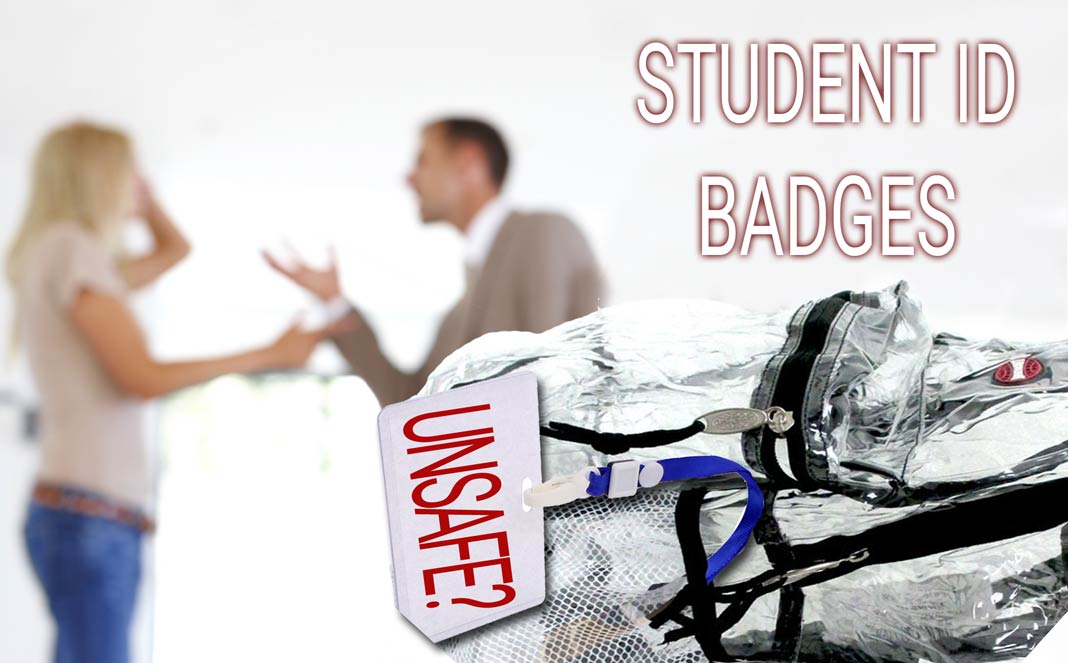 Are these new student ID badges an effective means to keep kids safe or a poorly thought out reaction to recent concerns about school safety?
We all want our kids to be more safe, but is it possible that student ID badges are making them less safe? Could the requirement for students to always wear them actually be creating a more stressful and dehumanizing environment, exacerbating incidents they're intended to prevent?
I originally wrote this article a month ago while school was still in session. After talking to Frank Barbieri about it and asking faculty and staff their opinions on the issue I decided to hold off on publishing it until after the school year had ended. I almost decided to let the issue alone until I was reminded, in a comment from a reader, that PTSA funds were being used to pay for the ID badges. My hope is that Mr. Barbieri and the rest of the school board weight the costs to safety, cost of faculty attention and dollar costs, to students especially, of having badges versus the actual safety benefit these plastic panaceas provide.
---
Written April 2018
This morning my kid called me all stressed and panicked as he got off the school bus at school. He had forgotten his ID badge. He needed me to bring it to him. Of course I grabbed it and rushed out the door. I arrived just as the final bell was ringing, just as students were being called into class. I parked my car in front of the school and walked into the office, where he said he would be. He wasn't there. I don't know where he was but the office was much more chaotic than I had remembered it from the last couple times I visited. It was frenzied. Both people behind the desks were on the phone and there was easily a dozen people or more standing around the counter – faculty, parents, even students who weren't in class. I held up my kid's ID badge to signal that was what I was there for. The nice lady behind the desk was doing her absolute best juggling me and three other people besides who was on the phone. She gestured to me that I should place the student ID badge on a pile of student ID badges in front of her: at least four other badges. I asked her: "Are all these other student ID badges from parents like me who dropped them off now too?" She nodded, rolled her eyes and gave me a "what can you do" smile.
I don't know how they got the badge to my son, but I imagine that it takes more than a few minutes effort from someone competent each day to get it done. Maybe they bring the badges to the students. Maybe they ask the students to come and get them. It was unclear whether students who had forgotten their ID badges, only to have their ID badges arrive late, get some kind of punishment, or reprimand. Maybe their only punishment is to get taken out of class so they can come get their badges themselves. I don't know. The enforcement and interpretation of the new "rules" are left up to the whim of the administration and faculty.
You might say to yourself, "It's for safety, so of course. All this extra effort is worth it." You might not think too much more about it. That's what most people do. They don't question it. They just accept it. It's a necessary cost because the thing you're trying to prevent with it is so unthinkably horrible.
Just because it's so unthinkably horrible doesn't mean you're excused from thinking about it, being truly responsible for it, and questioning even your best intentions.
Requiring Students ID Badges Makes Kids Less Safe
How could I say something so counter-intuitive? How could a safety measure all the moms of the PTSA unanimously agreed is necessary, to keep their children safe, might actually be something that can put their kids in more danger? How can this be?
Let's take a breath and examine the holistic dynamic of the solution against the problem. It's quite simple: it adds stress to the kid's lives. Stress they don't deserve. It adds stress that might be one more brick in the wall that separates the kid from reaching their potential; stress that might push a troubled kid over the edge. Do ALL the kids really need one more level of stress, one more way to be punished, one more albatross hung around their neck that makes them unable to forget the horrible nightmare crimes of another kid who was close by and got expelled? Does the PTSA need these kids to never forget, a PTSD with their personal names on it, that they'll be punished for forgetting?
Even before that, the other week I was riding my kid into school early. He had agreed to take advantage of an extra-math-help opportunity that started an hour before school started. Several faculty members wake up extra early too and make sure they're there for an extra hour of their day to give kids who are struggling some extra help. I'm extra grateful there are not only teachers willing to do this, but that the school allows them to do it one hour early too. And of course I'm grateful that my kid sees the opportunity and I don't need to remind him or push him to go.
On the ride in he was telling me about how he needed this extra help because a test was coming up and this was his one chance to get the help before the test. I reminded him to thank his teacher for coming in early so the teacher would be extra happy to teach harder. The idea of his teacher "teaching harder" made him laugh.
As we pulled up to the school he reached into his backpack, into the pocket where he had agreed to keep his ID badge. A look of panic came over his face. "You left your badge home, didn't you." I said. "I can't go in without it dad." And then a look of defeat came over him. His 12 year old brain put the pieces together: he was going to miss this extra help. He wasn't going to understand what he needed to for the test. "What do you want to do? I guess we have to go home and get it, right?" "Yeah dad." We went home. He got his badge. There wasn't enough time to get to school in time for the extra help so he rode the bus in with his brother.
I could tell he wasn't feeling his best, and that some overdue father-son time was needed, and I did all that a dorky dad can do. And his mom is always there for him, hates to see him sad. But young men, no matter how much support they have, have hormones and self-introspection they have to face. I went through it. I've seen my friends go through it. Some have been more or less emotional than others, more or less successful often do to how they are supported.
Some kids don't have dads who bring them their badges. Maybe their dads have long commutes north or south. Maybe their moms do too. Or maybe the kids don't have one or the other. Maybe a parent is just gone, and nothing happens when a kid forgets their badge – maybe the kid just has to pay for it – suck it up and deal one more time reminded that there's a hole in their lives. Some kids don't have moms and dads working together as partners, able to team up and be there for the extra help when it's needed. Just like not every faculty member can afford to get up early and put one more extra hour in, some parents just can't afford to be there. And when their kid forgets their badge – its not just the kid who pays. I have the luxury of working from home, from being able to help my kid. I don't have to feel the stress and pain of not being able to like so many parents have to feel. As "inconvenient" it is for me to have to bring my kid's badge in when he forgets I'd trade a hundreds trips back and forth to avoid not being able to even once when my kids need me. I'm not thumping my chest for making the choices I did to be around for my kids – I kiss the ground for being lucky enough to be able to make that choice. I realize most people don't get to.
Is this extra burden we're asking the kids to wear around their necks, the barcoded plastic "safety meausre" personalized for each of them, really worth the cost? Do we really need to remind the kids, stress them out, restrict them from what they're there for in the first place, in order to make ourselves feel better? Are the badges made of kevlar? How do they make the kids safe exactly? Would not having a badge have stopped Nicholas Cruz from marching into Parkland High School? I don't think so.
How is needing a badge going to do more than inconvenience my kid?
It's not about your kid. It's about the kid who is not anyone's. It's about the kid whose one parent would never have the time to make it so far into this article. It's about the kid getting abused by one or more of the adults in their lives. It's about someone who has to struggle just to pretend to be normal enough just to make it into school each day. It's about the kld whose heart has been broken over and over. Do they need to be hassled about a badge? Do they need one more stress testing them, seeing how much they can take before they they themselves become broken? Even in Boca Raton, or Parkland, or wherever. Some messed up stuff is happening to a certain percentage of us right now. No magic or economics protects us from being human beings and not being perfect. You might be sitting on top now, but tomorrow the struggles could come. Even the most fortunate of us are not free from relationship dramas that sometimes cost everything.
Do we need to forget that there are people who don't need one more level of stress, one more thing to distance themselves from their community, one more trigger than makes them lash out? Do we need that for ourselves, to forget the costs, to feel safer ourselves by forgetting others?  Not everyone is as lucky as me, as lucky as you. Can't we make it a little gentler place for them, not stack another burden on their backs?
I can see imposing extra burdens on faculty, on adults, on the system. But not the kids. Come on man…
---
After writing this reading it to my kids, particularly asking permission of my son to mention him, they informed me about what happens if an ID badge is lost. The student is required to PURCHASE another ID badge, at their own cost, at the school library/media center. The penalty for failing to purchase a new ID after one is lost is: detention. This might not seem like a big deal for forgetful kids who are well funded, but $5 might mean missing a couple lunches to others.
I'm not an expert in school safety, but I couldn't help but share what I've experienced, what I know about student ID badges. I hope, since so many people have agreed that they're beneficial, that someone who is an expert or who has good information about them can come forward and educate you and I about how they're effective at improving safety. Any real-world experience and testimony with how student ID badges created a more safe environment is welcome.
Please, share your thoughts and ideas on this most important matter.