April 5, 2015
Dear Mayor and City Council
Elad National Properties is making a third attempt to develop the Mizner on the Green property on SE Mizner Boulevard, adjacent to the Boca Raton Resort Golf Course. They call it "Mizner 200." Their two previous attempts, which would have required variances from Ordinance 4035, were withdrawn after Elad failed to gain majority support in the City Council. The proposals, frankly, were outrageous.
The Board of Directors of BocaBeautiful.com urge you to reject this latest proposal as well. The enclosed White Paper, prepared by our legal and architectural advisors, explains why.   They make a compelling argument.
First, despite public protestations to the contrary, we believe that 200 Mizner does not comply with the requirements of Ordinance 4035. It is far from a building in the vision of Addison Mizner. It has a flat roof line and has a pool and amenities on the roof which are above the 100-foot habitable use limit. It looks more like 1000 Ocean than anything Addison Mizner might have approved.
But most importantly, the building disregards the most fundamental urban design principles of Ordinance 4035. It is 963.9 feet long—longer than the Eiffel Tower is tall—and is totally out of scale with surrounding Downtown development (existing and proposed). It is a single, 100-foot high glass and concrete wall, obliterating the ocean and golf course views of its neighbors. Rather than share the sunlight and ocean breezes, 200 Mizner seeks to monopolize them.   It would be, by far, Downtown Boca's biggest building outside the IDG area and would cast an enormous shadow over its neighbors.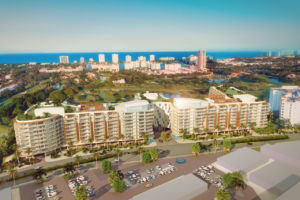 Finally, we have a problem with the process whereby Elad seeks approval for yet another massive development. Elad insists on proposing controversial projects without consulting other stakeholders in advance. Rather than waste more time and money (ours and theirs) proposing projects which ask City Officials to ignore fundamental Downtown urban design principles, Elad should produce a design for 200 Mizner which has the support of its neighbors: The Boca Raton Resort, Royal Palm Plaza, Townsend Place, Royal Palm Place, etc. It is only common sense that very large pieces of land in the downtown should be redeveloped in a coordinated harmonious manner, with special attention given to traffic and ingress/egress issues.
You might strongly suggest this to Elad when you send their 200 Mizner project back to the drawing board. Who knows? Something really beautiful might result.
Yours sincerely,
The Board of Directors, BocaBeautiful.org
Stay tuned for architect's "White Paper"…