An Open Letter From The Leadership of BOCABEAUTIFUL.ORG
We look around at what was once Addison Mizner's dream and we are angry.  Everywhere we look, what once used to be open space and vistas of sea and sky, is being replaced by concrete behemoths, soon to be filled with more people and cars than our roads can handle or our parking can accommodate.
Downtown Boca Raton is being converted to a high-rise "urban center" like Ft. Lauderdale or West Palm.  Look around.  You can see it.  Drive around.  You can feel it.
How did this happen?  Scared by the financial panic of 2008 and encouraged by ambitious developers, Boca's elected officials unwisely adopted "Interim Design Guidelines" for the downtown and a rash of haphazard development schemes for other parts of our city:
Arvida Park, the University Overlay District, and various pieces of waterfront property, like the Wildflower property on the Intracoastal.
The zoning guidelines that had been in place for decades were altered.  New construction was authorized using spot zoning techniques and a myriad of variances to the rules.  All was done in the name of "progress."  All was blessed by expensive consulting firms and various "advisory" committees packed with those who had a financial interest in the outcome.
Just look at the results.  Compare the newly constructed buildings completed under Boca's historic ten-story zoning guidelines with those built under the "Interim" rules.
Compare the Camden Apartments to the Mark.  Compare Palmetto Promenade or 327 Royal Palm Road to the enormity that is Via Mizner (and that's only Phase I).  It's not hard to identify buildings designed with grace under the old rules versus buildings designed with greed under the new.
Old Rules: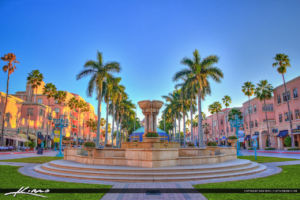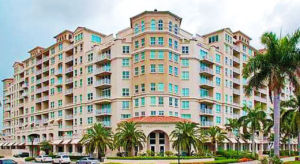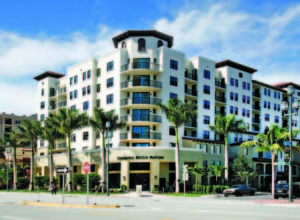 New Rules: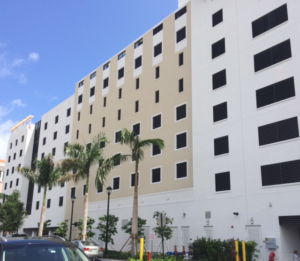 Now the City Council is being asked to increase the number of new residential units in downtown Boca from 3000 to 4500.  That would base an additional 6000 cars in the one square mile downtown area.
Has the character of Boca Raton been changed irrevocably for the worst?  We who live and work here certainly hope not.  That is why we created BocaBeautiful.org to try and influence what happens next.
And what should that be?   First, we need to persuade our City Council to scrap the Interim Design Guidelines and the so-called Pattern Book before any more damage is done.  Enough is enough.  We need a pause in the building binge to give us time to assess the impact of all of this new construction on traffic, parking and on our quality of life.
More importantly, Boca Raton deserves a new plan– a comprehensive plan– for development.  That plan should cover all of the areas of our City that are deemed ripe for development.  Most importantly, that plan should be developed in full consultation with the citizens of Boca Raton.  We therefore call on our City's leaders to convene a meaningful dialogue with ALL concerned citizens—a comprehensive design "charrette"—to produce a new Master Development Plan for Boca Raton.
It is time to look at what has been done and to plan anew.  In some parts of Boca, such as the downtown, it is almost too late.
Yours sincerely,
The Board of Directors, BocaBeautiful.org
TO LEARN MORE ABOUT OUR ORGANIZATION AND ITS GOALS, VISIT OUR WEBSITE AT BOCABEAUTIFUL.ORG