Flossy Keesely was a remarkable woman who left her 'mark' on Boca Raton…and for that we are most grateful and thank Flossie for enriching our lives.
A champion of the arts,  Flossy came to our community in in 1976 with a sparkle and a zest to contribute. Her philanthropy helped create the "Pathway to the Stars" event.  No telling how many young people Flossy helped on the road to fulfill their dreams in the performing arts.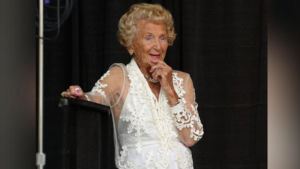 Flossy lived a magnificent 101 years, and her passion for the arts and volunteerism made a real difference in our community.
We will always remember Flossy Keesely for generously bringing so much to so many. We all have an opportunity to appreciate Flossy….Right there, as we enter the Mizner Park Amphitheater, stands Flossy pointing to the stars in a beautiful sculpture by Yaacov Heller.
Rest in peace Flossy Keesely, you will be greatly missed.