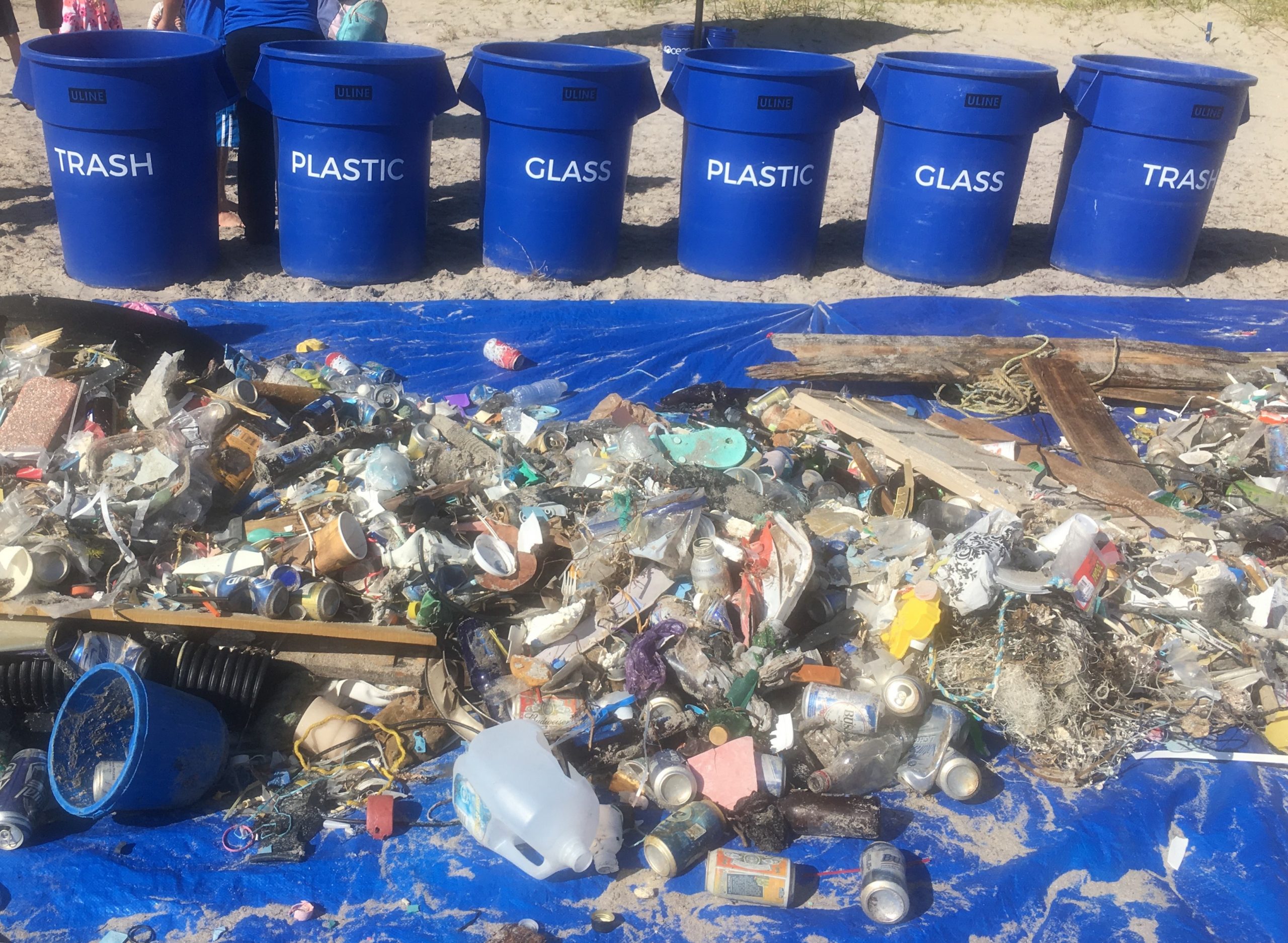 4Oceans Boca Beach Cleanup
I was invited by some friends to attend a beach cleanup at Spanish River Park and because I love the beach, I agreed to go.  As the sun rose on Saturday morning, so did I along with many other eco-savvy residents both young and old to rid debris from our beloved Boca Raton Beach. My morning started with a greeting from Delicia Pop from the 4Oceans team who hosted the event.  After signing in volunteers we were given complimentary T-Shirts, gloves and a sack to put trash in with no further instructions.  We just needed to bend over and pick it up. (It's that simple). Initially we didn't spot any large objects that I expected to find like water bottles and soda cans, but my kids immediately zoomed in on the small pieces, perhaps because they are closer to the ground.  At first I wasn't even sure what these miscellaneous items were but they threw these tiny pieces into our sack and we continued on. After 2 hours my sack eventually became full and we made our way back to our starting point.  In my sack we had found a gross toothbrush, a toy fish, bottle caps, small plastic containers, cigarette butts, straws and miscellaneous pieces of plastic. 
At the end of the event we took a group photo in front of all the trash we collected.  I'm not sure who pulled up that giant piece of rope but my friend carried a very heavy wet towel back to the meet up point.   
KEEPING OUR OCEANS CLEAN 
I felt inspired from this event, but sad leaving.  Upon returning home I immediate got on my computer to do some research on pollution in our oceans and came across a National Geographic photo that I wish now I had never seen: a tiny seahorse towing a Q-tip.
I learned that plastic is the most prevalent type of marine debris found in our oceans and waterways and the growth of plastic manufacturing has far surpassed our waste management's capability to keep up and that is why our oceans are under attack. I also learned that those tiny pieces my kids were picking up are indeed plastic. These plastics do not biodegrade but get broken down by sunlight and the waves and are referred to as "microplastics."  These small pieces are known to harm marine life who mistakes them for food.  Ask yourself, how do microplastics affect the food chain and the seafood we eat? Take for example the plastic straw we found.  It is used only once, but it easily finds its way into our oceans and also gets broken down into smaller fragments.  
I love the beach and feel that our beaches are one of Boca's greatest assets, and so do some great organizations. I was proud to find out that 4Oceans is headquartered right here in Boca Raton as well as another organization Boca Save Our Beaches.  Both these organizations have served as guardians of our wondrous beaches and waterways and I am thankful for their efforts.  Their links are at the bottom of this article.
Will a single beach cleanup save our planet? No.  But it is an example of the kind of action that every resident can take. When we pull together as a community the cumulative effect can make a difference and that is why I am asking our city, my family, friends and neighbors to engage as steward of the ocean before it is too late. We can and will make a difference!
"I ASKED HOW I CAN HELP?"  
4ocean –  "Besides reducing plastic consumption, use reusable items such as water cans, groceries bags and have restaurants discontinue using straws ."  – Delicia Pop
Boca Save Our Beaches – "There is a saying someone once told me, 'leave it better than you found it,' and I personally strive to achieve that daily. If we don't do anything about plastic now, who is going to? It is up to us to leave this City better than we found it – for future generations. Join the next beach cleanup, and you will experience the same sense of community that drives Boca Save our Beaches" Jessica Gray
FAU College of Science – "Join any 4Ocean beach cleanup, buy one of their bracelets.  Their work not only cleans the ocean but supports sea turtle conservation at FAU." – Marybeth Mudric
Thank you to my friends, Kathy Cottrell and Al Zucaro for inviting me to this event.