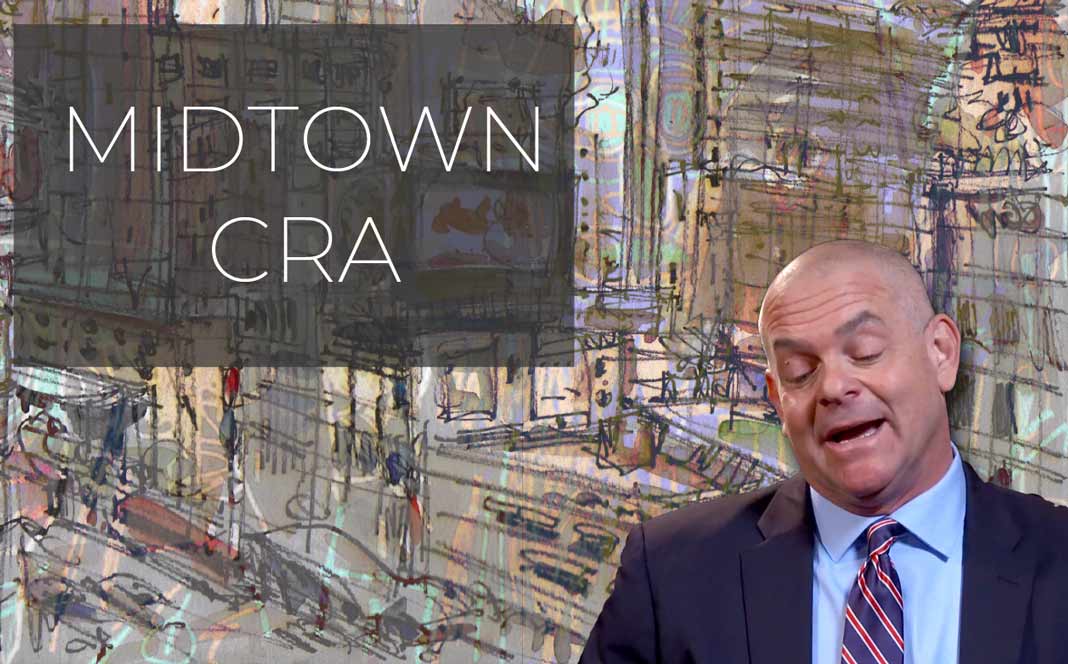 I've lived in Midtown for 7 years.  I know the area, many of the people who live there, most of the businesses and the issues.  I am the president of an HOA in Midtown.  I believe that a MIDTOWN CRA should be considered as an option.
The largest pitfall I see within any of the conversations I've heard so far, including the present "Small Area Plan" currently undertaken, is the lack of participation by Palm Beach County in the planning process.   PBC owns and maintains the infrastructure required, namely the schools and main roads.  A new Tri-Rail station is going to open.  How do we maintain the area's status quo, let alone plan the area's growth, without PBC at the table?  I am not attached to the notion of a CRA for Midtown (perhaps someone has another way to include PBC in the process which can work), but I do believe a CRA can be created, and, if it were, it could yield some very different results.
A CRA (community redevelopment agency) is a powerful redevelopment tool, and can be created by agreement between two or more governmental entities upon a finding that an area is "blighted." The downtown's CRA was created to rid the area of blight.  The CRA acquired the old Boca Mall and built Mizner Park.  Midtown is blighted.  Excerpted (if you want to be a wonk, read Florida Statutes Chapter 163), a CRA could be established by —– one or more of the following factors exist in the area:
Predominance of defective or inadequate street layout, parking facilities, roadways, bridges, or public transportation facilities.
Faulty lot layout in relation to size, adequacy, accessibility, or usefulness.
Deterioration of site or other improvements.
As I said, Midtown is blighted and all three criteria presently exist.  These criteria are the reasons we are considering the "Small Area Plan," and calling an area which has never been zoned by the city "Midtown", and why the City is facing at least one $127 million lawsuit.  We can get this right and get some seriously different results.  For instance, what would become of Crockers' lawsuit if at trial, Crocker would have to testify that it helped to create the area's plan and zoning, and got to serve on its commission?  Perhaps by embracing the property owners into the process, rather than by forcing a plan they won't like upon them (yes I know, "Crocker was mean first"), we can lose a liability of upwards of a quarter billion dollars on our books and create a win/win.  BUT we can't do that without the County.
Palm Beach County must be involved.  If we allowed the property owners to "build, build, build", and PBC committed to build new schools, widen Glades and Military from the start, and connect the two roadways, and the CRA widened 19th Street to accommodate buses to deliver workers through the Glades corridor in a better fashion, then more housing and commercial density may achieve a fantastic result.  Most of my neighbors can't wait for a new "district". But, none of them see how the City is delivering that now on the course that we're on.  Thus, I present one man's new approach for an intractable battle of wills through which we will all suffer.
Anyone else have any meaningful suggestions?   This is just a conversation starter.  A conversation between the government and landowners didn't happen before and that lack of dialogue brought us to the "Small Area Plan" and the present and threatened litigation. Let's converse with the county and landowners and create something great called MIDTOWN!