Bocawatch.org has been working to keep Boca Raton's citizens up to date on plans for the Wildflower Property site and is providing an update in this brief article.
The Boca Raton City Council appears to be still conspiring to have a chain restaurant on the site in spite of the evidence that citizens prefer an open green space.
The following link points to an article with details regarding the City Staff misrepresenting the results of their citizens' survey on usage of the Wildflower site.
https://bocawatch.org/city-wildflower-survey-scoring-misrepresentation/#comments
The scoring problems make it look like the citizens prefer a restaurant on the site; whereas accurate scoring shows that the citizens actually prefer a park on the site. Instead of the City Council acknowledging the problems with the scoring and taking corrective action, they are defending the actions of the City Staff and proceeding with plans for a restaurant on the site. The video pointed to in the following link is an example of the City Council's actions.  Mayor Haynie's Point of View – Video
As reported previously, two citizens had no problems independently scoring the survey results. See rows two and three in the spreadsheet included below. It's not clear why the mayor thinks that the City Staff is incapable of performing the same task that two citizens easily performed. This is especially strange when it is considered that the City Staff actually designed and conducted the survey. One explanation is that the mayor thinks that the City Staff is incompetent. But this seems rather unlikely since the same City Staff members who reported the misleading results are still in their original, highly-paid positions. Another explanation is that the City Staff were either directly or indirectly told the survey outcome that the City Council desired and intentionally skewed the survey results to support the desired outcome. Given the existence of similar issues such "Open Space," UDA and the numerous citizen lawsuits and ethics complaints, the latter explanation seems more likely. Perhaps the City Council is doing damage control by defending the City Staff.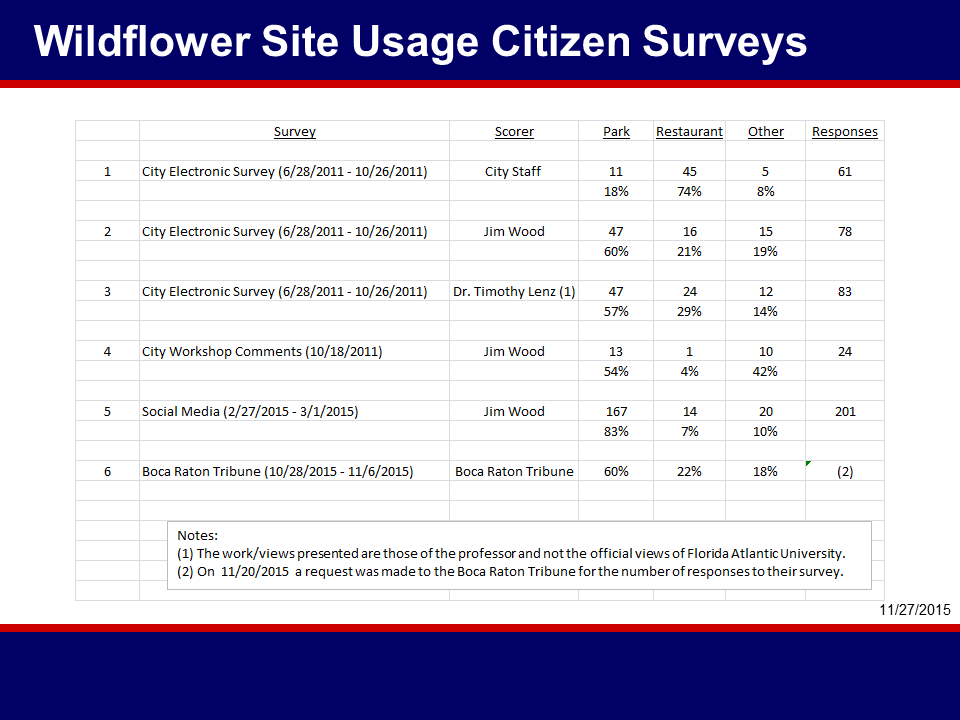 The City purchased the property in 2009 and it has been an eyesore at one of the most visible parts of the City ever since.  During the six and a half years that the City has owned the property, it has sat vacant with ugly, intimidating barrier fencing and no trespassing signs. The City Council has been reminded several times that they don't own the property. The citizens do and will not accept a chain restaurant on the site! 
Many citizens in Boca Raton are outraged at the behavior of the City Council regarding management of the Wildflower site.
For additional proof of the Citizen's preference see the Boca Raton Tribune article of this past November reporting results of their survey showing over 60% in favor of green space. Link to article