City of Boca Raton officials want to lease the last remaining green space in Downtown Boca Raton to the Hillstone Restaurant Group under a 45-year deal, depriving residents of access to their public space.
If successful, the Wildflower Property will be converted into a high-priced restaurant that takes up 70% of the property's green space and residents will loose this parcel of land forever!
By VOTING YES to the Boca Raton Question on the November 8th ballot you will help preserve the public lands on the Intracostal Waterway for public recreation and boating.
YES TO THE BOCA RATON QUESTION, YES TO PRESERVE OUR CITY.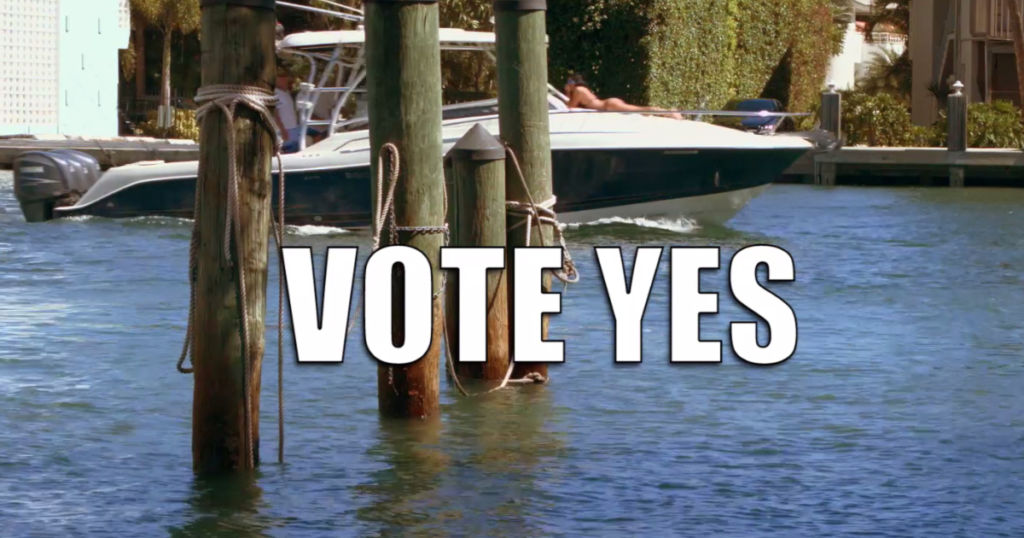 Over the last few weeks you may have noticed a television ad suggesting that there is a small group of 'rich naysayers' trying to fund a 'private park' on the Wildflower site at the taxpayer expense.  The commercial is full of misrepresentations and misleading assertions, in essence, a big lie….
But what you may not realize is that there is some truth to the assertion that there is a group trying to deprive the Boca Raton resident(s) from enjoying their public lands along the Intracoastal Waterway.
These characters are fronted by former City Councilman/former Chamber of Commerce President Mike Arts and his chamber cohorts along with the Hillstone Restaurant Group, an out of state, California based restaurant corporation that, if these efforts are successful, will receive a 45 year sweetheart lease for their exclusive use of the land along the Intracoastal Waterway at the Palmetto Park Bridge; a lease whose terms explicitly prevent public access to the waterway for recreational purposes….a lease that by its terms will cover over 70% of the available green space with asphalt to accommodate the restaurant's particular needs….a lease that by its terms will allow for high priced food and alcohol beverage sales from 11:00 A.M. to 2:00 A.M daily….a lease that by its terms controls recreational boat docking on the Intracoastal Waterway…..and, all this with the apparent blessing of the majority of our City Council!!!
So you ask how I know this….here's how….
First, the Hillstone Group's efforts to deprive Boca Raton resident(s) of this Intracoastal Waterway site are a matter of public record.  The City Council, over the past two years, has meticulously moved a number of initiatives forward that would have already concluded the deal with Hillstone but for the Citizen's petition referendum scheduled for vote on November 8th.  (See BocaWatch last week:  Frequently Asked Questions)
Second, the Chamber of Commerce, led by Troy McLellan, has, for the last month, been publishing inaccurate and misleading assertions about the entire Hillstone deal structure culminating with a fact sheet that is so riff with inaccuracies it is almost impossible to discern where the truth ends and the lie begins.
Third, that this effort to deprive the resident(s) of the enjoyment of their Intracoastal Waterway has engaged a Tallahassee based political influence group, Protecting Coastal Communities, a group formed by Attorney Mark Herron, an attorney infamous for his working with well-funded interest groups to influence political outcomes; in this case, Boca Raton's November 8th ballot question preserving city owned public land(s) along the Intracoastal Waterway for recreational and boating purposes.
Fourth, and perhaps most telling, is that this Tallahassee political influence group has significant financial support to influence the general public; a public that generally is not abreast on the latest actual issues.  The opposition's effort by former and current Chamber of Commerce instigators and by the Hillstone Restaurant Group, an invested party, has recently received over One Hundred Ten Thousand Dollars ($110,000) to attempt to 'buy' the resident's referendum process, in essence to 'get' this public land.
Sixty Thousand Dollars ($60,000) has been contributed by Mr. Arts' organization, an organization affiliated with the Boca Raton Chamber of Commerce and Fifty Thousand Dollars ($50,000) has been contributed directly by the Hillstone Corporation, the organization with a direct financial interest in defeating the petition referendum in November.
What more needs to be said? ….Oh Yes….
The Chamber of Commerce's other interest in this political fight is to prove that it, the Chamber, rules the day in Boca Raton; that the residents, these upstarts, are to be put in their place, defeated, so that there is never again a challenge to the Chamber's self-anointed power….
Moreover, the Hillstone Group is a for-profit group that is funding this effort to defeat the residents for its own pecuniary reasons; they are not being good corporate citizens…they merely are protecting their sweetheart lease deal with the City Council, a council that is so inept at negotiating this lease that Hillstone's $50,000 contribution is mere 'pocket change' over the 45 year life of the proposed lease term.
Need I say more?  Yes….
The thousands of residents who have signed the Petition referendum have nothing to personally gain in this fight except to preserve and enhance the quality of life in Boca Raton.
Boca Raton has used the slogan of 'a city within a park'…
Given the position taken by the chamber, that slogan is now nothing more than lip service….
Another slogan often heard in Boca Raton rhetoric is that the city is where residents can 'live, work, and play.'
Well, with all the overdevelopment in the downtown, Boca Raton may have actually found reality for one-third of that formula….
Some may even argue that there is adequate work to satisfy the second-third of the formula….
However, the third-third is woefully lacking…but for Sanborn Square Park, there is no urban green space or recreational facility in the downtown for the thousands of existing residents and the thousands more coming into the downtown in the very near future.
Boca Raton is no longer Boca Raton….it is no longer a city within a park…it may no longer be that great place to live, work and play….it is something different, not better, maybe worse….
Perhaps there is truth in the often heard new slogan….
'Fort BocaDale'…..the southernmost city in Palm Beach County…..
Residents….Do not be fooled by the special interests that want to deprive you of what is your public space, your Intracoastal Waterway.
Vote Yes on November 8th for the City of Boca Raton's Referendum Question, a vote that preserves the public lands on the Intracoastal Waterway for recreational and boating purposes….