Posted on February 24, 2017 on the internet Facebook Group Only Boca Politics was a series of comments establishing a business relationship between Mayor Susan Haynie and her husband, Neil Haynie, with Investments Limited and its principals, Marta and Jim Batmasian. This article provides more details on the situation.
Background
Investments Limited is a large private commercial land owner with headquarters in Boca Raton.  Among the many properties within the Investments Limited portfolio are Royal Palm Plaza in downtown Boca Raton and Tivoli Park apartments in Deerfield Beach.
Susan Haynie joined the Boca Raton City Council in April, 2000 and has been a member continuously since then. Starting in 2007 Susan Haynie along with her spouse Neil Haynie registered a company; Community Reliance LLC, with Susan and Neil Haynie listed as managing members of the company. See Exhibit 1.
Community Reliance's premiere, perhaps only, client is Tivoli Park apartments in Deerfield Beach, a complex in which Investments Limited owns over 80% of the units and in which it has the controlling voice as to the apartment complex's business relationships.
Issues
BocaWatch has performed research on the business arrangement between Investments Limited and Community Reliance and found two areas of concern. The first is that facts presented to the Palm Beach County Commission on Ethics (COE) in 2013 regarding Susan Haynie's potential conflict of interest appear to misrepresent the truth. The second is that, with one exception, Susan Haynie has not disclosed potential conflicts of interest prior to voting on City Council matters that directly or indirectly involve Investments Limited.
Issue #1 – Palm Beach County Commission On Ethics
On August 16, 2013 the COE provided a document on Susan Haynie's potential conflict of interest.
In this document are at least two facts that the COE used to arrive at their conclusion that do not appear correct.
Stated Fact 1. "The COA is managed by an independent board elected by condo owners." The COA referred to is associated with Tivoli Park Apartments in Deerfield Beach, which is over 80% owned by Investments Limited. The apparent problem here is that Tivoli Park is an apartment project with no condo owners. http://www.tivoliparkdeerfield.com/ If there are no condo owners, Susan Haynie's company may not be contracting with an independent COA board as stated in the document, but directly with Investments Limited. Exhibit 2 shows that the Tivoli Park Master Association, Inc. is comprised of Investments Limited employees and not Tivoli Park condo owners as stated in the COE findings.
Stated Fact 2.  "The Management Company has provided $24,000 in service to the COA over the past 24 months." The management company referred to is Susan Haynie's company Community Reliance LLC. Since the COE document is dated August 16, 2013, the past 24 months would include eight months in 2013, all of 2012, and four months in 2011. Exhibit 3 shows payments of $276,346.56 to Susan's Haynie's company in 2012 alone. Note that the payments from Investments Limited to Community Reliance for the period December, 2007 to December, 2012 total $1,375,854.97.
Issue #2 – Potential Conflicts of Interest not disclosed to Boca Raton Residents
In 17 years and 3,757 voting situations, Susan Haynie has only recused herself twice. Once was in 2002 where the matter before the City Council was to give local preference to contracts $3,000 – $24,999. The second was in 2011 when the City Council was considering a site plan appeal by residents on an Investments Limited project. This latter recusal suggests a conflict of interest with Susan Haynie that should have been disclosed whenever a vote that potentially effects Investments Limited is being considered. Given the wide scope of ownership of properties in Boca Raton by Investments Limited, the potential for conflict with Susan Haynie is high. As an example, each commercial property owner in downtown Boca Raton pays a special assessment annually. The City Council sets the level of special assessment, which has a financial impact on Investments Limited. Another example is voting on an ordinance that impacts development, such as the minimum parcel size for a building to qualify for a 160' height. This has the potential to financially impact Investments Limited.
Recommendations
Given the seriousness of the issues described above, it is recommended that the City council refer this matter to the Palm Beach County State Attorney Office to conduct an immediate and independent investigation into the potential conflict of interest between Ms. Haynie, individually, and Community Reliance, LLC, her privately held Limited Liability Company, with Investments Limited.
BocaWatch is also encouraging the City Council to engage outside legal counsel on behalf of Ms. Haynie for purposes of protecting her rights in this matter.
BocaWatch remembers back to the day when Palm Beach County was dubbed 'Corruption County', a county in which five elected officials were sent to jail; one was placed on probation and banned from ever returning for public office and one high profile attorney also was sent to jail and suspended.
Considering the facts uncovered in public records, the residents of Boca Raton should be provided clarity as to the potential conflict suggested in this newly discovered relationship.  Anything short of that would be a disservice to the residents of Boca Raton.
Exhibit 1 – Community Reliance LLC Organization Structure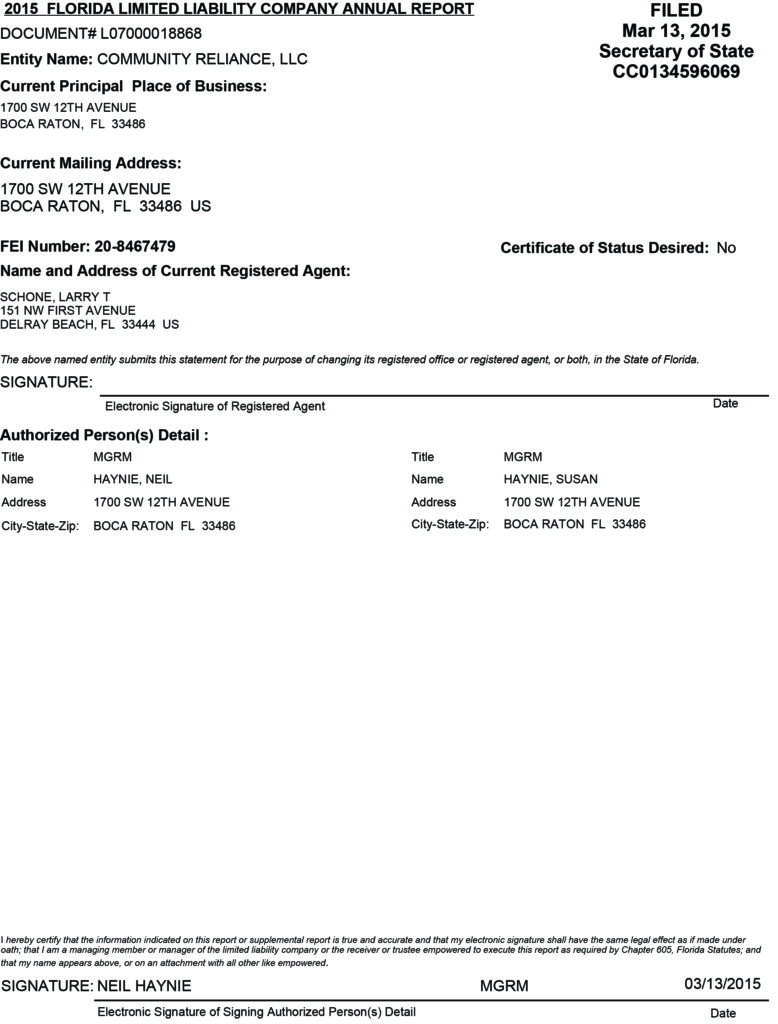 Exhibit 2 – Tivoli Park Master Association, Inc. Organization Structure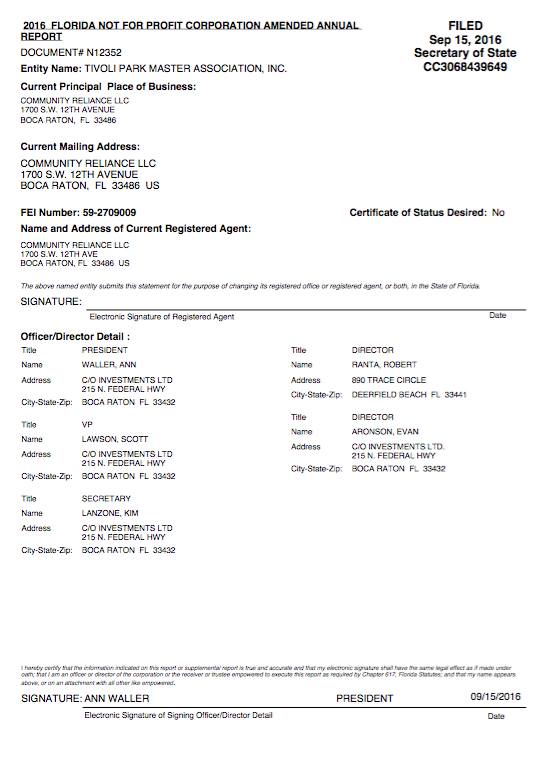 Exhibit 3 – Payments Made in 2012 to Tivoli Park Master Association, Inc./ Community Reliance LLC