I have been coming to Boca Raton since the mid 60's, from Camino Real to Spanish River on A1A it was sand dunes that we climbed over to get to the beach. Condos were few and far between. The beaches were pristine. I remember seeing a sea turtle nesting as a young girl, that image still so clear. I still return to East Boca several times throughout the year enjoying what everyone enjoys in south Florida: the sunshine and beaches. My favorite strip of the beach just south of Spanish River, where I walk north and south looking for sea treasures that have come in with the tides.
I also carry a garbage bag, unfortunately my walks have come to that- picking up other people's trash. I can't tell you how many beach goers stop me and say "are you picking up garbage?" and a "thank you for doing that". My response is always, "if we all picked up the trash we see instead of ignoring it, or stepping over it, we could save our beaches and marine life." This has prompted me to write to Boca Watch in hopes I can reach both locals and visitors to do their part.
Do you want to have your beach chair or towel set up next to trash/ debris? I sure don't.
Most of what I find consists of plastic cups, bottle caps, baggies and the 6-pack plastic holder. All of them are deadly to sea turtles, as they mistake the plastic for jelly fish. I have encountered fishing line getting wrapped around bird's beaks and feet… the list goes on. We need to teach our children to pick it up and throw it away- they are the future for our environment.
There is something else I noticed. One of the "condos" has a trash can at their stairs walkway- great contribution, however it was so full trash was over flowing onto the ground, it smelled and there were flies all over the trash, it was like that for 4 days. That condo needs to be responsible for emptying the can. I didn't leave my trash there, as there was clearly no room, I took it home to dispose of.
We must do better, every day everyone needs to get involved. When you're at the beach chip in & pick it up!
There is a local nonprofit group by the name of Boca Save Our Beaches., This is a great way to get involved with beach cleanup efforts, they hold family friendly beach clean ups several times a year. Local dive shops, snorkeler and restaurants attend these events, prizes for the heaviest bag of trash, bring your tribe, meet and make new friends!
Check them out on Facebook, or their website www.bocasob.com. Volunteers are always needed and appreciated. It doesn't cost to join a beach cleanup, it's FREE! Boca Save our Beaches does accept donations for clean up supplies and it is tax deductible for you.
It's how I got started- educated on human pollution at the beach and the danger to sea animals.
Lynn Lupetin
---
Join Boca Save our Beaches for International Coastal Cleanup Day on Saturday, September 23rd.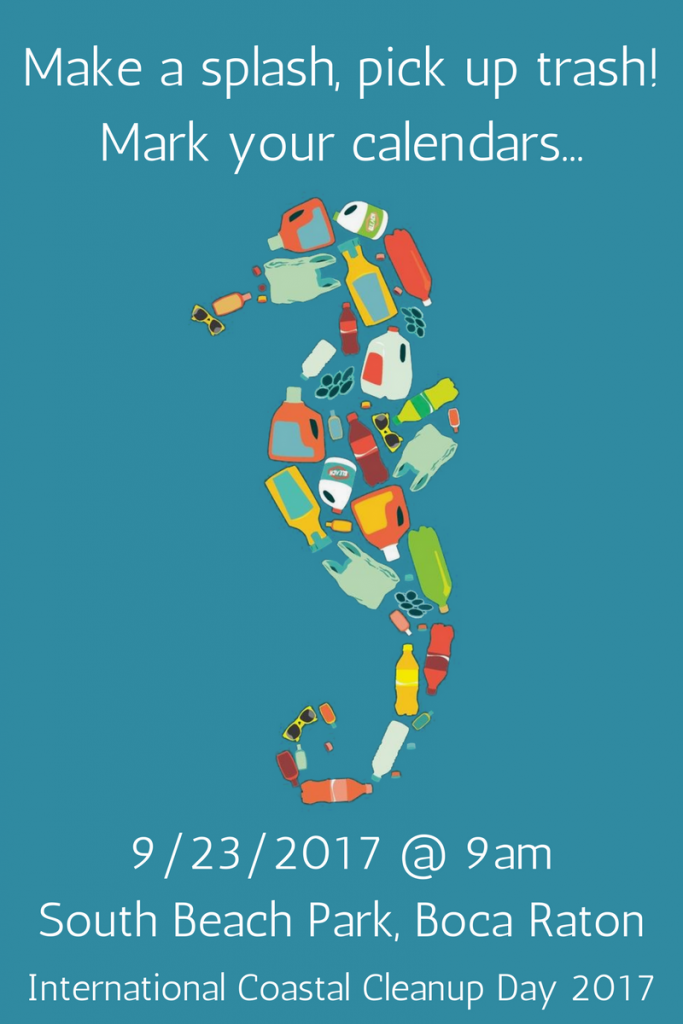 South Beach Park is located at 400 N State Road A1A in Boca Raton.
Last cleanup we removed 370 pounds of trash. Do you think we can beat the record? Join us to find out!