Should an arrested elected official who failed to disclose a business relationship with a developer and voted in favor of the developer resign? Andy Thomson, a Susan Haynie ally and candidate for council seat A, says no.
Former Mayor Haynie's downfall, including her arrest and suspension from office, has been well documented on this site, in local newspapers, and even nationwide. Haynie was charged with official misconduct, perjury in an official proceeding, misuse of public office, corrupt misuse of public office and failure to disclose a voting conflict stemming from an undisclosed relationship with the Batmasians, the largest private owners of commercial property in downtown Boca Raton. After her arrest, Governor Scott suspended Haynie which triggered a special election for mayor and for council seat "A."
The Palm Beach Post asked each of the candidates for mayor and council seat "A" for the August 28th election "should suspended Mayor Susan Haynie resign?" Thomson is the only candidate to say no.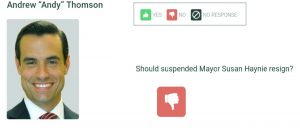 Thomson's support for Haynie is not surprising. Haynie and Thomson were inseparable during Thomson's first run for council against resident friendly councilwoman Andrea O'Rourke. In his first run, Thomson filed to run a month after moving to Boca and received substantial contributions from developers and their lawyers who also supported Haynie. During the campaign and until Haynies arrest, Thomson and Haynie were pictured together at numerous events and fundraisers.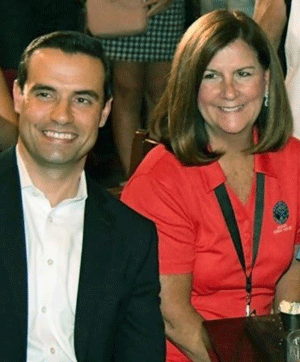 Thomson's connections to Haynie run deep. Until Haynie's arrest, Thomson and Haynie shared the same political consultant, Rick Asnani of Cornerstone Solutions. Thomson hired Asanani for his first campaign and is using Asnani for his current campaign. As reported in the Palm Beach Post, Thomson's political consultant is the subject of numerous state election complaints for allegedly setting up companies to support his candidates while failing to disclose the donors' names in violation of election law. Some of the companies with complaints against them funded political action committees ("PACs") that supported Thomson and attacked his opponents, including Councilwoman O'Rourke. By failing to disclose donors it is possible for individuals and companies who have business before (or in the case of Haynie with) members of the City Council to contribute without making the public aware. More "dark money" is likely to support Thomson this election cycle. Thomson is unlikely to break from his ally Haynie as he shares the same political team and is viewed by Haynie's donors as a "yes" vote for their projects. Thus far Thomson has been the developer's choice as reflected in his campaign finance report.
Like Haynie, Thomson has received support from the Batmasians and Investments Limited. During his first campaign bid, Thomson's signs appeared on Batmasian's commercial properties across Boca Raton. Thomson recently received the endorsement of the Boca Raton Chamber of Commerce's BLU-PAC which is chaired by Batmasian's longtime attorney, George Sigalos. BLU-PAC supported development on our City's parks, including the Wildflower property. Thomson has described the resident led referendum to preserve our parks as misleading and is viewed as an ally by BLU-PAC to "monetize" Boca Raton's parks. Another item of note is that Thomson's law firm advertises on its website that it represents real estate developers and the construction industry. Developers benefited from unbridled growth in Boca under former Haynie's reign. Like his prior run, Thomson has received support from Haynie's donors in the development community.
Boca Raton was thrown into turmoil following Haynie's arrest. Boca residents should ask themselves if they feel comfortable having Andy Thomson, who believes that even after her arrest that Haynie should not resign, on council. If breaching the public's trust is not grounds to resign, then what is? Boca has a chance on August 28th to elect a council that will look out for the residents and eliminate the backroom deals of the past. Seek out candidates who will honor the public's trust.