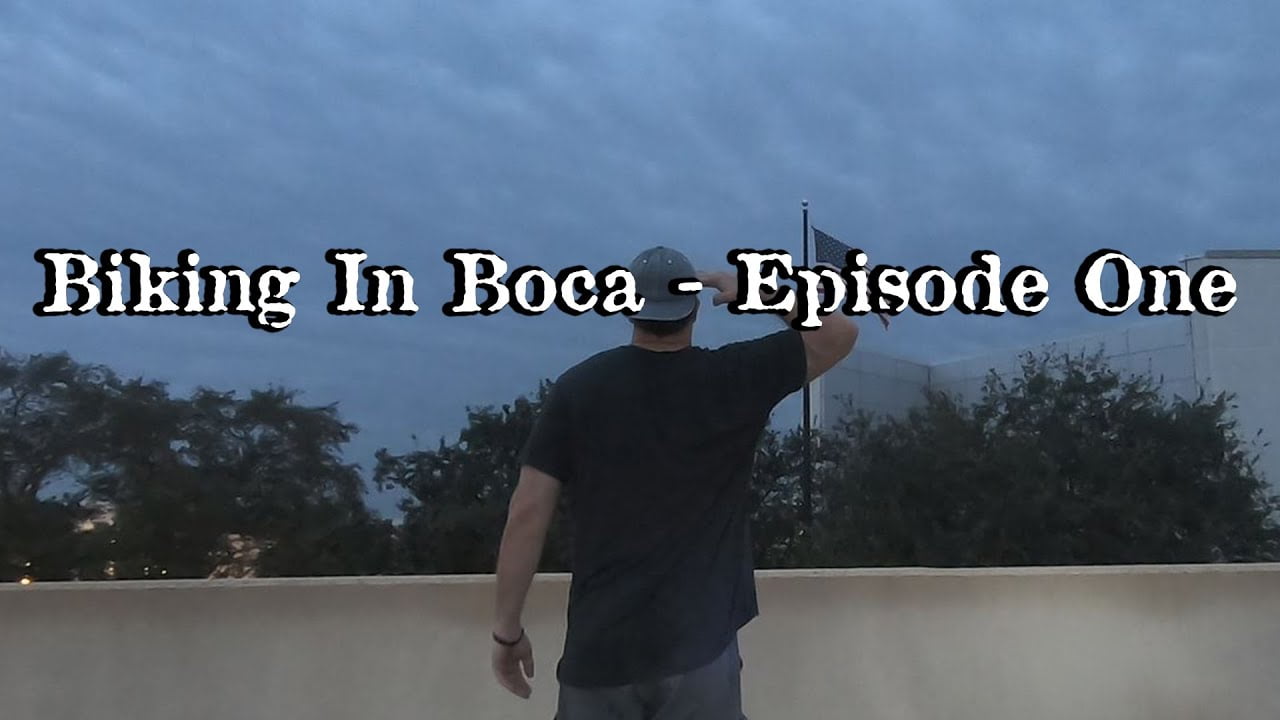 I moved to Boca Raton in July of 2019 and started biking outside just recently in May of this year. Before then, I used to go to a gym to do all my cardio and weight training. But due to this "pandemic" I decided to get my own weights, along with my own bike, and forgo the gyms once and for all. I started biking outside and said to myself, "This city is beautiful, I should get a GoPro camera and start filming my rides." so I did. I have always enjoyed editing video, so I started making these videos as a hobby, to document my rides, and to further my editing skills. I figured "Biking In Boca" had a nice ring to it, and that name made the most sense to title the series. I wanted to give the videos a "Grand Theft Auto" video game type vibe, showing what area I am in by having flowing text in the lower left-hand corner. I also wanted to put music to the videos as I am not one to just talk to a camera myself. The 4 second intro used in later videos for the "Biking In Boca" series was created with Adobe After Effects, an animation program. Some folks in the area seem to enjoy the videos, and I am grateful for that because if my fellow residents are happy, it makes me happy in return, along with showing the world on YouTube this great city.
My last bike was a cheapo Schwinn Ranger, and I sold it before I moved here because it hurt my knees. The current bike is a perfect fit for me and gives me no knee pain whatsoever. I was lucky enough to find a Globe Carmel 03 on the LetGo app right when the pandemic hit. The bike is perfect for my height (6'3") it is a hybrid cruiser/mountain bike, and the funny thing is ever since quitting the gym, acquiring my own weights and bike, I have never been in better shape. Getting fresh air and vitamin D is essential for a healthy immune system as well, so I am overjoyed that I made this change.
I will say that I was getting a little bored with the bike and wanted something faster, so I came across a nice condition Raleigh M40 mountain bike from 1998. I purchased the bike to hit the trails in West Delray and the trails in Deerfield Beach at Quiet Waters park. I also used this bike in the "Storm Aftermath" video and as one can see as the video is played, just how fast that bike is. But it was a bit small for me and destroyed my knees the day after, so the Raleigh is going to my nephew for his birthday in a month. Maybe in the future I will explore a mountain bike that is the right fit and won't thrash my knees so I can hit some bike trails once again as my current bike is made mostly for street and light trails only.
Thanks to all who commented & enjoyed the videos, and if you have any spots in Boca that you would like to see on film, feel free to let me know.
About me: I am a retired Navy veteran currently attending college for graphic design, originally from New Jersey. Learning and implementing photo manipulation, social media campaigns, typography, video editing, illustration, and web design. I am a critical thinker who chooses to investigate all information that is presented to me, and I would like to meet like-minded people in the area. Links to my website and all my social media are below. If anyone is interested in getting any work done, please feel free to contact me and we can talk. I am meticulous and enjoy editing articles as well, and would be open to work for a company also.
Email: leftynero @ yahoo.com
Website: https://mikenero.wixsite.com/home
YouTube: https://www.youtube.com/channel/UCqJyhLb9qWff6UPVZboAA-w
Facebook: https://www.facebook.com/mike.nero.9406
Twitter: https://www.twitter.com/LeftyNero
Instagram: @leftynero
Watch All of Mike's recordings of his ongoing bike journey's through Boca Raton here in this YouTube Playlist below:
[vc_video link='https://www.youtube.com/playlist?list=PLzebTAB-xrqY85YVCyEVtGqXK8NKT9wKD']