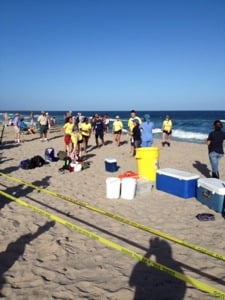 A whale carcass washed up on the beach just south of Spanish River Boulevard.
Started posting pictures of the washed up whale Thursday. By Friday it was common knowledge that it was a sperm whale, a sub-adult male according to the NOAA people responsible for the necropsy there on Boca's Spanish River Beach Saturday afternoon. It was finally dragged off the shore around 3:30 amid a crowd of at least a hundred people.
The whale was 35 feet long and weighed around 15 tons. Samples for the necropsy are being taken to Key Biscayne.
Below are some pictures of it being dragged out.