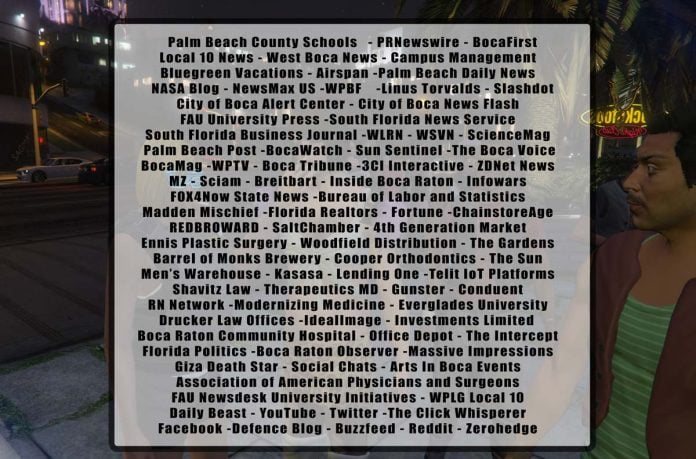 4boca.com is designed to aggregate local links and more. The links that have been included through 2021 and before have come from over eighty different websites.
This site uses an RSS aggregation technology. This lets 4boca's crew see the newest news stories and link to them fast. There's over 80 sources: local, national and global. Here's a list of the sources currently linked to.
3CI Interactive
4th Generation Market
Airspan
Arts In Boca Events
Association of American Physicians and Surgeons
Barrel of Monks Brewery
Bluegreen Vacations
Boca Raton Community Hospital
Boca Raton Observer
Boca Tribune
BocaFirst
BocaMag
BocaWatch
Breitbart
Bureau of Labor and Statistics
Buzzfeed
Campus Management
ChainstoreAge
City of Boca Alert Center
City of Boca News Flash
Conduent
Cooper Orthodontics
Daily Beast
Defence Blog
Drucker Law Offices
Ennis Plastic Surgery
Everglades University
FAU Newsdesk University Initiatives
FAU University Press
FOX4Now State News
Facebook
Florida Politics
Florida Realtors
Fortune
Giza Death Star
Gunster
IdealImage
Infowars
Inside Boca Raton
Investments Limited
Kasasa
Lending One
Linus Torvalds
Local 10 News
Madden Mischief
Massive Impressions
Men's Warehouse
Modernizing Medicine
NASA Blog
NewsMax US
Office Depot
PRNewswire
Palm Beach County Schools
Palm Beach Daily News
Palm Beach Post
REDBROWARD
RN Network
Reddit
SaltChamber
Sciam
ScienceMag
Shavitz Law
Slashdot
Social Chats
South Florida Business Journal
South Florida News Service
Sun Sentinel
TMZ
Telit IoT Platforms
The Boca Voice
The Click Whisperer
The Gardens
The Intercept
The Sun
Therapeutics MD
Twitter
WLRN
WPBF
WPLG Local 10
WPTV
WSVN
West Boca News
Woodfield Distribution
YouTube
ZDNet News
Zerohedge
Know about a source you'd like to see added to the list? Drop a comment with a link to it below. If it's got an RSS feed, we'll add it and check it often for stories relevant to Boca Raton.