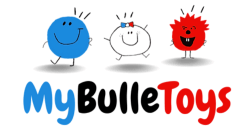 OUR MISSION: HELPING YOUR CHILD LOVE LEARNING AND THE FRENCH LANGUAGE
My Bulle Toys sells French educational toys and supplies to support your child's joy of learning. Our founder, Fanny, is a mother of two and French teacher in a French-American bilingual school in Florida. Upon searching for the same educational toys her children had loved in France after their move to the U.S., she was surprised to discover that they simply weren't available or were only available from niche brands at an exorbitant cost. She set out to create My Bulle Toys to make French educational supplies available at an affordable price point to kids across the U.S.!
Whether this is your child's first exposure to French or a continuation of their love for their mother tongue, we strive to offer the most enchanting toys and books available to support your child's natural love of learning.
* The publisher of this website assumes no responsiblity for the accuracy or timeliness of this information. Use the information here at your own risk. It is best to confirm whether a location is actually opened or not using a secondary method: the business website, recent social media postings, texting, emailing, or verbally on the telephone.
Please drive carefully, patiently and kindly.